Steve Braunias is on a mission to eat at each one of the 55 food joints on Lincoln Rd in West Auckland. • Episode eight: Eves Pantry
The man who ate Lincoln Rd lives around the corner from Lincoln Rd, among the working and benefit classes of west Auckland, but in my dreams I live out east, in some big-assed pile in Remuera or a monstrosity with sea views in Mission Bay, someone fat and rich and calm.
My pulse always slows whenever I head east. I feel at peace. Wealth acts like an opium; I relax and float downstream, a dreamer from the west made good in the east.
The twain don't much meet. Nothing about gleaming St Heliers reminds me of peeling Te Atatu - even the tides seem more composed - and Kelston can't hold a candle to Kohimarama. It couldn't afford the matches.
But I went for afternoon tea at a classy joint on Lincoln Rd this week which really made me feel I was, in fact, a resident of the eastern suburbs. This little miracle was called Eves Pantry.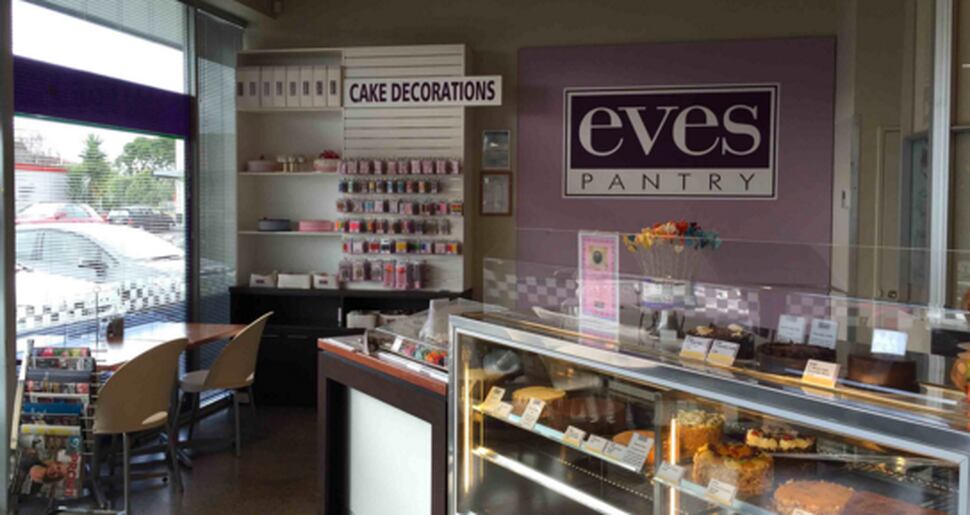 It's a kind of boutique franchise, with four dotted around Auckland, all Kiwi-owned.
There's one in Takapuna. There's one in Botany. The one in Lincoln Rd is the latest, opening in 2004.
The mothership is at 399 Manukau Rd in Epsom, established in the late 1940s by a tram conductor's wife called Eve. She sold the bakery to a Norwegian and it's since passed into the hands of one of the Norwegian's apprentices. The long and even more boring version features as a 50,000-word speech on the walls of Eves Pantry.
I liked the fact it was boring. It was like a little bit of Epsom had come to Lincoln Rd. Eves brought the gentle tedium of life in Epsom to west Auckland; the ambience was soothing, unhurried, restful, thanks in part to the lavender colour scheme, which is very, you know, ladylike. It's the colour scheme of ladies who lunch.
READ MORE: Steve Braunias rates: • Sal's Pizza • Sierra cafe • Moto Sushi • Hollywood Bakery • Nando's
Or do afternoon tea. When I popped in at about 2pm on Tuesday afternoon, the only other customers were women enjoying a sweet treat. Eves does wonderful birthday cakes, also meringues, doughnuts, quiches, croissants, and the kings of the sandwich world, club sandwiches. I ordered green tea, a doughnut, an apple slice and two 2" spinach quiches.
The bill: $15.20.
I laid out the plates in a rather grand manner on my table, and a woman at the next table said, "It looks like you're having a party." I shot back, "I'm having a party in my tummy!"
She gave me the silent treatment after that, and quite rightly so. I focussed on the food and puzzled over the central mystery of Eves Pantry - the absent apostrophe. What's with that? I'm all for deranged uses of English; a few doors down from Eves there's a restaurant truly called BBQ Hut Nood Les. But that's a Chinese thing, an example of written Chinglish you could say, and Eves is as European as a Danish.
Anyway, the food. I scoffed a two inch spinach quiche. Delicious! I worked my way through the apple slice. Bland! A giant bakery in Mt Wellington makes all of Eves pastries; could they not bash the apples so senseless that the taste runs out, please? But I followed it with the second two inch spinach quiche, and it tasted even better than the first. I ended with the round cream doughnut with fresh cream and a squirt of jam or something red. A triumph! The green tea was a mistake, though. What was I thinking?
The soft afternoon light, the sight of the excellent cakes in the trays... I was in a heaven of the east, and got to talking to two women at another table. Lois was with her friend Betty.
They'd known each other for 60 years, since Lois had Betty's daughter for Brownies, in Swanson.
We talked about hearing aids and apples. Lois said her son let the cows into a field with an apple tree, and they'd stripped the bottom branches bare. I said I didn't know cows ate apples and she said cows eat anything.
Then we talked about the Queen, on account of her turning 90 next week. Betty said she's 99. Well, she was in jolly good shape, and she was good fun, too. Her birthday is on November 14 and I fully expect her to reach the ton.
In the meantime, would they be coming back to Eves? "Definitely," they chorused. Same.
Food: 8 out of 10. Feel of the place: a perfect, soothing 10.
Debate on this article is now closed.
•All views expressed are the author's.