Comedian Amy Schumer has called out Glamour magazine after being included in a list of "plus size" stars.
The 34-year-old was mentioned on the cover of the magazine's "Chic At Any Size" special edition alongside Adele, Melissa McCarthy and Ashley Graham - all "women who inspire us", according to the magazine.
But Schumer hit out at the magazine, stating her inclusion in the list sent the wrong message to young women.
The issue features a Q&A with Schumer, but she was not impressed that she had been included in the special issue without being given advanced notice.
Posting to Instagram, she wrote: "'I think there's nothing wrong with being plus size. "Beautiful healthy women. Plus size is considered size 16 in America.
"I go between a size 6 and an 8. @glamourmag put me in their plus size only issue without asking or letting me know and it doesn't feel right to me.
"Young girls seeing my body type thinking that is plus size? What are your thoughts? Mine are not cool glamour not glamourous."
She later followed up with a tweet: "Just a little odd an unfair not to be told."
The actress retweeted support from followers, including a comment from one user who wrote: "'plus size' is just another way of splitting us into uniformed groups, putting a label on people's appearance."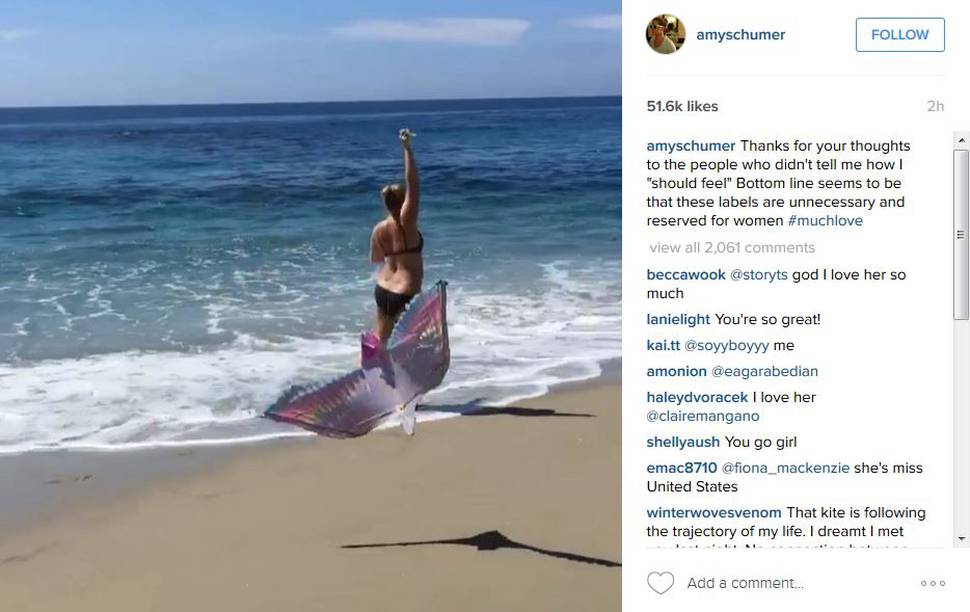 In true Schumer style, she also celebrated the overwhelming response by re-posting a video of herself on a beach wearing a black bikini.
Her caption read: "Bottom line seems to be we are done with these unnecessary labels which seem to be reserved for women."
Responding to the complaint, a spokesperson for the US edition of Glamour told Daily Mail Online that an apology had been made to Schumer.
"First off, we love Amy, and our readers do too - which is why we featured her on the cover of Glamour last year," they said in an email.
"The cover line on this special edition - which is aimed at women size 12 and up - simply says "Women Who Inspire Us", since we believe her passionate and vocal message of body positivity IS inspiring, as is the message of the many other women, of all sizes, featured."
They went on to say, "the edition did not describe her as plus-size. We are sorry if we offended her in any way."
While the publication may not have labelled Schumer directly as "plus size", the editor's letter describes the issue as being aimed at "readers who wear size 14 and up". The issue was also created in collaboration with plus-size brand Lane Bryant.
The women selected to feature with Amy are known for having fuller figures. Sports Illustrated model Ashley Graham, who is a size 14 (New Zealand size 18) has previously spoken out about her curves while Melissa McCarthy has designed an entire clothing line aimed at curvier women.
Despite taking pride in their appearances, they have spoken against the use of the term "plus size", with Graham saying: "I think the [term] "plus-size" is totally outdated.
"It shouldn't be about labels. I don't want to be called a label, I want to be called a model."
- nzherald.co.nz