Maximum impact with minimum fuss will keep families happy.
Cooking is the way we love to unwind after a long day. We relish any spare time we get to spend in the kitchen, but sometimes you need a recipe that delivers on flavour but won't have you spending hours preparing it.
Spiced lamb and couscous
You can add any flavours you like to this - we added red grapes which gives surprising bursts of sweetness scattered throughout the fluffy couscous. We like to season the lamb with our favourite dried spices to give the dish a warmth and more complexity.
Serves 4
1 cup chicken or vegetable stock
1 cup couscous
¼ tsp salt
1 Tbsp olive oil
1 cup red grapes
Juice of 1 lemon
½ cup chopped mint
300g lamb loin fillets
1 Tbsp ground coriander
1 Tbsp smoked paprika
1 tsp ground cinnamon
1 tsp chilli flakes (optional)
2 Tbsp oil
3 Tbsp greek yoghurt
Mint leaves, for garnish
2 Tbsp sliced almonds
1. Bring stock to the boil and add couscous while continually stirring. Add salt, cover pot with a lid and remove from the heat. Leave for 10 minutes. Take lid off and stir through olive oil. Leave to cool then add the grapes, lemon juice and mint to the pot.
2. Dry the lamb and cover in the coriander, paprika, cinnamon and chilli. Heat a large frying pan and add oil. Cook lamb for two minutes on each side for medium rare, three minutes for medium. Leave to rest for five minutes.
3. Arrange couscous on a large plate, slice the lamb and spoon over yoghurt. Garnish with mint and sliced almonds.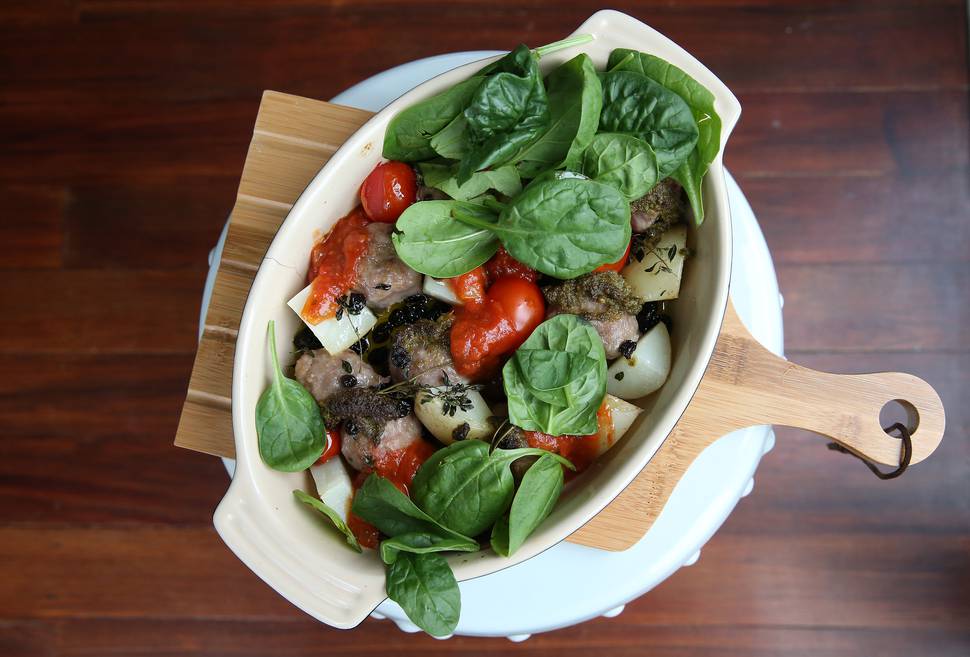 Chicken meatballs with potatoes and pesto
The minced filling from high-quality sausages is one of our favourite quick dinner ingredients. If you can find a place that makes tasty, good-quality sausages, then half your work is done.
Serves 4
2 medium, washed potatoes cut into 3cm chunks
1 Tbsp oil
4 good-quality chicken sausages
4 Tbsp canned tomatoes in puree
8 Tbsp pesto
4 Tbsp currants
2 cups baby spinach
1. Heat oven to 190C. Place potatoes in an oven dish and coat in oil, salt and pepper. Bake in the oven for 15 minutes while you make the meatballs.
2. Squeeze the meat filling from the sausages and roll into ping pong ball-sized balls. Take potatoes out of the oven after 15 minutes. Place meat-balls in and around the potatoes. Pour over tomato puree and add dobs of the pesto over the meatballs. Add the currants, season and place into the oven for 15-20 minutes.
3. Remove from the oven and leave to cool for 5 minutes. Serve with spinach and some crusty bread if you like.
Salmon wholemeal pasta with creme fraiche
Serves 4
250g wholemeal pasta
3 Tbsp creme fraiche
2 cups frozen peas
Zest of 1 lemon
200g smoked salmon, broken in to pieces
¼ cup dill leaves
1. Bring a large pot of salty water to the boil and cook pasta according to packet instructions. Strain, reserving one cup of the starchy cooking water.
2. In a large, deep pan melt creme fraiche over a medium heat. Add half a cup of the pasta water and the peas. Warm slightly and add the pasta. Add lemon zest and cook for three-five minutes or until peas are heated through and the sauce starts to stick to the pasta.
3. Place on a serving dish and top with salmon. Garnish with a few pieces of dill.