Address:
5 Graham St, Auckland City
Phone:
(09) 307 2323
Website:
scratchbakers.co.nz
Open:
Mon-Fri 7am-4pm; weekends 8am-3pm
Cost:
$48 for two
SET-UP & SITE
My, hasn't Graham St grown up? Tucked away off Victoria St West, it used to be an easy little street to ignore. No reason to go there really, unless you wanted to drop late mail off at the NZ Post depot. And there was certainly nowhere decent to grab a bite to eat during the day, apart from a corner pub.
But whack up a few glitzy buildings, import some young workers - hundreds of them - and watch the cafe culture grow. It's where the NZ Herald moved to late last year, after more than 150 years in Albert St. So straight across the road from my office is one of the new cafes, Scratch Bakers, where we dash to grab lunch, meet contacts or simply gaze longingly at the miniature donuts filled with lemon curd ($2.50), the sticky hot cross buns ($4), tiny tartlets ($2.50) and bags of mini meringues ($5).
SUSTENANCE & SWILL
Choosing what to eat for breakfast proved tricky. Apart from the usual options, there were mouth-watering alternatives like salted churros ($18) with manchego (cheese), serrano jamon (dry-cured ham, $12) and a poached egg or spiced wagyu mince with a soft egg, yoghurt, coriander and dukkah ($19).
Or, temptingly, a baked-to-order brioche of confit duck, oyster mushroom, mascarpone and thyme ($12).
I opted for the pork belly omelette flavoured with miso, sesame and ginger ($19). The pork belly was a little over-salted for my taste but was offset nicely by a generous omelette and watercress. Hubby was on his phone, so I ordered him the buttermilk hotcakes with pistachio butter, lemon curd and blood orange crumble ($17) - because I wanted to try them. The presentation, complete with flower petals, was a work of art. They were tasty, if a little on the stodgy side.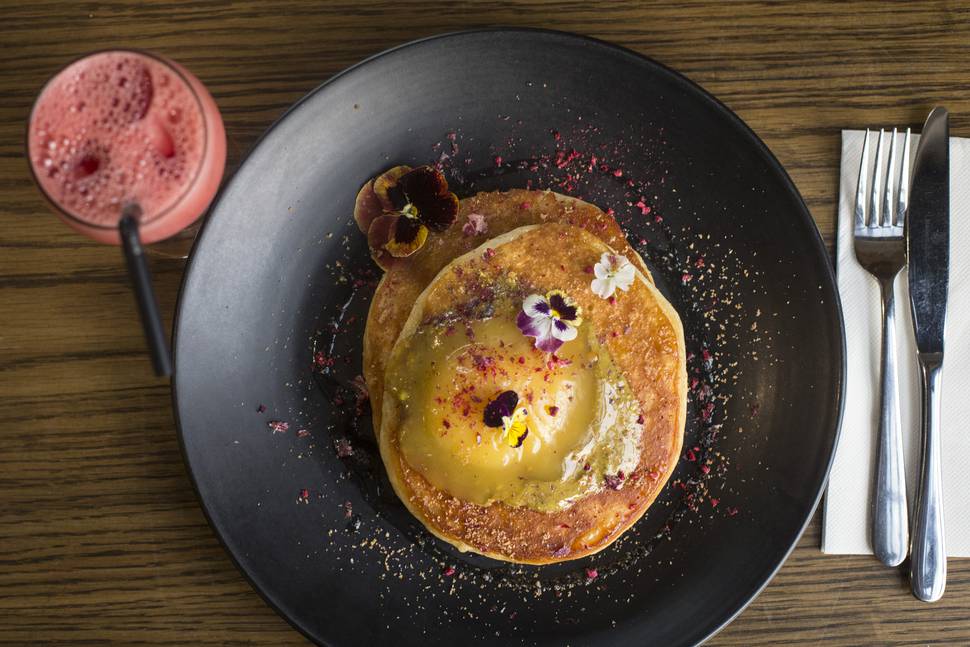 Scratch have been thoughtful about their menu - the "slow scrambled eggs" on seeded toast come with thick bacon, shaved truffle and chilli jam ($20). The Raging Rhino coffee was in a cup a little on the small size for a traditional flat white ($4.20) and my Earl Grey tea ($4) was served in the same sized thick cup.
SERVICE & OTHER STUFF
The Scratch staff are unfailingly cheerful, friendly and efficient. No sooner had we
sat down than water and glasses arrived. Our meals came promptly. And when I got up to take my teapot to the counter to be refilled, I was met half way by a staff member. I liked the hubbub of the place, large tables with magazines and newspapers, the eclectic selection of music and the fact that they don't mind bragging about their "world famous pies".