To celebrate Valentine's Day Regan Schoultz visited Auckland Zoo to see first-hand the animal attraction on show
Don McFarlane and Ellie Stringer
Ellie Stringer and her partner, Don McFarlane, first bonded over bugs at London Zoo.
The couple, who have been together five years, were both working in the bug section with rare and endangered insects when they met in 2005 and became friends.
"We both fancied each other but we were with other people," Ellie says. "The second we split up with our other people for separate reasons everyone at the zoo said: 'So, you and Don, would you ever try something there'?"
The couple moved to New Zealand in 2014 after Don was offered a job at Auckland Zoo working with the ectotherms - cold-blooded creatures - with an emphasis on breeding the endangered giant weta punga.
Ellie made a switch to carnivores and now works with big cats, otters, meerkats and red pandas.
"We are lucky because we don't see each other on a day-to-day basis. Sometimes it is weird when we have to radio each other but we are in different sections, doing different things," Ellie says.
"It is the best of both worlds, working in the same place but not in the same section."
"We do sometimes have big meetings and it is quite nice when we get home that, unlike many couples who lead different lives at work, we understand what each other is going through and it can be quite helpful, even though a lot of people would warn off working for the same organisation," Don adds.
The couple say it is good to share the same passion and they plan to one day tie the knot.
Little blue penguin couple Moki (female) and Kingi (male) have been together for one season. Their union grew out of a love triangle that fell apart when Kingi broke up a female pair, Moki and Dory. Dory is now on her own.
They arrived at the zoo in August 2010 after being rescued from Muriwai Beach.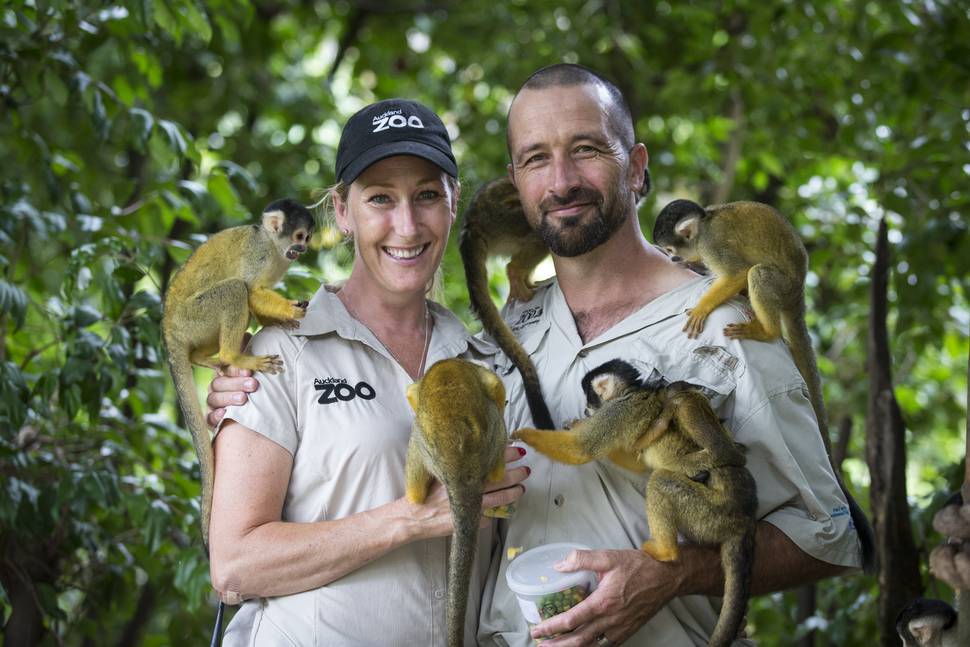 Amy Robbins and her husband of five years, Dave, met in the primate and carnivore section at Auckland Zoo while working with the apes and the big cats. But it wasn't love at first sight.
"I was with someone else so we were friends for about six months to a year before we became a couple," says Amy. "When Dave started, all the zoo staff were talking about this hot guy who had started but I thought it was another, older man so I didn't see what the big deal was."
The couple, who now have two children, Khai, 5, and Maya, 3, organise their working schedule to alternate being at home with the kids.
It makes working together easier because they only spend one day of the week sharing a shift.
"Other people think it must be weird to work together and it must be difficult but we have never had it any other way. Being a manager, people sometimes think that I might give Dave special treatment but I don't. We keep our home life completely separate."
The couple have worked at the zoo for more than a decade and say they enjoy sharing a love of animals.
"The main reason most of us are here is to connect people with wildlife and inspire them to make a difference. I love the animals, I love being hands on with the animals and I like the travel that comes with the job," Amy says.
Dave likes always doing something different and working outside. "No matter what section you are in, it is varied and never boring."
Amy has worked with many different animals, from big cats to seals, monkeys and llamas. Dave has spent much of his career working with primates and birds.
Montague, an 18-year-old male and Ahikaea, a 16-year-old female, are a retired breeding pair who arrived at the zoo in late 2013 from Tiritiri Matangi Island. The critically endangered flightless birds mate for life.
Galapagos tortoises Smiley (male, left) and Snapper (female) have been at the zoo since 1983 after being transferred from Honolulu Zoo in the US.
The couple, who are now in their 40s, are still considered relatively young and are yet to breed.
No one knows exactly how long the slow-moving creatures can live, but the oldest recorded tortoise lived for 152 years.
The pair are not exclusive. Smiley also has a friends-with-benefits relationship with the zoo's other female tortoise, Chippie.