Uniform dressing inspires this season's array of versatile outerwear options. Stay cool.
While New Zealand's temperamental weather patterns and ocean temperatures are already several degrees above average, thanks to El Nino, transitioning into the cooler months means investing in outwear that works with rain, hail or shine.
Jackets that won't weigh you down, that work from work to weekend and that also look good - it's a lot to ask for from one piece of clothing. Handily, several designers and brands have updated those failsafe utilitarian outerwear options inspired by uniforms, through the use of technical fabrics and versatile colourways.
Bomber jacket shapes or flight jackets make a welcome return, popularised by fighter pilots, 70s scooter boys and hip-hop stars of the early noughties. Another alternative is the coach jacket, an easy throw-on piece that buttons up easily without the bells and whistles so often seen on other jacket styles. Like a shirt but in a more sturdy fabric, the coach jacket is a great alternative to outerwear that won't overwhelm. Icebreaker has taken it a step further by developing a "shacket" style - a nifty reversible shirt-cum-jacket that has a waterproof, quilted fabric on one side and a cool, plaid print on the other side, available next month.
For his recent menswear autumn 2016 collection for Louis Vuitton, creative director Kim Jones continued to acknowledge his love of sportswear elements in a collection that cleverly combines the house's heritage with utility; blouson bomber jackets, sweatshirts and second-skin trenchcoats were sent out, that work as easily over a T-shirt and pair of jeans as they would over a 9-to-5 suit.
Dan Carter even sat front row, wearing a bomber jacket from the luxury brand's current collection, complete with sheepskin trim collar over a shirt, tie, sweater and dress pant combo. Put together without looking over or underdressed, it was a perfect example of how to get more mileage out a bomber and its easy versatility, moving seamlessly between any dress code.
For guys who like their clothes to work overtime, what's not to love about that?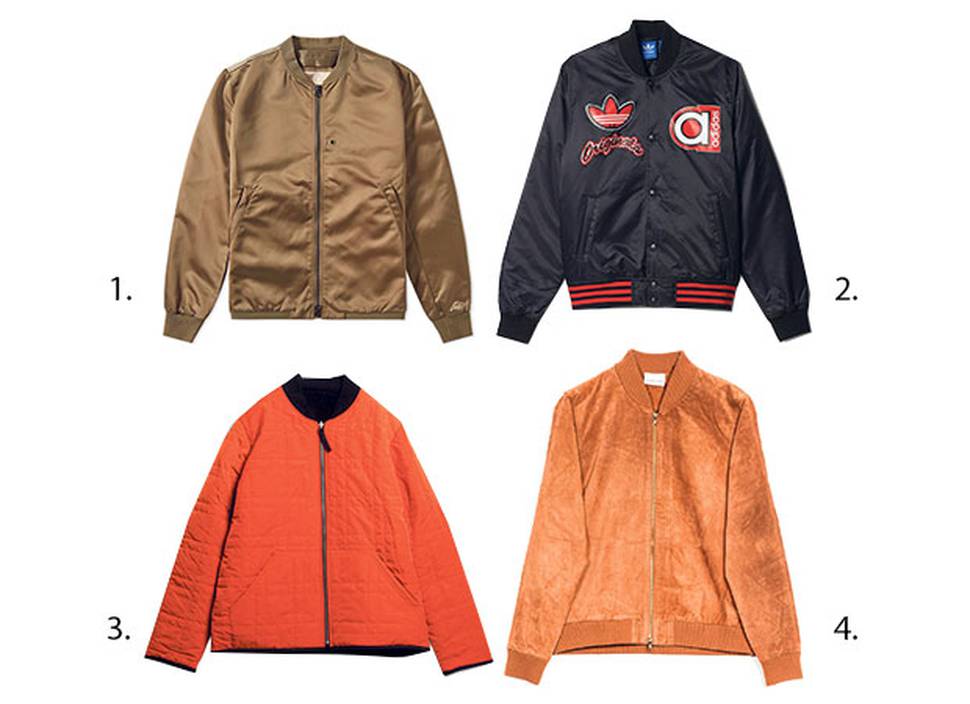 1.
Acne Studios satin bomber jacket, about $770, from Matches Fashion
2.
Adidas Originals bomber jacket $210
3.
Our Legacy bomber jacket about $350, from Oki Ni
4.
Vanishing Elephant suede bomber jacket, $589, from Stencil
5.
Ami bomber jacket, about $733, from Mr. Porter
6.
Opening Ceremony Varsity jacket about $730
7.
Brixton coach jacket, $109, from Black Box and Shop Viva
8.
Country Road bomber jacket $179
9.
Carhartt coach jacket, $199, from Area 51
10.
The Quiet Life letterman jacket, $319, from Superette
11.
Zambesi bomber jacket, $810, available for pre-order
12.
Neuw bomber jacket, $250
Stockists
• Adidas
• Area 51 (09) 529 1958
• Black Box
• Country Road (09) 529 1987
• Matches
• Mr. Porter
• Neuw
• Oki-Ni
• Opening Ceremony
• Shop Viva
• Stencil (03) 379 4853
• Superette (09) 360 2360
• Vanishing Elephant
• Zambesi (09) 303 1701