Our Instagram feeds have been chocka with friends' gorgeous holiday photos of getaways and bubbles and pressies - until they were interrupted by an uber-fit Aussie doing body-defying feats of strength.
Enter Kayla Itsines, Instagram star and lady mag muse, who's been taking the world by storm with her Bikini Body Guide - 12 week programmes aimed at building and toning muscle in order to flash a bikini-worthy body.
Kayla's workouts are no joke. Between three 28-minute strength circuits and three cardio sessions each week (plus rest and rehab), the workouts can get really challenging, pushing us to reach for the paracetamol the day after.
Search #bbg on Instagram and you'll see some impressive results of women proud of their regimes and their increased confidence after nailing a workout. (And you'll see some OWWWWWW posts as well.)
Us here at the Herald, sitting for hours on end at the computer, feel the need to get our butts into shape. Starting today, we're joining Kayla's #thekaylamovement: 12 weeks of burpees and push ups and cardio.
We'll blog the first four weeks of the "movement" (or lack of movement after a tough strength sesh) - the good, the bad and the ugly. Look out for our posts on Mondays and Thursdays.
Will you join us as we take on the #thekaylamovement January 11? We look forward to your comments and experiences as we get through the first month together.
Meet our bloggers
Both bloggers have personally bought one of Kayla's products - either the PDF guides or the app before they signed on to do this blog.
Tessa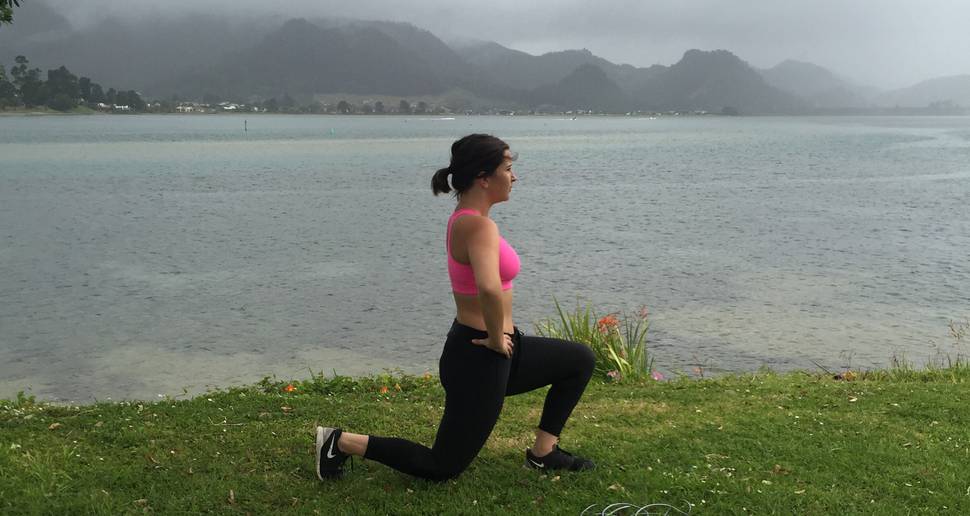 A self-proclaimed Made in Chelsea addict and Life & Style social media producer, Tessa (@TessaStockdale) completed Kayla's guide in August 2014.
However, after a European holiday, final university exams and discovering her love for macarons, she's tackling 2016 fitness first. Tessa is looking forward to getting a butt like Alana Blanchard and a stomach like Gigi.
Starting stats:
Height: 164cm
Weight: 67.5kg
My goal: To tone up all over and slim down those hips. My fitspo body muse is Jennifer Lawrence.
Tina
Thirty-something social media editor Tina (@tinatrenkner) has completed an intro and a beginner week via Kayla's app so far. She has been told that exercise is a better stress management technique than evenings of Netflix and wine. She is looking forward to the workouts improving her no-longer-twenty-something metabolism.
Starting stats:
Height: 168 cm
Weight: 63kg
My goal: To de-stress without the aid of Netflix and wine.
Check in on Thursday to see how they managed the first week of #thekaylamovement Bikini Body Guide.
- nzherald.co.nz