Australians have been given a new guideline on healthy eating for the first time in 15 years, as industry experts call for sugar and junk food to be dumped from all diets.
Nutrition Australia has updated its Healthy Eating Pyramid after it remained unchanged since 1999, and the new version includes some hip foods that would have been hard to find on a supermarket shelf in the 90s.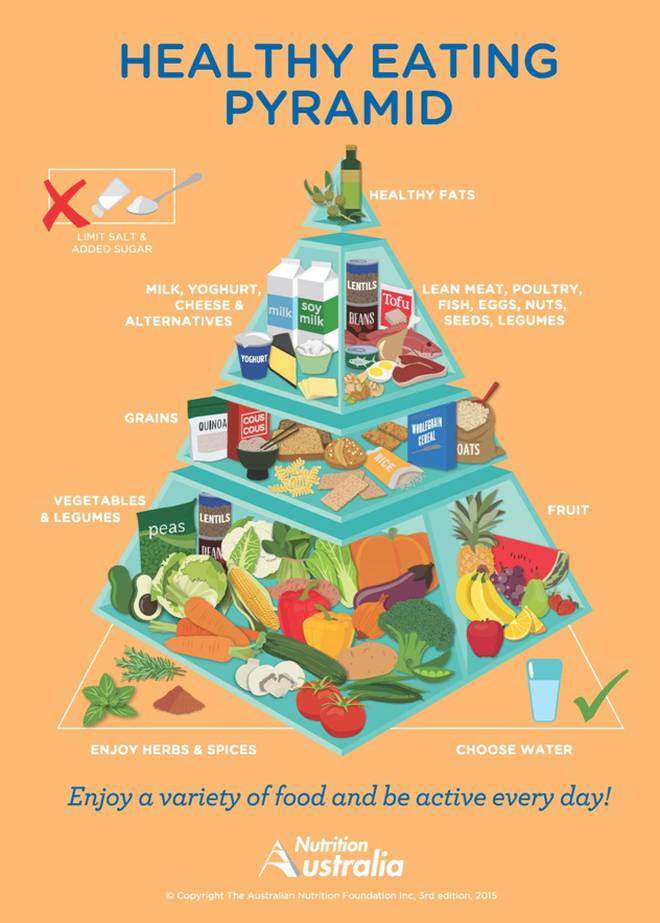 The new pyramid includes soy milk, quinoa and tofu for the first time, along with traditional staples such as fruit, vegetables, grains and dairy products.
It also rules out junk food entirely, and calls for people to cut added sugar and salt out of their diet immediately.
Nutrition Australia executive officer Lucinda Hancock said the pyramid can help all Australians.
"The foundation is the same as the original healthy eating pyramid - to have a plant-based diet with 70 per cent of your diet made up of fruit vegetables and grains," Ms Hancock told Ninemsn.
"The majority of Australians don't follow the Dietary Guidelines so we want to provide a different tool to help people cut through [incorrect information] and identify what they need to eat.
"What we have focused on now is increasing wholegrains and not having any junk food - we just don't need it. That's really what's causing obesity in Australia."
She also said the new pyramid will help "cut through a lot of the misleading information about fad diets".
The new pyramid was decided upon after updated Australian Dietary Guidelines were released in 2013.
"The release of updated Australian Dietary Guidelines in 2013 prompted us to revise and update the Healthy Living Pyramid to reflect the current dietary evidence base, population health messages and consumer needs," a statement released by Nutrition Australia reads.
"While much time and thought has been put into the new design, the new Healthy Eating Pyramid is essentially a new twist on a consistent theme: enjoy a variety of foods from the five food groups, choose mostly plant-based foods, limit added saturated fats, sugar and salt, and choose water as your main drink.
"The new Pyramid maintains the original messages above, while providing more definition about how much each food group contributes to a daily diet. We also updated the variety of foods that are available within each food group, to reflect current dietary behaviours and encourage variety."
The Healthy Eating Pyramid is designed to help Australians have a better understanding of the sorts of food they should be eating on a daily basis, and the ones they should steer clear from indulging in each day.
It was first introduced in 1980.