Prince Harry has hit the dressing rooms after tonight's rugby game in chilly Wellington.
Hurricanes' captain Conrad Smith presented the royal with a jersey for himself and something smaller for his one-week-old niece, Princess Charlotte Elizabeth Diana.
Harry then joined the winning side in their celebratory team song.
Harry was spotted rugged up and enjoying a beer on this chilly evening in the capital, wearing a black polar fleece jersey with a black and yellow Hurricanes supporters scarf.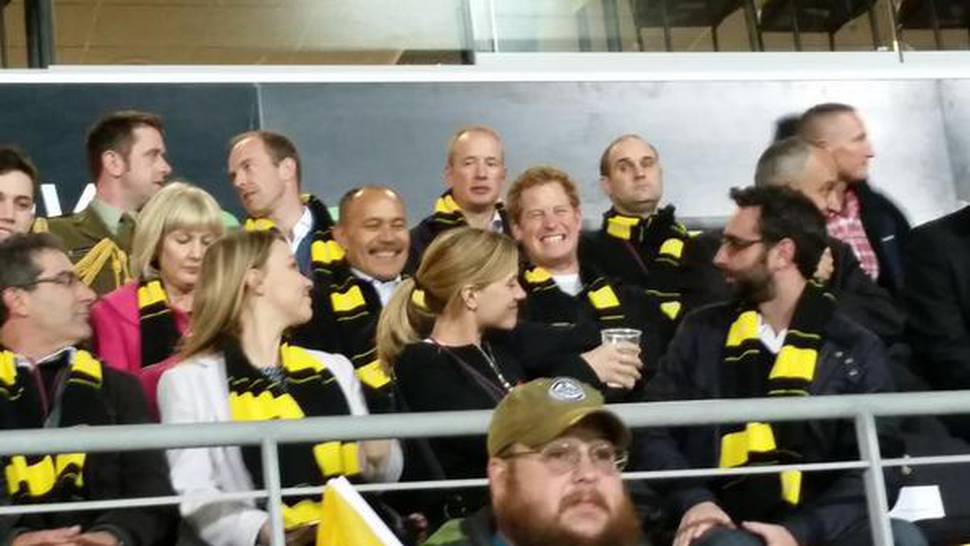 He is sitting next to the Governor-General Sir Jerry Mateparae.
After the match the popular prince is expected to visit both teams in their changing rooms and be presented with a jersey by Hurricanes' captain Conrad Smith.
Earlier today the prince certainly stole a few hearts today, after kicking off the first leg of his royal tour.
This is the Prince's first visit to New Zealand and it follows a month-long military secondment in Australia.
Harry touched down on time in the capital at 2.30pm in a Royal New Zealand Airforce 757 plane, disembarking from the front stairs of the plane wearing a dapper navy suit and his trademark cheeky grin.
As he left the tarmac and walked towards the terminal, he waved to a small gathering of adoring fans.
From there it was on to Government House for an official welcome, which included his first hongi.
Prince Harry was met by the Official Secretary Greg Baughen who introduced him to Kaumatua Lewis Moeau and Kuia Hiria Hape.
A Wero (challenge) was performed by Thomas Vela, and Prince Harry accepted the dart that was placed on the ground before him.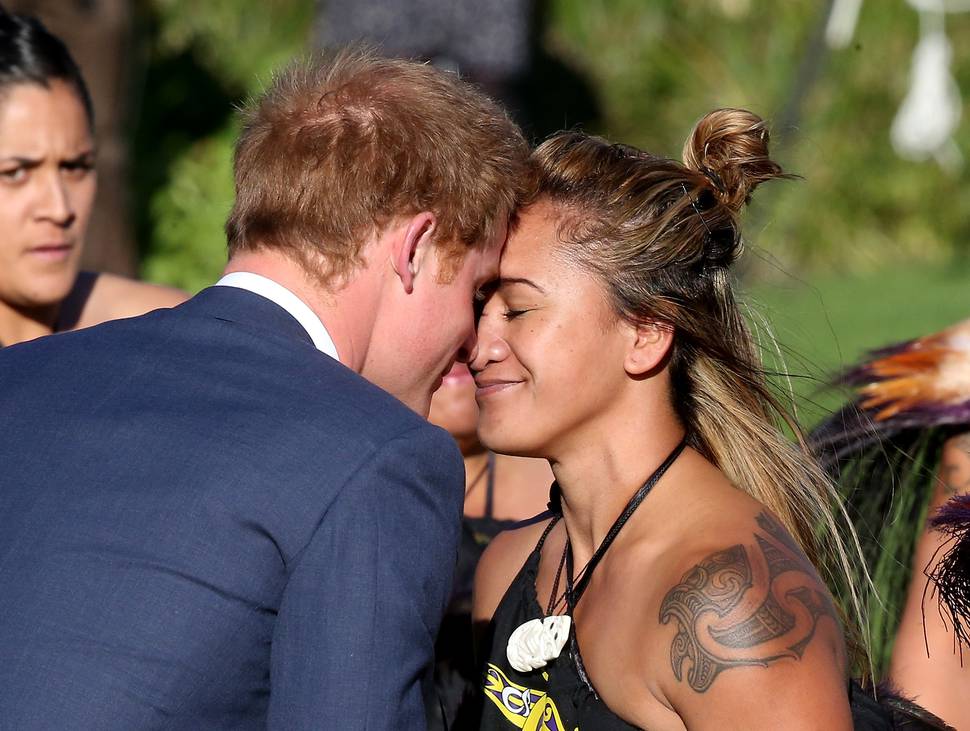 A Karanga (call of welcome) welcomed the prince to Government House before The Royal New Zealand Defence Force Tri-Series Maori Cultural group performed a haka for him.
The prince met and chatted with some local school students from St Mark's Church School, Kilbirnie School, Hataitai School, plus Scouts and Cubs from Karori West Scout group.
He spoke at length with the children about everything from rugby to what they like about school and has even suggested if they ever want cake or cookies to give the Governor General a call.
"Just ring on the gate, they'll help you out," he said.
Harry was shocked to hear the kids played sports other than rugby.
"I thought you would be forced to play rugby. That's why you have such a good rugby team isn't it?"
He discussed who was going to win the Rugby World Cup and talked football with some children.
"Most of the royal family are Arsenal fans," he said.
The Prince then arrived to excited squeals of about 1000 fans gathered at Pukeahu National War Memorial about 4.30pm.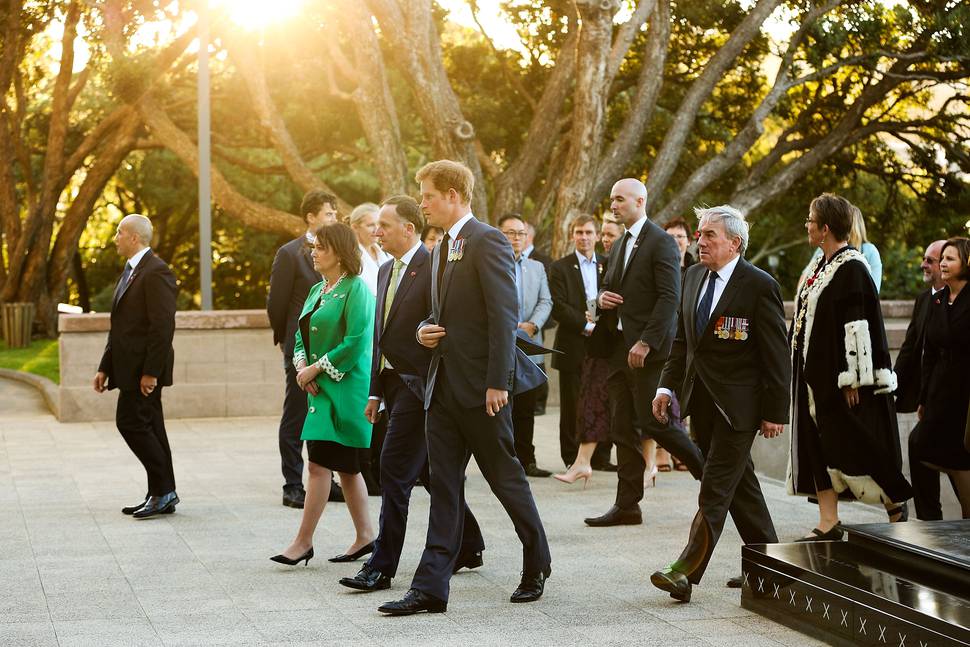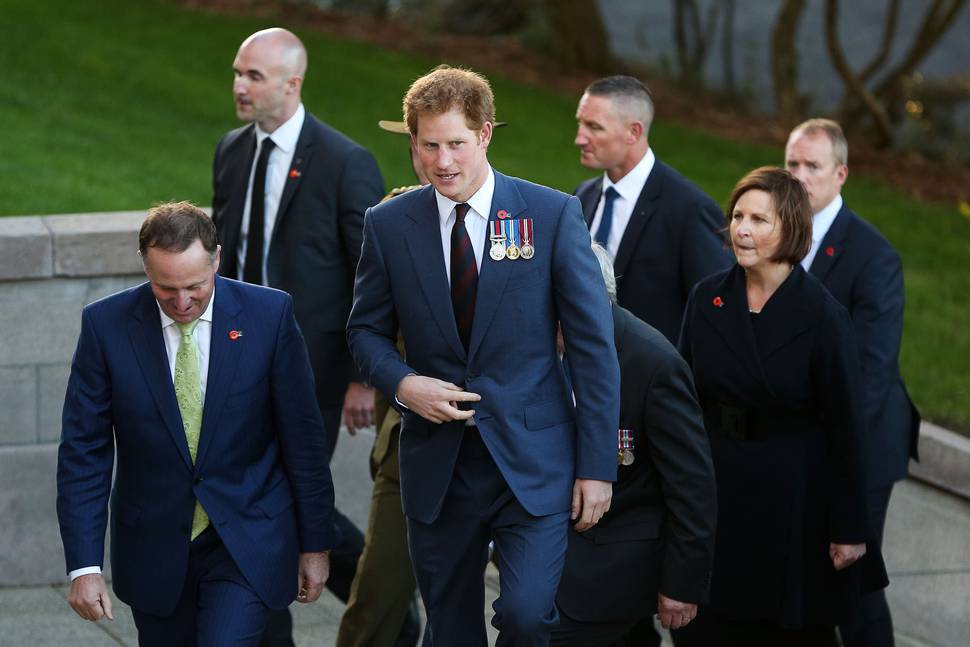 After signing the visitors book, Prince Harry, Mr Key and Bronagh Key laid ferns at the Tomb of the Unknown Warrior.
Prince Harry then wandered around the crowd, which had gathered, greeting the public and shaking hands.
One fan yelled out to the Prince: "Enjoy the rugby, Harry!"
Harry asked the Wellingtonian who was going to win.
"We are!"
Prince Harry accepted a soft toy Kiwi bird, which the woman who gave it to him said was a present for his newborn niece Princess Charlotte.
Chants of "Harry, Harry, Harry" rang out across the park and the popular prince even joined in singing "Happy Birthday" to one girl wearing a party hat.
Another girl yelled "I like your suit," and when the Prince replied with "thank you", he was met with screams of delight.
Prince Harry's visit
Saturday, May 9: Wellington
• Arriving in New Zealand, greeted by Governor-General at Government House.
• Visiting the National War Memorial and Anzac Square.
• Attending Hurricanes vs Sharks Super 15 rugby match, Westpac Stadium.
May 10-11: Stewart Island
• Meeting locals and travelling to Ulva Island, a Department of Conservation open island sanctuary.
May 12: Christchurch
• Visiting the Quake City exhibition, mall, and meeting student volunteers from Canterbury University.
May 13: Palmerston North
• Visiting Linton Military Camp. He is to be taught the Army's haka.
May 14: Whanganui
• Visiting Putiki Marae. He will join the crew of the marae's waka for a trip on the river. He will also visit the war memorial centre to meet local veterans.
May 15-16: Auckland
• Visiting Middlemore Hospital's Spinal Rehabilitation Unit, supported by the NZ Rugby Foundation.
• Reception with emergency services at Government House.
• On Saturday, attending a Fifa U20 World Cup event at the Cloud, before going to the Millennium Institute of Sport.