The Block NZ 2012 winner Ben Crawford and his girlfriend Kylie are building their dream home. Share their proud moments and pitfalls here every week.
Holy Toledo Batman. After months of investigating, problem-solving and planning, we finally had the green light to proceed and our dream home was going to happen. But after being issued with our resource consent and having excitedly cleared the section, the enormity of what we were embarking on began to hit me.
I started having sleepless nights. I wasn't scared of the hard work ahead but I was afraid the grand design we'd conceived wouldn't materialise as we imagined. And my main worry was the stream. I'd lie there through the night overthinking every possible detail and scenario, from how we'd ensure it looked as natural as possible to how we would protect it from erosion.
What if it was too small and out of proportion to our house? Would our beautiful glass bridge look silly and out of scale over a little ditch? Would our massive windows and doors that we had positioned to optimise the view over a tussock-fringed stream be looking over a man-made stormwater channel instead?
Luckily for my sanity we had arranged to begin modifying the stream immediately after clearing the site. As part of our hydrological engineer's recommendation, we had been given approval to enlarge the stream's dimensions so it could hold all water events, including a 100-year flood, thereby eliminating any risk to our home. Before the excavations began, a dam had to be built and the water diverted to allow us to work in the stream and avoid sediment run-off. Once in place, the magic could begin.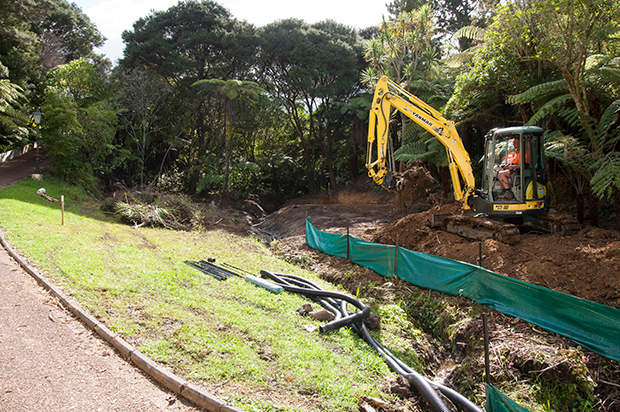 Contractors finishing modifications to the stream. Photo / Ben Crawford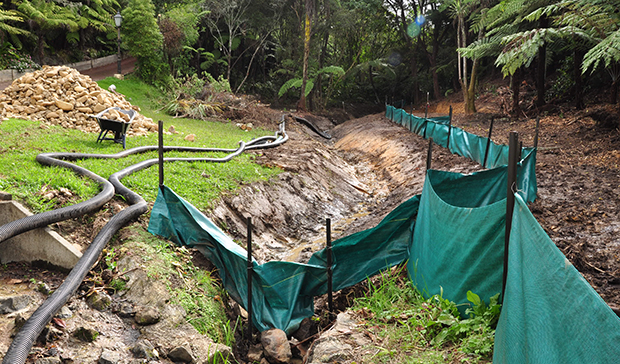 Modified stream channel before fabric and rocks. Photo / Ben Crawford
Watching our contractors sculpt this new channel was like observing artists at work, as the arms of their diggers became an extension of themselves, gently shaping the new banks around the contours of the land to create an awesome, natural watercourse. I finally slept well that night.
A few days later we began our own labour of love on the stream. First, we needed to line it entirely with geotextile fabric to prevent erosion. Kylie and I slipped and cursed our way up the length of the channel as we rolled out 200sq m of pristine white material. But the worst was to come as we secured the heavy-duty fabric to the banks with barbed ground pins. It was like trying to push plastic through concrete, nigh-on impossible, however we eventually got the job done.
Watch episode 5 of Ben & Kylie's Brand New Build below:
Video will play in
Play now
Don't auto play
Never auto play
The Block NZ 2012 winner Ben Crawford and his girlfriend Kylie are building their dream home. Share their proud moments and pitfalls every week. Read more here.
The big concern troubling us at this point was how to turn this white channel into a normal-looking stream. As part of our resource consent we had engaged landscape architecture firm Verdant Green to create a landscaping and planting plan. Owner Lance Millward came up with a brilliant design that followed best practice riparian planting techniques, beginning with the recommendation that we line the stream with rocks. From a functional point of view this was to help control the flow and minimise erosion, however for Kylie and me, the rocks were a key aesthetic detail.
We wanted natural-looking rocks but all we could find in Auckland was quarry-blasted rip-rap which was too dark and full of harsh edges. Then after hours of research I discovered Mangatangi River Rocks on the Firth of Thames and its uncrushed river rocks. We loved their shape and beautiful autumnal colours so promptly had 10 tonnes delivered to the site. Then between Kylie, her parents, brother and me placed every single rock, piece by piece, into the stream. A mammoth effort.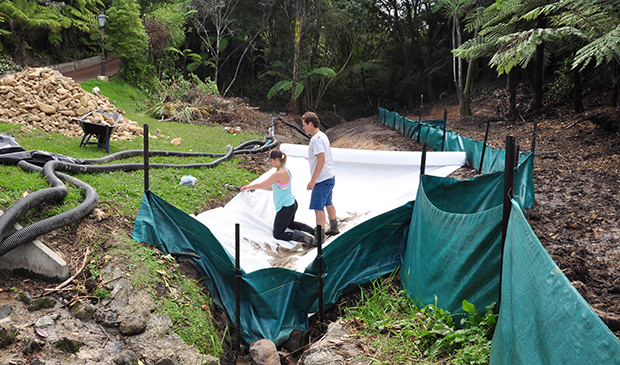 Ben and Kylie fixing geotextile fabric to stream banks. Photo / Ben Crawford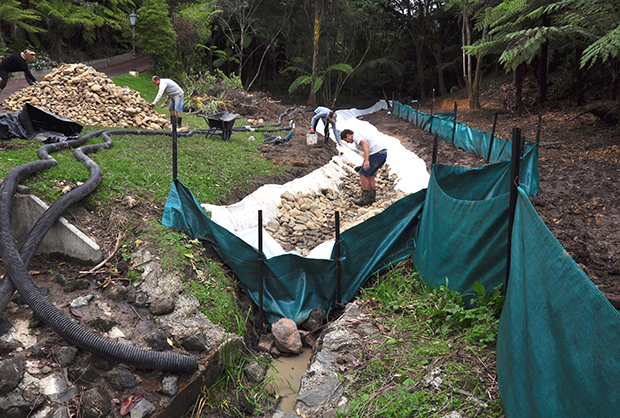 All hands on deck for lugging and laying of rocks. Photo / Ben Crawford
Over many weeks Kylie and I headed back to the quarry to get trailer loads of larger feature rocks, then spent the weekends putting them in place and pottering away on the section. We also called in our landscaper Lance to make everything look as natural as possible. He did an amazing job securing logs to the banks, planting behind them, putting boulders in all the right places and digging gabion baskets into the stream bed to create little pools and control the water flow. Then finally we were ready to release the dam.
It was a magic moment as we watched the water run through the rocks and fill the pools for the first time. Within minutes we had in front of us a stunning and justifiably grand water feature that exceeded the vision we'd had in our heads for so long.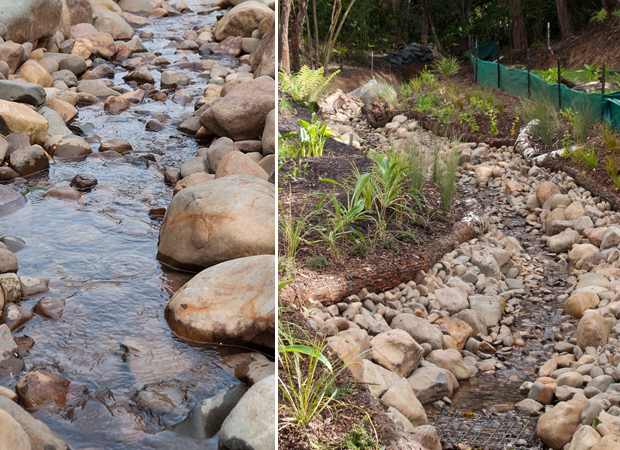 After shots of the modified stream. Photo / Ben Crawford

Pre-plan, pre-approve, pre-fab
Pre-fabricated, eh? Sounds like a great way to plan a build so you know exactly what you're going to get. Getting pre-approved for a home loan gives you a similar kind of security - you'll know how much you can borrow so you can start looking for your perfect house.
Kiwibank's Home Hunter app for iPhone and Android is designed specifically for home buyers. Once you've downloaded the app, you can apply for a pre-approved home loan - it only takes about 10 minutes. A pre-approval means we've conditionally agreed to lend you a certain amount of money to buy a house.
Once you're pre-approved you'll be able to see Kiwibank's estimated price range for many houses along with the RV and the seller's asking price. You'll also see which houses get our green tick - houses that match your pre-approval. (We'll do the final checks as part of the full home loan process.)
Start your search for a home with a clear idea of what you're looking for. Maybe it'll be a pre-fab palace like Ben & Kylie's!
To start the pre-approval process, visit homehunter.co.nz or download the app for your smartphone.
Kiwibank's lending criteria, terms and conditions, interest rates, fees and charges apply to all loans.
• Find out more about Ben and Kylie's dream home at ourdreamhome.co.nz
• For more information on the Kiwibank First Home Buyer's Guide visit: kiwibank.co.nz and search for "first home".