A new restaurant for people dining alone is opening in Amsterdam. No families, no couples and no gangs of laughing friends? Sounds delicious, says The Independent's Anna Hart.
Key Points:
This month sees the opening of Eenmaal, a temporary restaurant in Amsterdam that claims to be the world's first restaurant catering purely to solo diners. No couples, no families, no groups of chattering friends allowed. Sleek, Ikea-style black desks/tables are dotted around the studiously sparse, industrial-chic space. There's a fixed €35 (NZD$56) four-course menu including cocktails and wine - at Eenmaal, it definitely pays to be on your tod. Marina Van Goor, its creator, has plans to take the pop-up to London, Paris and other European cities. "I wanted to break the perception that eating out alone isn't very attractive," she explains. "Solitary dining can actually be an inspiring experience, because you get a chance to disconnect for a while in our hyper-connected world." As an ostensibly civilised society, one of our most cherished notions is that eating should be a grand social occasion, with woolly concepts such as vibe, buzz, company and conversation functioning as digestifs. We have been berated for enjoying slovenly, un-European television dinners, and brainwashed by Bertolli adverts in which generations of bright-eyed Italians gather around the table and heap pasta on to each other's plates. But I've never been convinced that this model of dining looked that much fun. I'd much rather the rest of the clan left me alone to eat my pasta and sauce in peace. Solo dining in restaurants is the extreme sport of the food-and-drink scene. It calls for nerve and verve, but ultimately delivers a more intense experience, free from the distraction of someone's boring chat about their bitchy boss, unfettered from the expectations of others (that you'll magnanimously order a different starter to them, that you'll include carbs/vegetables/chicken in there somewhere, that you'll go for the same combination of courses) and able to focus entirely on the food. Frankly, food is the only company I need.
I first dipped a toe in to solo dining when I got together with a sound engineer who worked all the social hours of the week. Mostly, I went out with friends, but friends can't be railroaded into a spontaneous lunch/dinner/film/gig as easily as someone that you're going out with, so I began taking myself to the cinema (another patently solitary activity that is bafflingly considered social), and then, for dinner and a film. I became good at it. I realised that I might even prefer it. I am also strict about it: dining with my iPhone is cheating. I know that phones have replaced the cigarette as the fail-safe prop of the solitary lurker, drinker or eater. But nothing waters down the bold statement made by a solo diner faster than the act of stabbing at an iPhone. Books, magazines and newspapers are acceptable dining companions, but the jury is still out on the Kindle, thanks to its corporate-grey suit. Because the look I want to avoid at all costs, even more than "hooker", is that of the bored business traveller.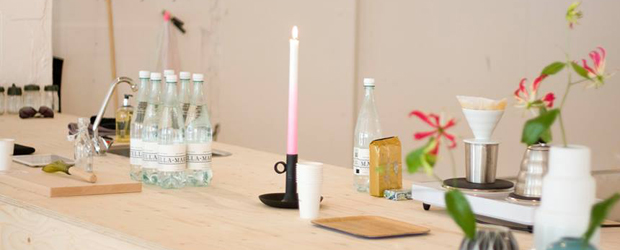 I admire Eenmaal's noble intention to destigmatise, or even to glamorise, solo dining. But part of the kick of dinner a une is being surrounded by couples on awkward dates, or families shouting over each other, and basking in my greed and solitude. Nothing makes me feel more smug, serene and spoilt than eating and drinking alone in a restaurant full of people forced to socially interact in between bites. That, and the zero risk of food envy, or that thing when you finally assemble the perfect flavour combination and fork it into your mouth just as your companion intently asks you some major question, so you have to wastefully gulp it down in quiet fury. The only downside is that l feel a little guilty taking a table for two in a busy restaurant - even more so because I stick to wine by the glass. My dream setup is the communal table, or dining at the bar, and thankfully this kind of dining is popular in the capital right now. Can I tempt you to join me? If so, please don't. - The Independent