New Warriors recruit Gerard Beale hopes he will be fit for the start of the upcoming NRL season as he continues to recover from a broken leg that ruined his World Cup dream.
The 27-year-old former Cronulla Sharks outside back is continuing a gradual return to training after suffering a double fracture in his left leg during the second-half of New Zealand's tournament opening win over Samoa at Mt Smart Stadium on October 28.
Beale was expected to face a four to six month recovery but hopes to begin running in February after making good progress with his rehab over the summer break.
Read more: Former Kiwi calls time on NRL career

"It's coming along really well," said Beale.
"I've been nailing the rehab and there's plenty of things I can still do at the moment and each week is a progression so I'm really looking forward to getting back out there.
"I feel like I am (ahead of schedule) but it's hard to tell. I'm pushing for the start of the season but it's a week by week thing.
"I've been living on the bike and in the pool at the moment but it's good that each week I get to start something new and it's all going well.
"I'm just focusing on doing everything and working on the little things and trying to get better each day."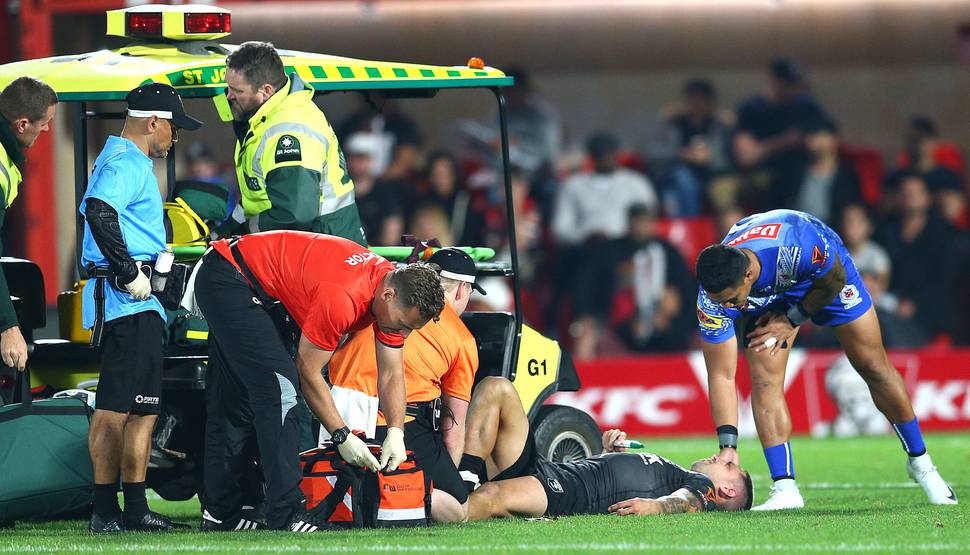 Beale initially hurt himself after making a try-saving tackle near the line but remained on the field before his leg gave way while he was in back play.
The 2016 Sharks premiership winner admits he struggled with the disappointment of being ruled out of the Kiwis campaign but eventually came to see the bright side.
"It was (brutal). Wanting to do so well and represent New Zealand, to go down in the first game," he said.
"It didn't really sink in. I couldn't believe that it happened and then after the first few days and leaving camp and then realising I had got injured.
"It was definitely a downer but there were still some positives - I then got to spend some quality time with my family, although I couldn't do much on crutches, and having the offseason on my side to get healthy again for this year."
After spending the Christmas break back in Australia, Beale made the shift to Auckland on his own in the New Year, with his wife, Roimata, and their three children due to arrive in the coming weeks.
"I've been really excited to get over here and to get started and it's finally underway.
"I'm currently living with (Warriors hooker) Manaia Cherrington. We knew each other in Sydney, so I've got a friendly face there.

"That gives me time to really focus on the injury and getting it right and then the family will come over soon.
"It's been really good. It's only been a week, I officially started last Wednesday but I'm really enjoying it.
"The boys are really training hard and I'm trying to do my part, whether that's just in the gym or helping to motivate them in any way I can."
The full Warriors squad assembled at Mt Smart Stadium today for individual and team photos in their new playing strip following a light training run this morning.
The Stephen Kearney coached side have two preseason fixtures scheduled against reigning premiers Melbourne Storm in Rotorua on February 17 and the Gold Coast Titans on the Sunshine Coast on February 24.
Their NRL campaign begins with a round one clash against South Sydney in Perth on March 10.