Warriors rookie Charnze Nicoll-Klokstad's stolen car has been found but he is still waiting to learn if his treasured jersey from his NRL debut has also been recovered.
The 22-year-old wing took to social media today asking his followers to keep their eyes peeled for his Mitsubishi Cedia which went missing from Onehunga in the early hours of the morning.
His first Warriors jersey from his debut outing against the Sydney Roosters in April was in the boot of his car along with other items, while he and his family are in the process of moving house.
Nicoll-Klokstad contacted the Herald this afternoon to advise that his car had been found by police, but he is still awaiting word on whether his jersey and other items were still inside the vehicle.
"It's got my name and Warriors number (#218) embroidered on it so it can't be missed," Nicoll-Klokstad said in a Facebook post today.
"A lot of goods can be replaced except this jersey so if you see or hear anything please don't hesitate to contact the police or DM me."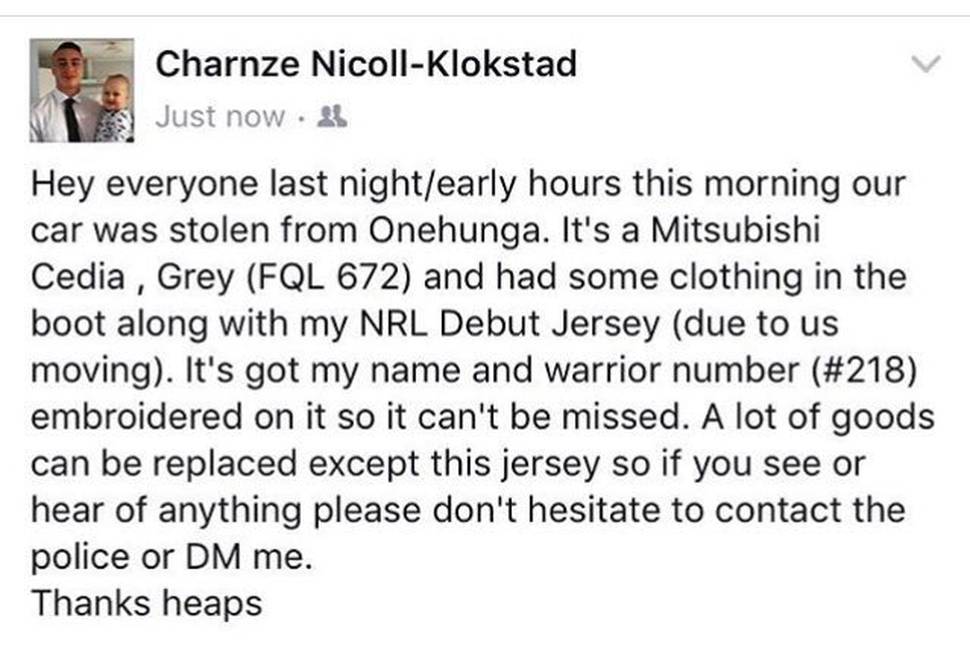 The theft comes as a bitter disappointment after Nicoll-Klokstad enjoyed a break-out season, scoring seven tries in seven appearances on the right flank for the Warriors.
His good form was rewarded in June when the club extended his deal for another two years to keep him at the Warriors until at least the end of the 2019 season.
Known as a good team man, he won plenty of admirers in July when it emerged he had bought a disabled teen a pair of expensive shoes during a shopping trip to Westfield St Lukes.
Nicoll-Klokstad saw 13-year-old Takiri Wikitera, who was born with cerebal palsy, gazing at a pair of red Nike Air Max shoes before deciding to buy them on his behalf.
"I was so overwhelmed and I ended up balling my eyes out thanking him," Wikitera's mother, Amber, told the Herald.
"I was thinking and said, 'How am I going to pay you back for these?' And he said, 'don't worry about it'."
The former three-test Cook Islands international is hoping luck falls his way and someone is able to recover his jersey at least if not his missing car.