Kiwi golfer Danny Lee will be playing in the final group on the last day of the Players Championship after finishing his third round with a largely mistake-free 70 - but he will have a lot of work to do if he is to catch runaway leader Webb Simpson.
Lee hit 11 of 18 greens in regulation during a solid third round but only managed two birdies on the par 5s on the back nine to go to 12-under for the tournament, sitting in second on his own.
"I'm going to just keep my hat down and play my game," Lee said.
Read more: Golf: Lee best of the rest as Simpson races away
Lee played bogey-free golf - Justin Thomas was the only other one to do so Sunday - in windy conditions in the afternoon.
"It was a good solid round," Lee said. "It was very windy out there. It got really windy out there in the afternoon, and it wasn't anything like the morning guys' golf in the afternoon. I managed to stay very patient out there."
The 27-year-old Kiwi, with a combined score of 204, would have led The Players in all but three of the years since it moved to May in 2007.
But Simpson didn't back off with another shot he wasn't planning to make, atonement on the island-green 17th and a four-under 68 that stretched his lead to a record seven shots over second-placed Lee.
The American started out with an 8-foot birdie putt on the opening hole. His shot from the back bunker to a front pin on the par-5 11th raced across the green and into the cup for an unlikely eagle.
And that island on the par-3 17th was no problem at all. A day after making double bogey to ruin his bid to break the course record, Simpson rapped in a 3-foot birdie putt.
It added to a 19-under 197, tying the 54-hole record set by Greg Norman on a soft course in March. And the 32-year-old Simpson has history on his side. No one has ever lost a seven-shot lead in the final round in PGA Tour history.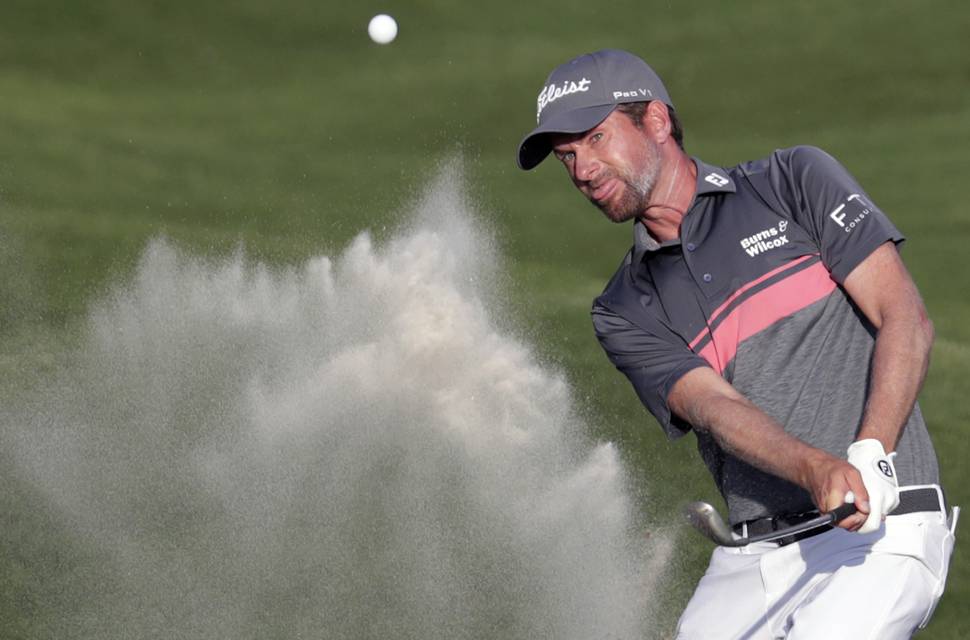 Meanwhile, Tiger Woods had his best round on the Stadium Course, playing the final six holes in one over for a 65. Jordan Spieth made two bogeys in his round of 65 as both charged up the leaderboard in the morning with big crowds and loud cheers.
That got them into the top 10, but they made up only three shots on Simpson. They still were 11 shots behind.
Dustin Johnson at least improved his chances of staying for No. 1 with four birdies over his final 10 holes for a 69. He was in third place, nine shots behind and figured all he could do Sunday was go as low as he could and see where it led.
Johnson is among six players to lose a six-shot lead in the final round, last fall in Shanghai. And with danger lurking at every corner on the Pete Dye-designed Stadium Course, that would suggest that the crystal and largest paycheck in golf — just shy of $2 million — doesn't belong to Simpson just yet.
He just hasn't shown any signs of cracking.
His only two bogeys came on the toughest par-3 at Sawgrass (No. 8), and a three-putt from 40 feet on the 14th, the toughest hole in the third round. He finished the day with a par putt from 18 feet.
A trio of PGA champions — Jason Dufner (66), Jimmy Walker (70) and Jason Day (71) were at 9-under 207, along with Xander Schauffele (71).
"If you take Webb out of the equation, the golf course is playing about like it always does," Johnson said. "He's the only one that's going really low."
For one morning, Woods created the biggest buzz of the week.
He ran off four birdies in five holes at the start of his round, made the turn in 30 and then added a two-putt birdie at No. 11 and a pitch to 8 feet on the short 12th. He was in range of the course record that eluded Simpson on Saturday. Woods didn't do anything spectacularly wrong the rest of the way, he just didn't convert and dropped his lone shot on the 14th with a drive into thick rough that kept him from reaching the green.
"Eventually I was going to put all the pieces together and today, for the most part, I did that," Woods said.
It was his lowest round on the PGA Tour since a 65 in the second round of the Wyndham Championship at the end of the 2015 regular season. That was a month before he was sidelined with three more back surgeries. He played only one PGA Tour event since then until returning this year.
Walking to the 10th tee, Spieth smiled and said it was good to see putts go in, and he was just getting warmed up. He birdied half of his holes — six of them on the back nine, including the last three holes — for 65.
Woods and Spieth both made the cut on the number and will be paired in the final round Sunday.
But this is Simpson's show until further notice. Norman's record score of 264 is in play for the final round, and this could require a Sunday charge by someone and plenty of help from Simpson for the outcome to change.
Should a miracle chase down from Lee on Simpson's seven-shot lead occur, he would become the first Kiwi since Craig Perks in 2002 to win the Players Championship.
-with AP
To get the day's top sports stories in your inbox, sign up to our newsletter here