Crowds of pro-choice and pro-life protesters faced off in Auckland's Aotea Square today during rallies on New Zealand's abortion regulations, after stringent laws were passed in several states in America.
The two rallies kicked off at midday in central Auckland, with speeches from the pro-choice assembly making way to loud arguments between the groups.
A confrontation started when a middle-aged man wearing a 'Make America Great Again' hat took issue with two young women, who carried a sign reading "Keep your rosaries away from my ovaries".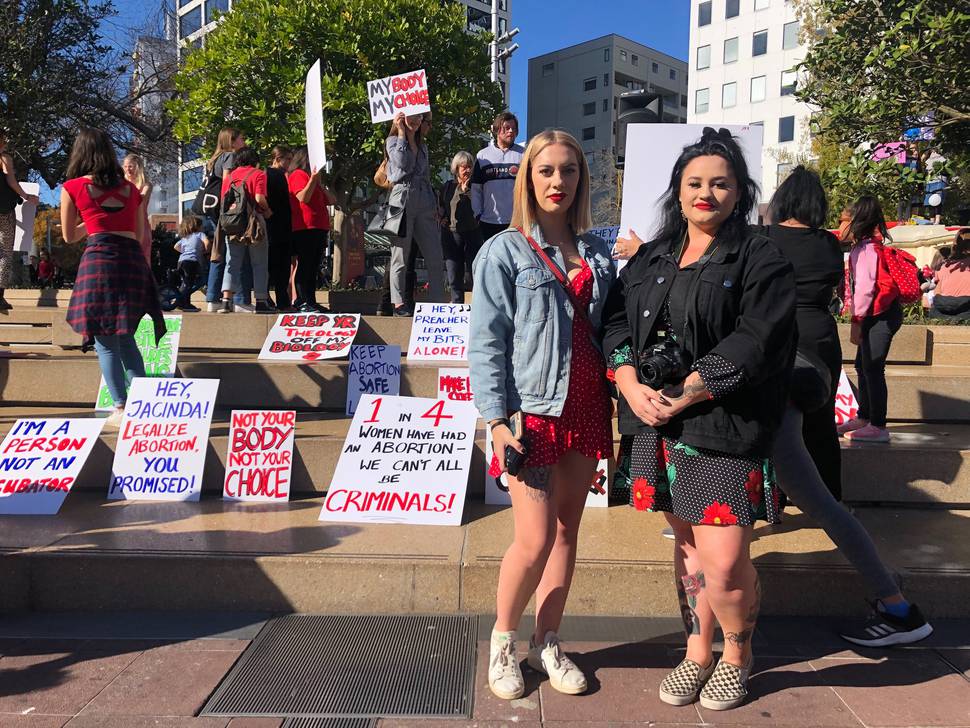 "This is my decision, my body. You can't make these decisions for me," one of the woman, who wanted to be known as Z, yelled.
The man yelled simply "pro-life" in response.
The argument was eventually drowned out by a group of about a dozen pro-choice protesters, chanting "my body my choice".
The group of around 200 pro-choice advocates had gathered to protest New Zealand's "antiquated" abortion laws, along with stringent abortion legislation in the US.
Currently, New Zealand law allows for abortion to be performed only to save the life of the mother, or to preserve her physical or mental health - and only if the procedure is approved by two doctors or consultants.
that is expected to allow women to seek abortions by choice up to about 20 weeks.
MPs will vote on new legislation that would remove abortion from the Crimes Act and remove the barriers women currently have to go through.
Aucklanders Tegan Tinsley and Kayla Bunce were behind the 'Girls Just Want To Have Fundamental Human Rights Rally', on Saturday, which was matched with a counter-rally.
Dozens of pro-life protesters, who were predominantly female, had also gathered with placards, with messages like "Life is precious" and "A person is a person no matter how small".
March for Life Auckland and Voice for Life Auckland - two vocal anti abortion groups - had gathered the group, which stood waving placards as pro-choice advocates spoke on the steps of the square.
Ella Shepherd, from the University of Auckland's feminist group, was one of the first to speak, declaring she was "mad as hell".
"I'm mad that it's 2019 and we're still talking about these issues that my mother and grandmother were talking about."
Shepherd said it wasn't enough simply to remove abortion from the Crimes Act - New Zealand needed to make abortion accessible to all.
The pro-choice rally attracted the support of Green Party co-leader Marama Davidson, as well as New Lynn's Labour MP Deborah Russell.
Speaking to a crowd of around 200 protesters, Marama Davidson said the issue was protecting womens' right to make their "own blinking decision" about their bodies.
"I'm ensuring you all that I stand firmly and strongly in supporting people's choice whether or not to continue their pregnancy," she said.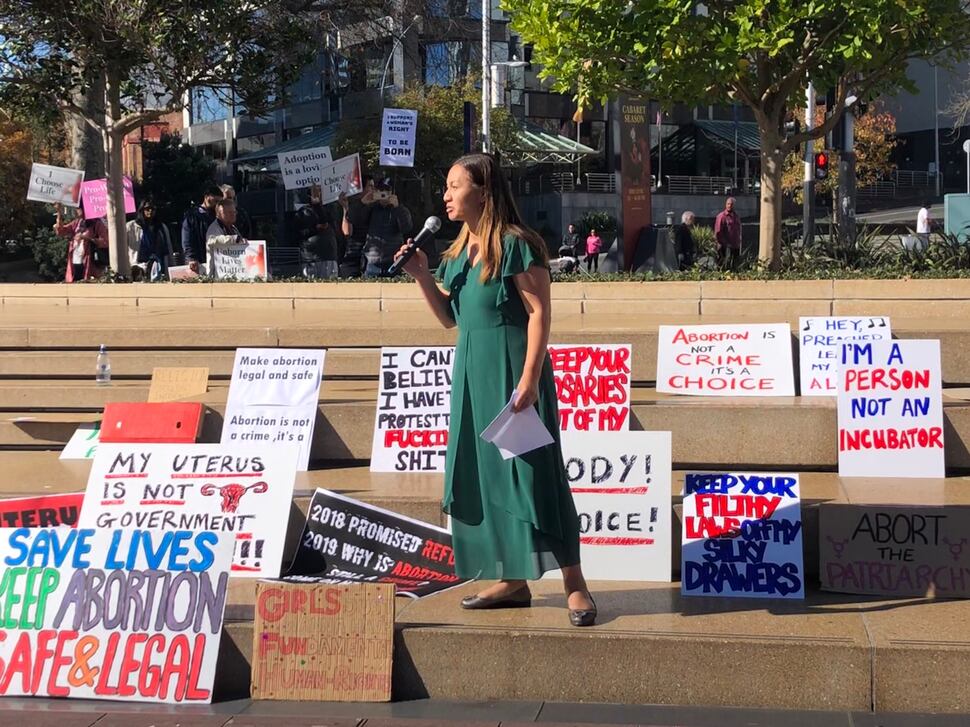 "The judgmental guilt trap approach to abortion is pungent and serves only despair," Davidson wrote.
The MP told the Herald the rally was an "impressively quick" response to the legislation passed in Alabama.
"It's taken some time, but I think we're going to get over the line in Government, with a bill that takes it out of the crimes act and understands that this is a healthcare issue."
Davidson said all options being considered by Parliament involved removing abortion from the Crimes Act.
"The detail is about how much trust we will end up giving over to women - and that's what I am really keen to see."
Catherine Gillies, from Voice for Life, stood behind the speeches with a placard picturing a woman wrapped in barbed wire. Gillies said the image represented "the mess" of a woman after an abortion, trying to heal.
Gillies said New Zealand can't afford to loosen our current abortion laws.
"We are trying to defend the rights of all people - the rights of the babies and the rights of the women. Because most women are bullied into it."
Auckland mum Charlotte Williams, 25, was also at the rally with her son, 3-year-old Cadence Williams.
Coming from a religious family, Williams said when she fell pregnant with Cadence she felt she had no choice but to continue with the pregnancy.
"It took me ages to come to terms with that," she said.
Williams wanted her son to grow up knowing that the choice to continue, or not, with a pregnancy lay with the person who's uterus it was.
"If he does find a girlfriend and she does want to have, I want him to understand why - and know that it's her choice," she said.
Just over a week ago Alabama's Republican governor signed the most stringent abortion legislation in the US, making performing an abortion an offence in nearly all cases.
"To the bill's many supporters, this legislation stands as a powerful testament to Alabamians' deeply held belief that every life is precious and that every life is a sacred gift from God," Governor Kay Ivey said.
The bill's sponsors want to give conservatives on the US Supreme Court a chance to gut abortion rights nationwide, but Democrats and abortion rights advocates criticised the bill as a slap in the face to women voters.
The legislation Alabama senators passed would make performing an abortion at any stage of pregnancy a felony punishable by 10 to 99 years or life in prison for the provider. The only exception would be when the woman's health is at serious risk.
The legislation has sparked debate around the world with both sides of the argument organising rallies.