It is almost two years since the Chiefs plunged rugby into the darkest place after their infamous end of season celebration sparked a major review into attitudes towards women and the prevailing culture towards diversity and inclusion.
The intent was to shine an unforgiving spotlight on the men's game, but by doing so, perhaps inevitably, the review had a significant by-product which was to bring to the fore the inequitable state of women's rugby.
If it was disturbing to discover the extent of the misogynistic tendencies within the men's game and the almost total exclusion of women from executive positions, it was equally galling to realise the lack of investment, structure, support and development opportunities within the women's game.
Pressure mounted on New Zealand Rugby to accelerate change when the Black Ferns won the 2017 World Cup on a vastly different remuneration scale to that of their male colleagues - there was a pay gap in excess of $130,000 per person - and no official celebration organised after they returned home in economy seats.
The national body has responded and two years since the Chiefs lifted the lid on the extent of rugby's inclusion problem, the landscape has improved in some areas but with a strong sense that plenty more still needs to be done if the eventual goal is to build women's rugby to the same scale as the male game.
It is in the abbreviated where the greatest progress has been made and where there is the genuine prospect of the Black Ferns Sevens becoming funded and remunerated in line with their male counterparts.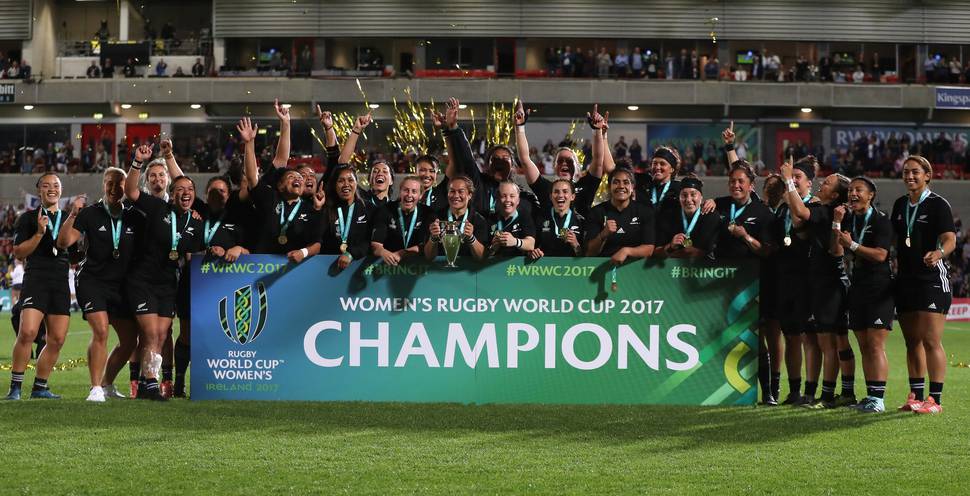 The Black Ferns Sevens will begin the defence of their World Cup title tomorrow morning in San Francisco with some of their players better paid than their male equivalents and certainly some of their players in possession of a higher public profile.
But the picture in the XV-a-side game is not as advanced. Dr Farah Palmer has been appointed to the NZR board, but other than that, female executive representation in male rugby remains embarrassingly low.
Progress has come in the form of two major changes, which are the introduction of retainer contracts for the Black Ferns and an increased fixture list in 2018 to five tests.
One of those newly contracted players is Renee Wickliffe, who says she no longer has to juggle family, rugby and work can instead build a sustainable lifestyle focused on the former two.
"We no longer have to find some hours in the day to train and then rush off to work," she says. "I have a five-year-old daughter and now my focus can be on her and my training and rugby. That has enabled me to get fitter, faster and stronger and at the recent training camps, that was the case with many of the other girls."
Her Black Ferns team-mate, Charmaine Smith, is another who says her lifestyle has become sustainable as she has been able to come off shift work with the police and instead work 32 hours 9-5, using her retainer to bolster her income.
"When I was on shift work I used to sometimes get up at 3am, train, nap and then go to work. Now I have refocused my goals at both work and with rugby. I no longer think I am putting my work on pause for my rugby and that certainty of being able to plan ahead is really important."
But while life is better, the gap between them and their male equivalents remains enormous. The value of the Black Ferns contracts ranges from about $30,000 to $45,000, while the All Blacks' estimated range is between $330,000 and $950,000.
What's driving this inequality is external investment. The women's game needs a meaningful domestic or cross-border club competition and more tests if it is to be able to pay the athletes enough to become full-time professionals.
At the moment there appears to be a reluctance within the NZR for them to build something where they are taking all the financial risk.
But while, given their enforced culture of austerity to keep a handle on costs, is understandable, the risk may not be as high as it seems.
The evidence is strong that within the corporate and broadcasting markets there is a growing realisation that women's rugby is a popular and growing property.
That is why Molenberg made history earlier this year when they became the first standalone, major sponsor of both the Black Ferns and Black Ferns Sevens.
"The Blacks Ferns [Sevens and XVs] are probably the most successful sports team in New Zealand when you look at it," says Tim Deane, the managing director of Goodman Fielder NZ.
"I think they speak to some quintessential Kiwi values and for us it is quite exciting to be part of positive social change. We have taken a calculated risk that this is going to be good business for us as we had a good look at who is following women's rugby and suspect that other businesses underestimated the number of Kiwis who are interested in women's rugby."
The broadcasting view is similarly positive and Sky chief executive John Fellett says his company are eager to buy the rights to more women's rugby.
"In terms of the proposed women's rugby competition, we like the idea," he says. "We haven't had detailed discussions yet, and an important component is what the schedule would look like. A consideration for costs, for example, would be creating a double header with the women's tournament and Super Rugby matches, so that production costs can be shared across fixtures.
"It's early days, though – so while we're definitely interested, it's difficult to put prices on it until we know what New Zealand Rugby want to do with it.
"We're excited about the idea and look forward to discussing it further."
Rugby can't say it has cured all or even many of the ills exposed by the Chiefs' debacle, but is has at least started the process and looks in decidedly better health than it did two years ago.