Jane Jurgens finds the coolest places to hang out in New Zealand's hottest summer destinations.
Gisborne
Outside the New Year period, when thousands flock to the eastern-most point of the North Island for the legendary New Year Rhythm & Vines festival, this relatively remote area of New Zealand still has a lot to offer.
Best eats: The laid-back Poverty Bay Club (PBC) is a quirky eatery housed in a sprawling former gentleman's club of the same name established in 1874. Remarkably, women weren't permitted through its doors until 1988. Eat wherever takes your fancy, from the restored library to the garden area. Adjacent is the equally historic and quirky Dome Cinema, screening the latest flicks or showcasing live music — pull up a bean bag or go for a vintage sofa and settle in for the night. 38 Childers Rd.
Also try:
Ussco Bar & Bistro, Flagship Eatery, Frank & Albie's, Wainui Store & Takeaway, Muirs Bookshop & Cafe.
Best bar: There are some superb wineries in these parts, and Matawhero Wines has one of the prettiest cellar doors you'll ever see. Order one of their divine cheeseboards or antipasto platters and sit outside to enjoy picturesque views of the grapevines and olive trees. Divine. 189 Riverpoint Rd.
Also try: Sunshine Brewery, Kirkpatrick Estate Winery, Bridge Hotel
Best shopping: If you're after more than skate or surf stores, Boutique on Main Street is where you'll find brands such as Augustine, Federation, Huffer, Juliette Hogan, Karen Walker, Stolen Girlfriends Club, Kate Sylvester, Trelise Cooper, Zambesi and Workshop.
22 Gladstone Rd.
Day trip: Go north for 45 minutes and you'll reach the wharf and open skies of Tolaga Bay. Go south for 1hr 40 minutes and you'll hit the Mahia Peninsula. If you have time do both, but if you decide to go south, pack a picnic and put aside some time to stop at Morere Hot Springs, home to both hot and cold springs and set in 365ha of rainforest. State Highway 2, Nuhaka.
Whitianga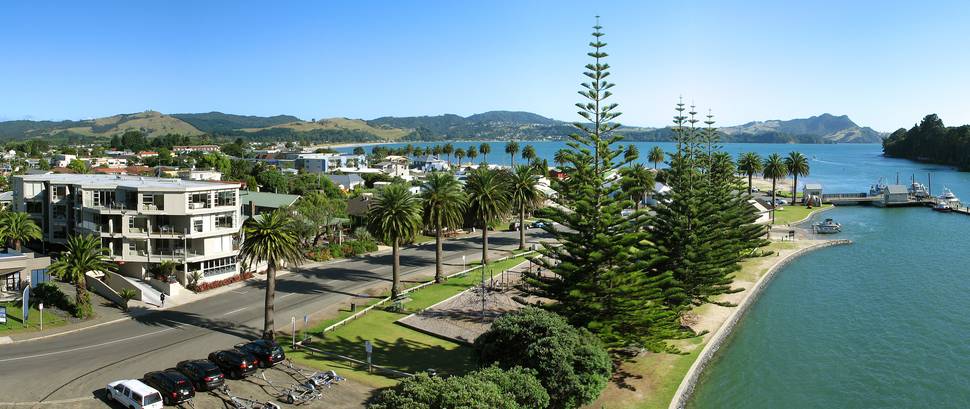 The second-largest Coromandel town after Thames, Whitianga sits beach-side on the peninsula's northeastern coast.
Best eats: Trust us when we say it's worth making the 10-minute journey to Kuaotunu, north of Whitianga, to dine at Luke's Kitchen. This rustic pizza joint that sits behind the dairy selling the Kuaotunu Killer five-scoop icecreams, has a superb menu: think tempura fish wraps, Coromandel mussels with freshly-made garlic bread, and coconut chicken, bok choy, onion, kaffir lime and coriander wood-fired pizza, to name just a few of its gems. 20 Black Jack Rd.
Also try: Salt Restaurant and Bar, Saby's Kitchen.
Best bar: The craft beer revolution has found its way to the laid-back Coromandel too, with two craft breweries in the Whitianga/Mercury Bay region alone. The first on the peninsula was The Pour House at Hahei, half an hour from Whitianga. The family-owned brewery and restaurant is near the start of the walk to Cathedral Cove. At Whenuakite, 10km southeast of Whitianga, you'll find Hot Water Brewing Company Restaurant, Bar and Brewery, which has a sunny patio and a playground onsite.
Also try: The Whitianga Hotel.
Best shopping: Skate and surf shops are popular in these parts, but head to Agnes + Annabel if you're after some New Zealand fashion. Here you'll find the likes of Deadly Ponies, Stolen Girlfriends Club, Kowtow, Zambesi, Lonely and Miss Crabb.
26 Campbell St.
Day trip
: You probably don't even have to drive to
, that's how close it is to the centre of Whitianga — but it's worth dedicating a day of your holiday to if you can park the children/relatives/other responsibilities for a few hours. This "adult relaxation centre" (14 years-plus) is set among native bush and features manmade thermal pools of natural spring water varying between 32C-41C. Guests can opt for different packages from basic entry to grazing platters and cocktails.
121A Cook Drive.
Paihia
The gateway to the pretty Bay of Islands, Paihia, has something for everyone: history buffs, adventure seekers, families and foodies.
Best eats: You'll find Charlotte's Kitchen at the end of the wharf where the ferry leaves for Russell, offering fab views of the inner harbour. It's named for Charlotte Badger, who was thought to be the first Pakeha woman settler in New Zealand and who erred on the naughtier side of society. The food here is seriously good and luckily it's designed to be shared, meaning you can sample more than just a couple of dishes — though there are options for those who prefer not to. The decor is cool, the service is great and the views are to die for. 69 Marsden Rd.
Also try: Ruffino's, Jimmy Jack's Rib Shack, Alongside, 35 Degrees, El Cafe.
Best bar: Charlotte's is a great option for a sundowner, but if you're a fan of New Zealand's booming craft-beer scene, head for Thirty30. Here you'll find a curated menu of some of the country's best craft beers including Panhead, Hallertau, Hawke's Bay Brewing Company, Moa, Tuatara, and Stoke. The food is great too: house-made burgers, fish 'n' chips and the likes, and there is regular live music.16 Kings Rd.
Also try: Hone's Garden (Russell), Ake Ake Vineyard (Kerikeri), Sauce
Best shopping: It's mostly gift and souvenir shops in these parts, although Modern Collective offers a selection of street and lifestyle clothing from such labels as Lower, Federation, Ilabb, RPM, DEF and Huffer. 37 Williams Rd.
Day trip: Catch the ferry over to Russell to enjoy a meal at the historic Duke of Marlborough Hotel on the waterfront, one of the oldest hotels in New Zealand, est 1827. Restored to its former glory, this national landmark offers fabulous accommodation, or, if you simply fancy dining at its excellent restaurant you'll enjoy dishes such as pan-fried Far North hapuku fillet, Hawke's Bay-reared tomahawk beef rib or banana tarte tatin. 35 The Strand.