Girl Wonder
Words by Carolyne Meng-Yee
Visuals by Mike Scott
Design by Jennifer Adams and Paul Slater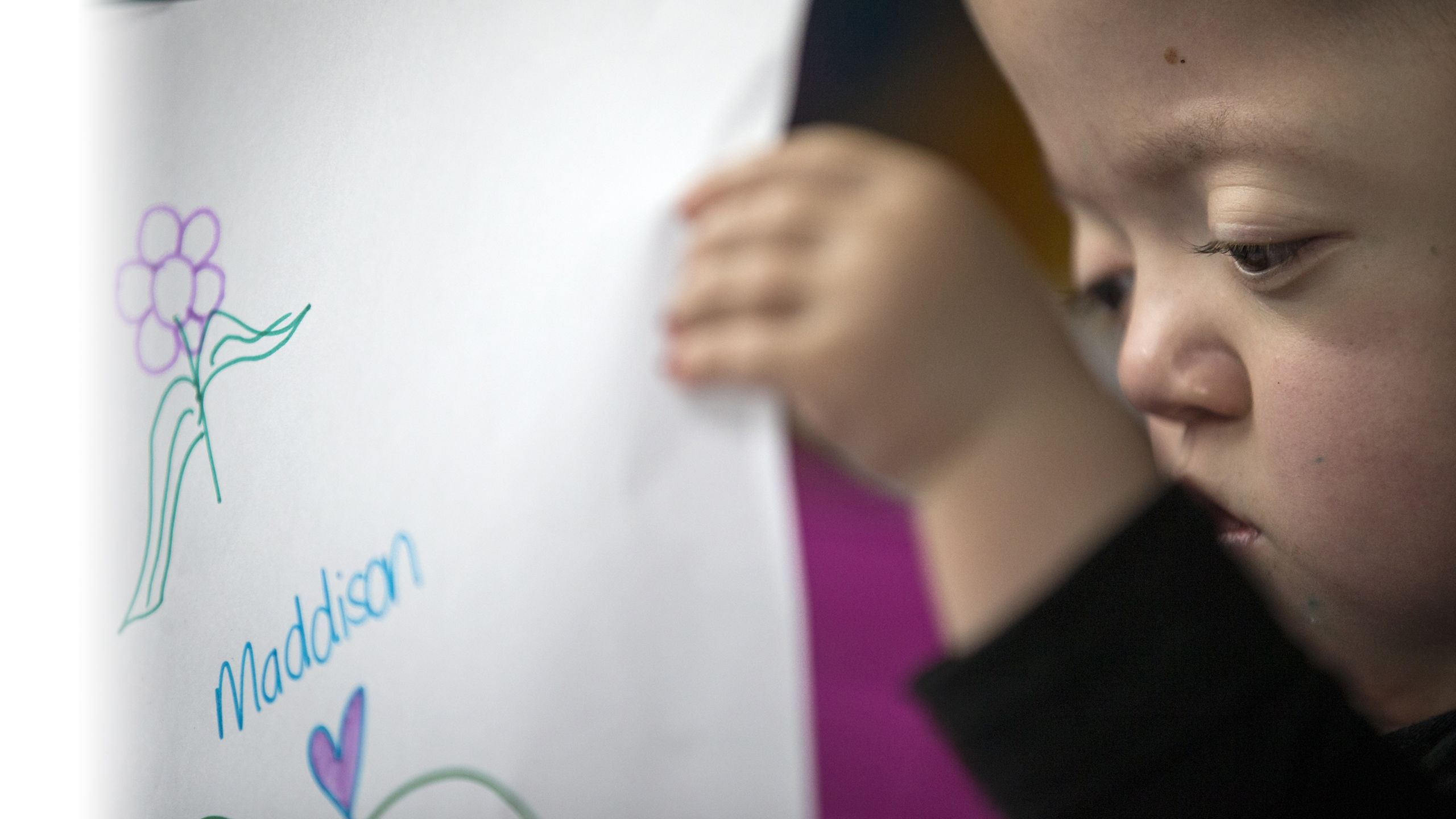 Maddie likes what most 2-year-old girls like. Riding her tricycle, having her nails painted, being tickled.
She loves eating chocolate, cake and Cheerios, sometimes all at once.
But she can't tell you that because she can't speak. It's hoped that one day she might walk. Right now, for Maddison Rayne Blitvich's family, it's enough that she's alive.
Maddie was not expected to make it past Day 2. She was born with a complicated combination of medical problems – a failing heart, hydrocephalus (excessive fluid in the brain) and type 2 Pfieffer Syndrome, a rare genetic condition that affects one in 100,000 births and is characterised by a clover-shaped skull.
Her distorted facial features – a prominent forehead and bulging, wide-set eyes – are the result of craniosynostosis, the premature fusion of skull bones which means Maddie's head has not been able to grow normally.
In the supermarket, adults stare; at the cardiologist's small children ask their parents about the monster in the room.
She wasn't meant to live. But she did.
At 6 months, surgeons placed a shunt in her brain to drain excess fluid to relieve pressure and vomiting.
At 18 months, as she continued to defy odds, doctors proposed lifesaving heart surgery.
Her misshapen head means she will have to undergo further traumatic head surgery so her brain can continue to grow.
But Maddie is a daughter, a sister and an aunt. And she's a fighter. Drill down into the name's meaning and you find out it derives from the Germanic name Mahthildis meaning "strength in battle".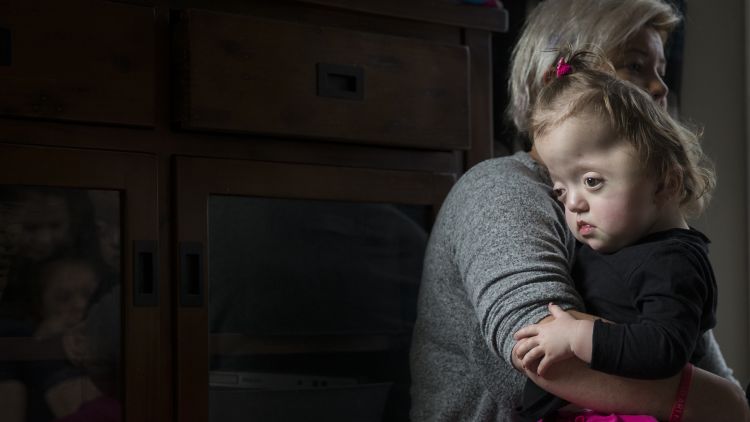 Rachael Blitvich fell pregnant with her "surprise" baby aged 41. Now 43, the West Auckland mum has two adult children, Emily and Shawn, a teenaged son, Cody, and three grandchildren. She and the birth father are not together.
Twenty weeks into her unexpected pregnancy Rachael received scans that revealed Maddie had severe problems with her heart. She was strongly advised by medical professionals that it "was in her best interests" to abort her child.
"There was no way I would terminate. I had to give her that chance. If she took one breath when I gave birth to her and she decided to go … that was telling me 'mum, I can't do this'. That was fine. But as long as I brought her into the world and gave her a chance I was happy enough. I am glad I did."
Shortly before the birth Rachael had a hunch things "didn't feel right".
"At 36 weeks my midwife said there was something possibly wrong with her skull, she might have a 'strawberry' shaped head, and left it at that. But the priority was her heart. In my mind I was going to give birth to a beautiful baby with a heart condition."
Maddie's birth, on November 10, 2015, was torturous. Rachael was in labour for 24 hours and endured excruciating pain.
"I have three [other] kids, it was nothing like this. I kept pushing and pushing but nothing happened. They rushed me into emergency Caesarean then Maddison became stuck. Why I couldn't push her out became obvious when I saw her head."
Maddison's appearance was a shock, but the newborn's heart was the main concern.
Surgeons agreed an operation was not a good option. They gently advised Rachael to prepare a "death plan" for Maddie. She refused to give up on her daughter.
"I was told heart surgery was out of the question because it was too complex. They [gave her] two weeks to live. We were told to enjoy her while we could. No parent wants to hear their child has two weeks to live. I don't know if I was in denial but I didn't want to know. I have always let Maddison decide her own fate."
Maddie was transferred to the neonatal intensive care unit at Starship children's hospital in central Auckland. Rachael had to wait two days before she could hold her daughter and begin to bond with her. She was not mentally prepared for the sight of her daughter – hooked up to machines with tubes in her nose.
"I was like, 'Oh my God, what's wrong with her?'"
Then, she noticed Maddie's head. It was unusually big. Misshapen.
"I hate to say this, but when I first saw her I was scared. I couldn't understand why she looked like that. I had a problem seeing her without her hat on. I couldn't understand it. I wasn't prepared for it. I didn't want people to stare at Maddison because she looked different. She didn't deserve this. She didn't ask to come out looking like this."
Rachael's mother Colleen was there throughout the birth.
"We saw her when she was born. It was horrific. It was a frightening thing to see. We didn't think she'd go beyond the two weeks ourselves. "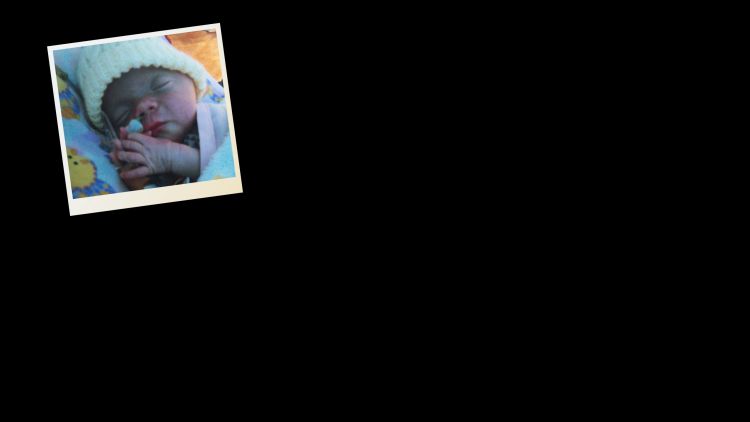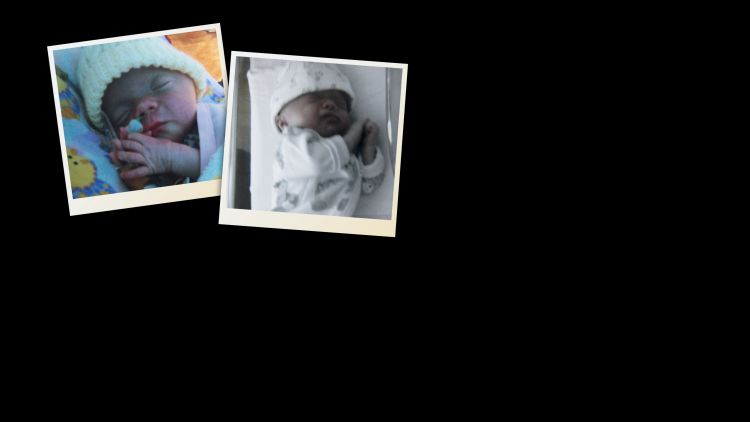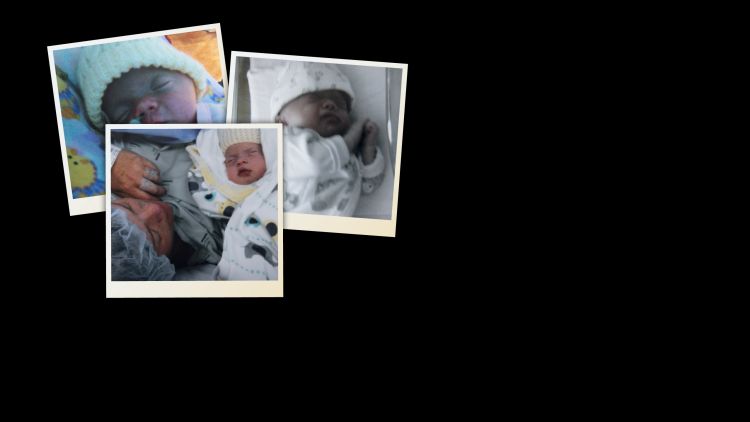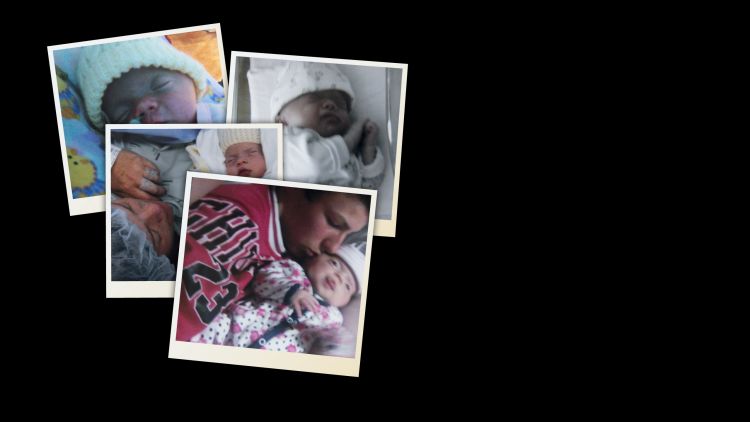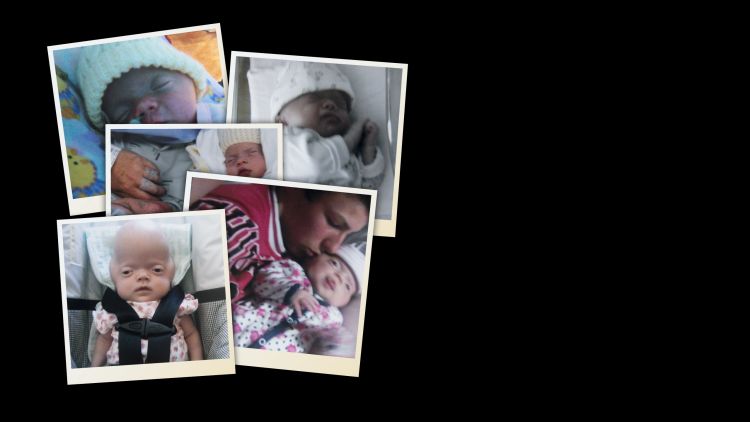 It was "instant love" for Maddie's siblings, Emily, Shawn and Cody. Rachael had told them their baby sister was "special".
"My kids took to Maddison straight away, they absolutely loved her," she says. "They wanted to hold her and protect her – especially her brothers. They have never questioned how she looks."
Emily says Maddie gives "so much love to so many people. So if a little person can do that, we can do the same."
But she worries that Rachael and Maddie have been living in a bubble. Rachael was so frightened Maddie could catch bugs from other children that she withdrew her from daycare.
"A cold could turn into pneumonia. It could take her life. I didn't want to risk that."
There's another reason Rachael has kept Maddie cocooned.
"The world is cruel. I want to keep Maddie safe from the snide comments and people staring."
Last year, Emily, who has two children of her own, left Tokoroa and moved to Auckland with her youngest, 8-month-old Arlo, to help her mother. They're living just two blocks apart.
Emily, 25, helps her mother with babysitting, juggling medical appointments and therapy sessions.
They always do their grocery shopping together but are conscious of Maddie being stared at. They shop at their local Pak'nSave when they know it's quiet. They know the women in the deli section have a soft spot for Maddie – they always give her ham.
Rachael says taking Maddie outside the cocoon can be confronting.
"Maddie is called 'monster' and 'scary' – she is totally the opposite. One time we were coming out of a cardiologist appointment, a little boy walked past and I heard him say 'Dad, Monster'. I thought, oh God, please don't tell me you are pointing at Maddie. Of course he was.
"Some kids will scream, 'Mum, look at that baby's head, look at her eyes mum, she is scary'. I want people to say hello. Just because she looks different you aren't going to catch anything off her. She is the most beautiful little girl."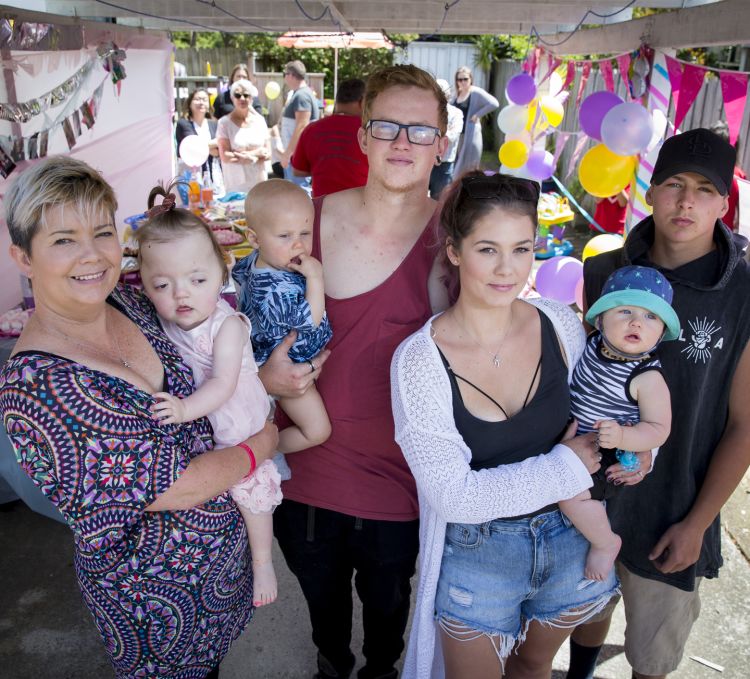 The immediate family of Maddison. Held at left by mother Rachael, nephew Colton Gray held by brother Shawn Gray, sister Emily Gray holding nephew Arlo Gray and brother Cody Grant.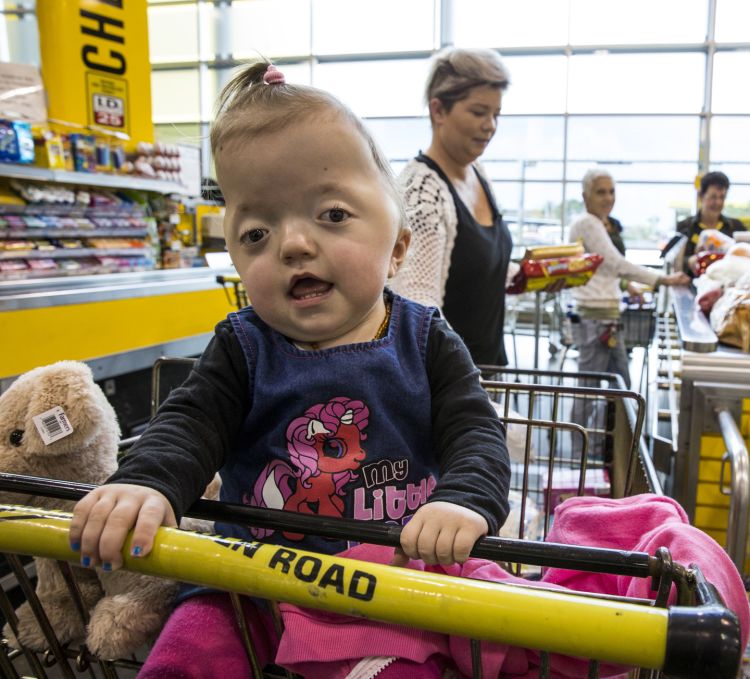 Every mother thinks their child is beautiful. Not all are told to plan for their beautiful little girl's death.
Dr Kirsten Finucane, head of paediatric cardiac and congenital surgery at Starship children's hospital, was part of the team that feared a newborn Maddie would not survive heart surgery.
"I remember standing with the neurosurgeon, the cardiologist and the neonatologist," says Finucane. "We all felt it was better not to operate, we weren't sure she would survive the cardiac lesion. Normally we would offer an operation in the first week or two but we felt she just had too much wrong with her, particularly the brain issues, to make surgery not a good option so we said no."
But then Maddie made it to two weeks, then three months, then a year. She survived the surgery to place a shunt in her head. Her medical team was ready to operate on her heart. Rachael was apprehensive now. There was a still a chance her daughter would not survive the eight-hour procedure.
Finucane explains: "There are valves in the heart that act like doorways. Her mitral valve, which is the door in the left ventricle, needed to be bigger."
She knew she had to repair Maddie's mitral valve and aorta. She knew her patient had tolerated the earlier shunt operation well. She knew that Maddie was growing and, although her head was misshapen, "the brain underneath was developing beautifully".
"People often suspect we are behind the eight ball in New Zealand in terms of our medical approaches but we are up with the play when dealing with children with a combination of problems," says Finucane. "With children [like Maddie] initially you thought you couldn't do anything and then you start to think, maybe we can, and when you get through something – it's very satisfying."
Rachael had made the difficult decision. The heart surgery was done in May last year.
"She needed a chance like every other kid. I will never forget seeing her on the operating table. I thought this could be the last time – her fight was over. But she's a fighter and pulled through. I crumbled."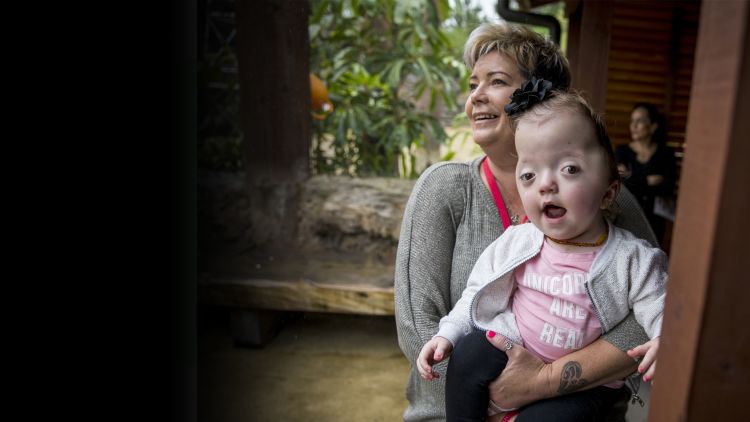 Maddie has big brown eyes, eyelashes that curl and a signature water-fountain ponytail. She shuffles about on her bum and is learning to communicate by sign language.
Arlo is her youngest nephew. He has blue eyes and blonde hair and legs like ham bones. He is walking and talking.
The pair communicate by throwing toys at each other. They steal each other's food and chase each other around the house on plastic bikes. You know Maddie's happy when she raises both arms in the air and her face and entire body shake with excitement.
Arlo's development throws Maddie's delays into sharp relief.
Rachael is proud of her grandson, but "it tugs at my heart".
"As a nana it's heartening to see Arlo walking and achieving milestones. As Maddie's mum it crunches my heart a little bit she's not. I realise how delayed Maddison is when I see younger kids at daycare doing things and she's not."
Dr Kay Lyn Wong, a pediatrician at Waitemata Health, has been seeing Maddie every month since she was born. They bonded when the little girl, who was not expected to survive, was in palliative care.
"I know I shouldn't say this, but Maddie is my favourite baby," says Wong.
"We didn't expect her to live to two years, so she has really outdone what the prognosis was for her. She has good receptive language and understands instructions. But her expressive language and growth milestones are definitely affected. I am so proud of how well she is doing."
Two years in, Rachael counts each day as a blessing. She understands Maddie's severe type 2 Pfeiffer Syndrome means more medical procedures. But the next hurdle is a particularly daunting one for Maddie and her neurosurgeon Dr Peter Heppner.
"The problem is her brain just keeps wanting to grow but her head isn't growing or expanding to accommodate it," says Heppner.
It was he who fitted the shunt in Maddie's brain.
"Our next step is to do an operation to expand the skull. This will put a lot of stress on her body. We have to have her face down for the operation which is long. The chances are there will be a lot of blood loss so it's a bigger undertaking.
"The biggest question is how strong is her heart? Can she get through this?
"At first we thought her heart's not up to it and there was nothing we could do. But the fact she was operated on successfully has made it harder for us. It's sometimes easier when someone tells you 'you can't do it', because now we have to consider doing it.
Rachael has been "pushing and pushing" for Maddie to have the new surgery.
"We have to give her the opportunity, like everyone else. She's had a shunt in her head. I've seen her first birthday come and go, it was always a no to heart surgery because it was complex, yet she made it. All the way through I have left the fate to Maddie."
It's a catch-22. Surgery could kill her. The alternative is bleak.
"Maddison's brain will continue growing so she will get raised pressure inside her head which will cause damage to parts of the brain," says Heppner. "That will lead to secondary damage. Touch wood we have never had one die on the table – that's always a concern when you are doing something like this. We hope she's not going to be the first."
Heppner is quietly confident. Maddie has defied nature more than once.
"She's done a lot better than we ever thought. She's not neurologically within the normal range of development compared to other kids in any way, shape or form. But she is a bubbly, sparkly, happy person who can convey that to you."
Damned if you do, damned if you don't. Maddie's grandmother Colleen fears an operation could be detrimental to Maddie.
"My granddaughter is a blessing – hopefully we can have her a lot longer yet. It's risky and I'm not sure if it will be advantageous. It will be an awful, horrendous pressure to put her and her mum through. We are so used to seeing her like that. I would hate anything to happen and we lost her."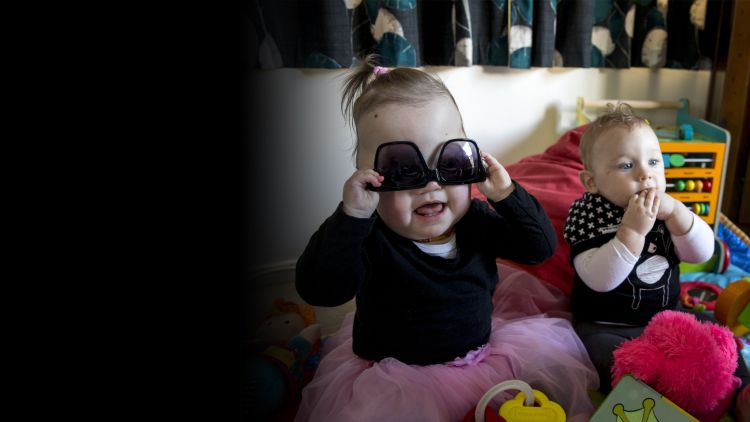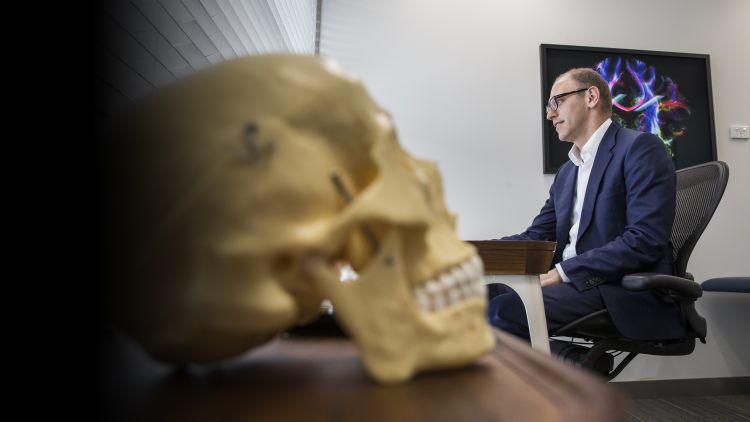 Sunday November 12, 2017. Maddie's second birthday party. She's woken up bleary eyed and grizzly.
Her mood lifts when she watches colourful unicorns being pumped up with helium – bundles of pink, yellow and blue balloons being hung around the house – and pink and silver bunting shouting "Happy Birthday".
Rachael has also put up photos of Maddie as a newborn, undergoing heart operation and turning one – poignant reminders of what this celebration symbolises.
Maddie is pretty in pink. She's wearing a satin dress with rosebuds, a present from Bubba Colleen. Her birthday cake is a pastel-coloured unicorn with long eyelashes and a horn covered in gold leaf. Maddie has no idea what's going on but there's that thing again – she's throwing both arms in the air and her whole body is shaking to show she's having a good time.
Unicorns always remind Rachael of Maddie. They are "precious and rare".
"The unicorn means a lot to me. It represents Maddison and symbolises strength. That it's okay to be different, unique."
There's a crowd of 30-plus at Maddie's party. They include 3-year-old Jeannette Queensell-Logan, who has a complex heart condition and severe brain damage. She communicates by blinking. Maddie went to the same daycare as Jeanette. They meet regularly at Heart Kids, a non-profit organisation helping children with congenital heart defects and their families. The two friends connect through their eyes and smiles.
Rachael says Maddie's second birthday is "another milestone" to tick off the list.
"I'm not surprised she's hit 2 – I have always had faith in Maddison. But on the medical side of things, it's big.
"She wasn't meant to live after two days, then it was two weeks after that. Maddison hitting her second birthday is a big wow, a big miracle. So miracles come true, she is proof of that."
Not every day is rainbow-coloured unicorns though.
"At my age I could have paid off my own house," says Rachael, now 43. "I could have had my own life now that my older kids have grown up. Every now and again it plays on my mind that's a life I could have instead of two years of medical appointments and fighting for Maddison. I live in my four walls and it's a lonely world."
She's preparing for Emily's return to Tokoroa. Emily knows leaving will be tough.
"It's hard because I see mum and Maddie everyday – I will miss them. I don't want to go back but I feel I have to for my sanity and financial reasons. I feel better now Maddie has had her heart surgery and she's doing really well.
She finds it hard to talk about her baby sister's future.
"It's something I don't want to think about. I am living in the moment with her every day and that's better than thinking about the 'what ifs'. In all honesty, I want to see her happy and have the best of what we can give her so she can enjoy life as much as she can."
Maddie's second birthday was a watershed moment. Rachael is ready for them to burst out of their bubble and take on the world.
"We are not going to hide anymore.
"Maddie came into this world to help me. I had insecurities about how I look and how people view me and see me. Having Maddison has changed all that for me and I have accepted who I am. I need Maddison as much as she needs me. She's taught me to fight for things and to be her voice."
Her dream is to see Maddie fall in love, get married and have babies.
"What I want is for Maddie to meet someone who is going to love her for her and her heart."
www.heartkids.org.nz