Whangārei truck driver Alistair McIntyre had a dream one night.
He was going to write a book.
"It was a very powerful dream," he told the kids at St Mary's School in Foxton.
Alistair is the author of Doug the Digger and he has been an ambassador for Duffy Books for the past 20 years. At the end of term one and term three he travels around the country for three weeks, putting on a show around his life story and handing out books. This week he was in Horowhenua visiting schools.
He's been everywhere from the Bluff to north of Kaitaia.
"It runs in four to five-year cycles and I am not the only ambassador on the road for Duffy Books."
He said as a young man he wasn't too keen on school. He'd rather go to work with his dad and learn to drive tractors and operate diggers. You could do that in those days. Today health and safety rules would make that very difficult.
In his show he talks to kids about the importance of actually being in school.
"If you wag school, how are you going to pass your tests? How are you going to learn how to do stuff?" he said. He talks about the value of listening carefully, looking carefully when someone shows you how to do something and then learning.
"If your first attempt at something isn't so great, don't give up. Keep trying. You'll get better."
To illustrate that he showed them his first drawing of a digger - a very crude drawing.
At 35 he had an accident which deeply affected him physically and emotionally. When he decided to follow his dream of writing a book he went back to his old primary school, joined the junior class and started to re-learn to write and read, so he could write a book eventually.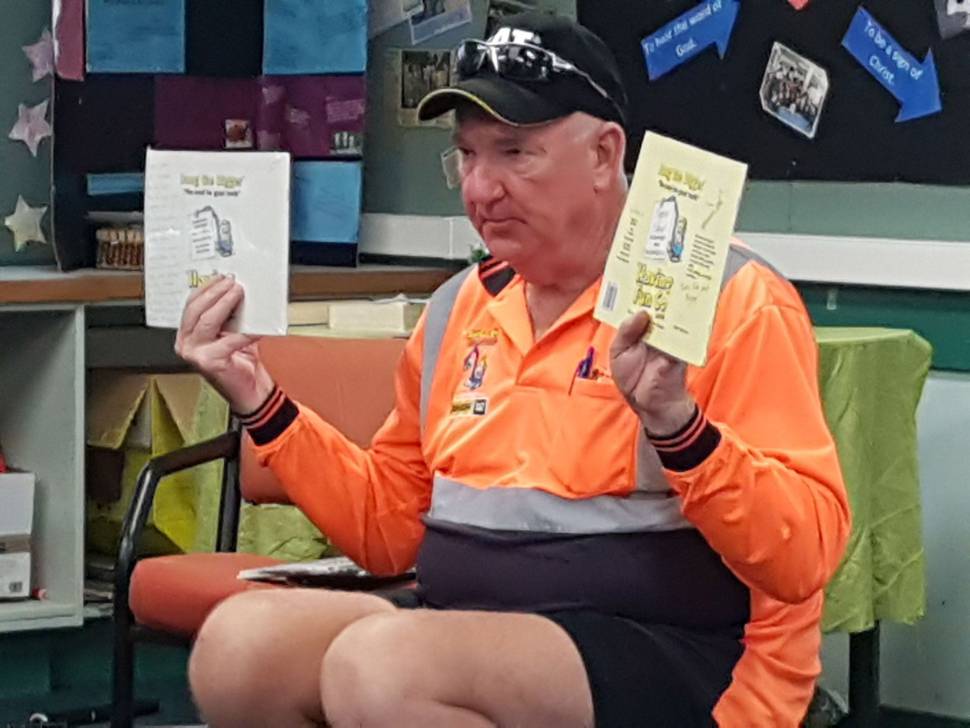 Once he published his first book he went to local schools to promote it and at one school someone suggested he'd be a great ambassador for Duffy Books. They did even better than that: they rang Duffy Books to tell them about Alistair and Doug the Digger.
Alistair reckons he's done 1000 school assemblies for Duffy Books in the past two decades. From large city schools with hundreds of students, to a small rural school with just a handful of kids.
He said he grew up around trucks and machinery and did his best in school but always had a fear of reading and writing. His dream of one day writing a book, which came some time after his accident, helped him overcome that fear.
When he left school he said all he could write was his name and tick a few boxes. Now he is an author and can read well.
He said when it came to his books he had lots of help from people, including those who could draw pictures a lot better.
Doug the Digger
tells Alistair's life story and focuses on the building of a house that he turned into a cartoon book for kids.
"It is about real life stuff."
After his show he handed out books to all the kids and then took them outside to show off his big truck.