Liverpudlian Fran Connors and his wife Debbie were becoming disillusioned with life in the UK when they decided 13 years ago to move to New Zealand. "As soon as we got here we knew we'd made the right decision," says Debbie.
"We loved the sunshine, the space, and especially, the idea of living beside the sea," Within a few years their daughter and son also moved here with their respective partners, and now a handful of grandchildren, living within a few streets of their doting grandparents, keep flooring company owner Fran and former medical receptionist Debbie busy indeed.
"We'd never have lived together in such a lovely close family situation back in the UK," says Debbie. "It's been magic!"

Fran and Debbie lived initially in Kensington Park in Orewa, but as it began expanding, they decided to move. Around four years ago they found a property minutes from the Whangaparaoa town centre.
The weatherboard and tile home was built to a high standard in the late 1990s, and suited Fran and Debbie's desire for privacy.
It's set on a generous section with plenty of outdoor living options, including a children's playground.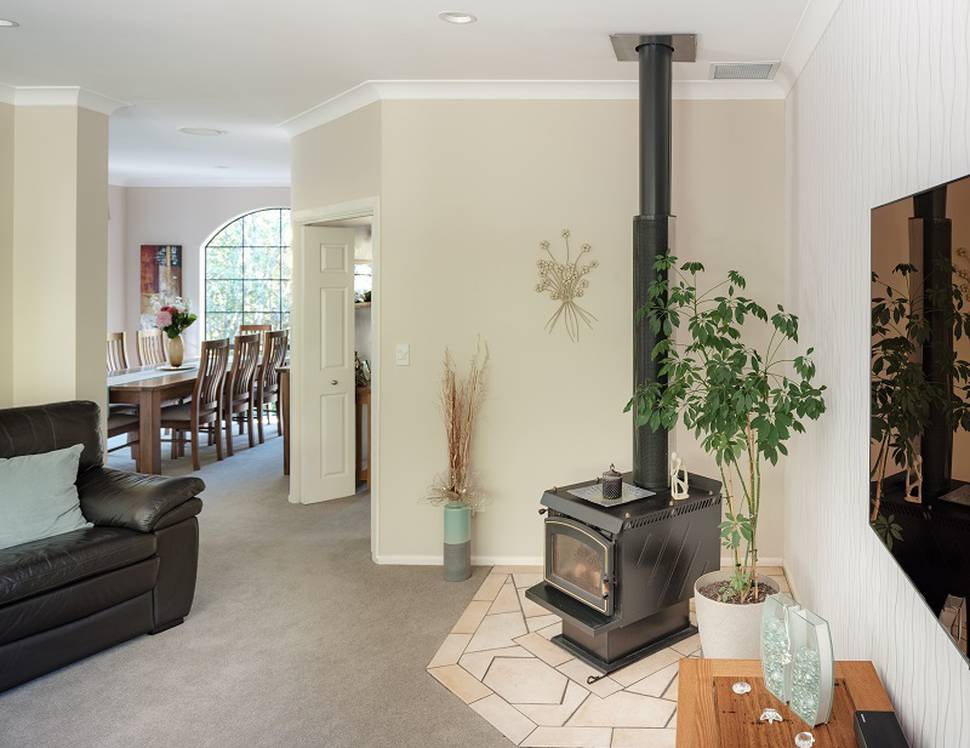 Inside there's a pleasant lobby with a formal dining room to its right. The kitchen, updated a couple of years ago, is modern and offers a contemporary vibe.
"I absolutely love it," says Debbie. "There's loads of bench space and I always feel as if I'm part of the action."
Also on the main level are a bright family room, which blends with the kitchen, plus a separate lounge with a wood fire that isn't used much, thanks to the the house having three heat pumps.
Three generous double bedrooms enjoy lots of wardrobe space and the master has an en suite. The family bathroom is well-appointed.
"It has a spa bath, but we don't use it enough," says Debbie.
The double garage has internal access, plus a concealed man cave. To the rear of the property there's an outdoor area and a patio with a retractable awning.
Fran and Debbie are on the move because they're finding the size of the section a bit much and they want to downsize.
As Fran says, a keen gardener will relish the chance to make further magic here, with such enormous scope and possibilities.
"I'm really just too busy with other things," he says. "I'm the quizmaster for our local pub quiz night and I quite like a bit of karaoke, as well as keeping my flooring business going."
Fran doesn't believe in blowing his own trumpet, but admits that he won the 'Voice of the Ocean,' honour on a Panama Canal cruise that he and Debbie enjoyed recently.
"I'm a crooner, so I sang My Way, of course," he says. "So, as you'd guess, we'd like more time for cruising too."
Fran and Debbie won't be going far in terms of a new home — especially with their grandchildren nearby.
But they've loved Hobbs Rd and are hoping to find something equally as appealing — just on a smaller scale.
12A HOBBS ROAD, MATAKATIA
• 3 bedrooms, 2 bathroom, 2* parking spaces.
• Floor: 210sq m, section: cross-lease (an undivided share in 8001sq m).
• Tender: Closes Thurs May 30, 4pm.
• Inspect: Sat/Sun 12.00-12.30pm
• Schools: Whangaparaoa School, Whangaparaoa College
• Contact: Todd Cooper, Harcourts, 021 941 676
*Plus 6 OSP