As you walk up the driveway to the cluster or apartments at 72 Kitchener Rd there is no hint of the amazing lake views on offer inside Nicci and Franco's Godinich's apartment.
But walk into the living space and you look directly at Lake Pupuke. Fabulous in daylight, the view gets even better at night with the backdrop of the Shore's lights, says Nicci.
"In some way it's better than a sea view where at night you're just looking out at darkness.
"This apartment is all about the views and the location. But because it tucked away at the back, people don't know it exists, or that it has these views."
She says there's always something to watch on the lake, especially when weekend windsurfers and paddle boarders take to the water.
Nicci and Franco bought the concrete apartment about six years ago. With three bedrooms, indoor and outdoor living spaces, it suited their family's needs.
It was close to motorway access for their workplaces and they had a choice of where their two children, then teenagers, could go to school, in zone for Westlake and close to Rosmini, Carmel and Takapuna Grammar. Milford Primary is nearby.
They can walk down Ocean View Rd to the beach in under 10 minutes; Milford's cafes are about 400m away.
"Milford has a changing population. It has had a resurgence with a lot of families coming to live here. There is a good local business association promoting the area, running themed markets, and there are many good restaurants," says Nicci.
The couple have given the apartment, built in the 70s, a facelift, using varying textures in white to make it airy and bright. Splashes of colour can then be added with wall decoration and fabrics.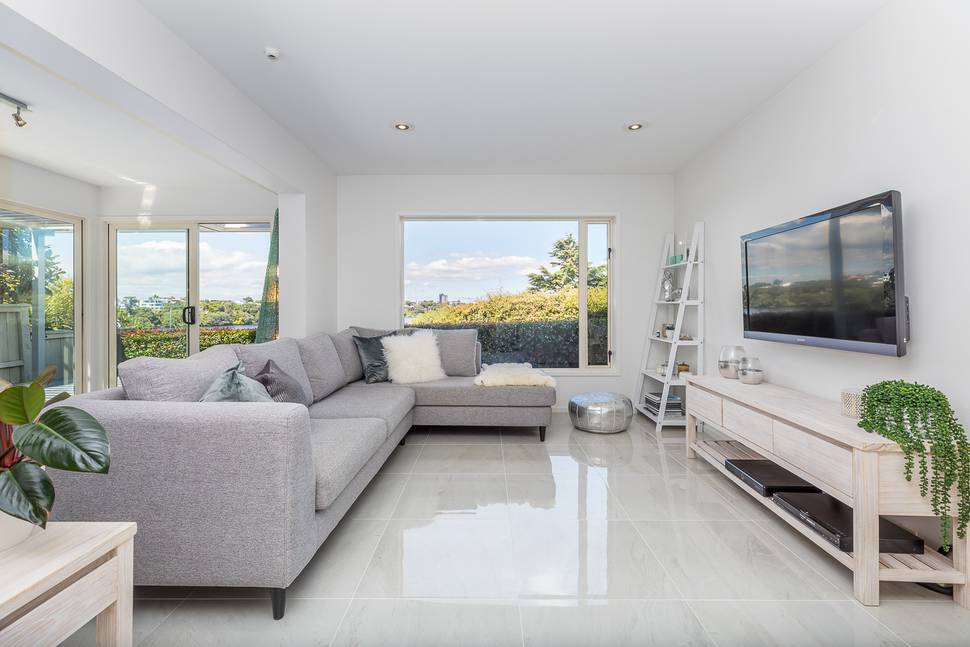 The downstairs living is tiled with underfloor heating. The entrance area leads into the open plan living area where Nicci and Franco have installed a new kitchen, adding a pull-out pantry and taking down part of the wall.
"It was all green and had cupboards on the walls and a heavy encroaching feeling. Taking the cupboards out opened it up."
Appliances are Westingthouse oven and induction cook top and Bosch dishwasher.
Next to the kitchen are the dining area,the lounge and a conversation area, before the space opens to the terrace with barbecue and spa pool where the automatic LouvreTec roofing with rain sensor offers the choice of shade or sunlight.
Behind the kitchen is a room with laundry and toilet. For the carpeted bedrooms upstairs, plantation window shutters create a resort feeling, but they have left windows undressed in the master bedroom lounge so they can maximise views. Downstairs, windows are undressed for the same reason. All bedrooms have lake views. (One also has a hint of the sea.)
Nicci says this has been an ideal family base, especially having the lounge off their bedroom as a place she and Franco can watch TV or read. But now their children are adults, she and Franco have decided it's time to look for a larger place.
31/72 KITCHENER RD, MILFORD
• 3 bedrooms, 2 bathroom, 2* parking spaces.
• 150sq m plus terrace.
• Auction: 11 April, 12.30pm at 2 Lorne St.
• Inspect: Sat/Sun 11-11.30am.
• Body Corp: $6540.40.
• Contact: Ryan Bridgman, Ray White, 021 025 72294; Mitch Agnew, 021 445 962.
*Plus 2 OSP