Privacy was on the top of May's list of requirements when she was hunting for the perfect family home several years ago, and she definitely found it here on a 913sq m section in a quiet Remuera street.
Built in the 1940s, the weatherboard home has been meticulously maintained and recently renovated to a very high standard, and repainted.
She says that her family gravitates to the sunny deck, with its louvre ceiling and outdoor fireplace and this is where she likes to practice yoga.
"In summer, we eat out here all the time."
A good kitchen was essential because she likes to cook, and she's enjoyed stylish cabinetry, copious bench and cupboard space and the convenience of two ovens. Outside the window above the sink, is a little garden with a fountain and May loves watching birds frolicking around it, while she's preparing delicate Chinese tea for visitors.
There's a combined laundry and pantry handily situated by the back door plus a downstairs powder room.
The casual dining and lounge area is huge and has a cute little nook in the corner, which May uses as her home office. French doors open to the pool outside, where her two daughters swim and play all through summer.
Upstairs, the giant master bedroom has a walk-through wardrobe, a full size bathroom with a bath and another little office.
The two girls each have a bedroom up here and their own shared bathroom with an open shower. It has underfloor heating, as do the other bathrooms in the house and annexe.
Each year one set of grandparents come from China to spend three months with their granddaughters, and a separate accommodation wing, beside the pool with its extensive terrace, gives them peace and privacy.
In the four-car garage, May has been using one parking space as a gym. She's also made a mini golf-course just outside the back door.
"The good thing is that with all this space, we can do family things like playing badminton on the driveway and nobody can see us."
"Every single room has a view," she says. "Looking across Remuera to the harbour, it can never be built out.
"We love it when Guy Fawkes' night comes around in November because we can see all the firework displays without leaving the house."
"I think that overall, the most important part of this house for us has definitely been the sunlight and the extras, such as the air conditioning, central vacuum system, and surround sound, which I can control with my cell phone.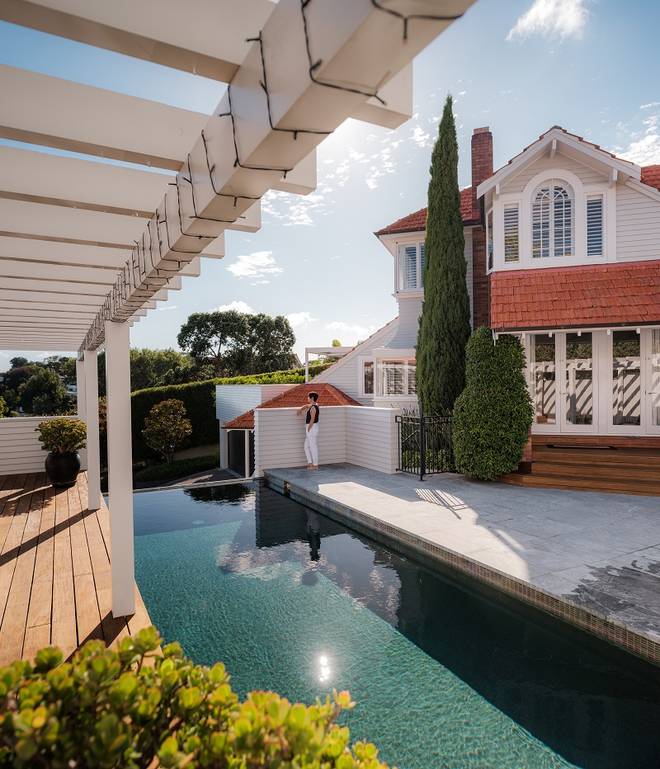 "We also really like the garden, which looks lovely all-year-round, but is very easy-care and the solar heating has been great too."
May adds that she's had wonderful neighbours here and that the family will definitely miss them.
The property has the added attraction of being in the desirable double-grammar zone.
Remuera Village is a short drive, or slightly longer stroll away. If you want to avoid traffic on the main route you can head down towards the harbour end of Ranui Rd and access the CBD that way.
May and her family are about to start a new life elsewhere but she says that if it had been feasible to keep this house, she certainly would be doing so.
27 RANUI RD, REMUERA
• 4 bedrooms, 3 bathroom, 4 parking spaces.
• Floor: 401sq m, land 913sq m.
• Set Sale Date: 29 March (unless sold prior).
• Inspect: Sat/Sun 11am-noon, or by appointment.
• Schools: Remuera Primary, Remuera Intermediate, AGS, EGGS.
• Contact: Terry King 021 484 332, Remuera Real Estate Register, or Diana King 021 613 884.