When Terry Williams clapped eyes on a beach-side section in the late 1950s, he wanted it badly even though it was bumpy and covered in bracken.
Why did he want it so badly? "Oh, because of the view," says son Mark Williams of the property that has been in the family for 60 years.
Mark is of course talking about the sea across the road. "You've got the house, then you've got the road, then you've got a few sand dunes, and then you've got the beach," he says.
Mark's parents Terry and mum Dawn lived in Te Aroha in the 1950s. One day they went for a drive around the Coromandel Peninsula, and that was it.
"I think he paid 800 pounds for it, so that was a lot of money in those days." Terry had the section levelled and built the family's four-bedroom, two-bathroom holiday home on the site.
In those days there was no Kopu-Hikuai Road so they had to go via Thames up to Tapu and then across the Tapu-Coroglen Road, Mark says.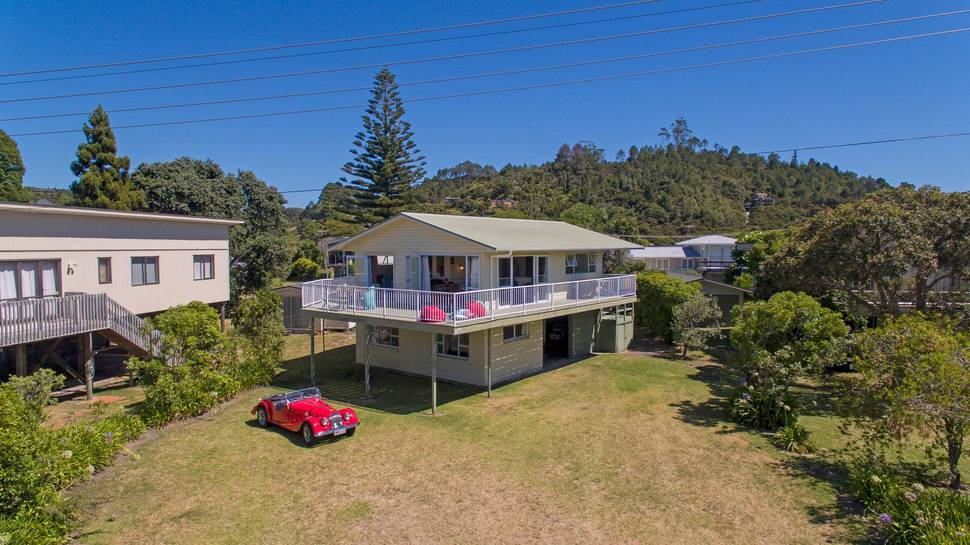 It took about two-and-a-half hours to get to Cooks Beach from Te Aroha, but these days it only takes an hour-and-a-half. Mark can leave work at five and be at the beach by half-past-six.
He has many wonderful memories of holidaying at the beach, but one in particular stands out.
"Back in those days the road in front of the house was just sand, and a local farmer used to drive round in his Humber Super Snipe car with a trailer with cream cans on the back full of milk.
"You used to go out of the house with a billy and you could buy a billy full of milk. We used to wait for the cream to settle on top and have it on our porridge — that was the highlight of my holidays."
There were always barbecues out the back and neighbours would come over. Sometimes Mark and his friends would doss down on the ground floor.
His dad was forward-thinking, he says, using aluminium windows, which were new products back then, and angling the house for the view instead of putting it square on the section.
But positioning it for the view was because Dawn wanted the kitchen facing the sea.
"My father wanted to have the kitchen pointing out to the back of the house, but she said 'No bloody way'…"
Along with the kitchen, upstairs has open plan dining and lounge areas, a bathroom and two bedrooms, while downstairs has two more bedrooms and an internal double garage.
Over the years there has been a new roof, a deck extension and new bifold doors. Terry
also built a smokehouse.
Cooks Beach has grown a lot but the house is at the original end of the beach. The beach is so special to Mark's family that children and grandchildren have been married there.
Mark says while Cooks Beach is still nice and quiet, you can go over the water to Whitianga, which takes two minutes on the ferry.
But there's plenty to do at Cooks Beach, which has a dairy, takeaways and restaurant.
You can go to nearby vineyards, or to Hahei or Hot Water Beach, and there are DOC walking tracks around.
And just over the road from the house are endangered dotterels. There are often gannets diving, too, Mark says.
"They're there most of the year and they seem to feed quite well off the point there. We can have up to 40 or 50 there at any one time, it's pretty spectacular."
Cooks Beach is safe for swimming and has a pontoon for kids to jump off.
Mark says he and his two sisters are selling the holiday home because the time is right — but he's not overly nostalgic because he has bought a site a few sections down where he plans to build his retirement home.
"I'm 62 now. Three years. Can't wait."
7 MARINE PARADE, COOKS BEACH, COROMANDEL
• 4 bedrooms, 2 bathroom, 4 parking spaces.
• House 150sq m, land 819sq m.
• Auction: April 3.
• Inspect: Sat/Sun 1-2pm, or by appointment.
• Schools: Mercury Bay Area School, Whenuakite School.
• Contact: Kylie Pullen, Bayleys, 021 163 6514 and Belinda Sammons 0272 727 728.