Deep in the Waitakere Ranges, this low-slung home is testament to 67 years of ownership by devotees of the mid-20th century modernist aesthetic. The latest owners are Penny Brodie and her husband who discovered this gem in June 2012.
They had never heard of William Chick, the 1950s pioneer of contemporary architecture who designed this house in 1952.
But that didn't matter. "We knew what we wanted and we liked what we saw," says Penny.
She learned more about the house on two titles through Penny's sister who, unbeknown to them, knew of the house and its then-owner Darryl Ward, who bought it in the early 2000s.
It was Ward who spearheaded the sympathetic renovation by architect Sue Hillery, where the house was re-wired, reroofed, strengthened and insulated.
He also tweaked the aesthetics to suit his preference for the pared-back 21st century modernist interpretation.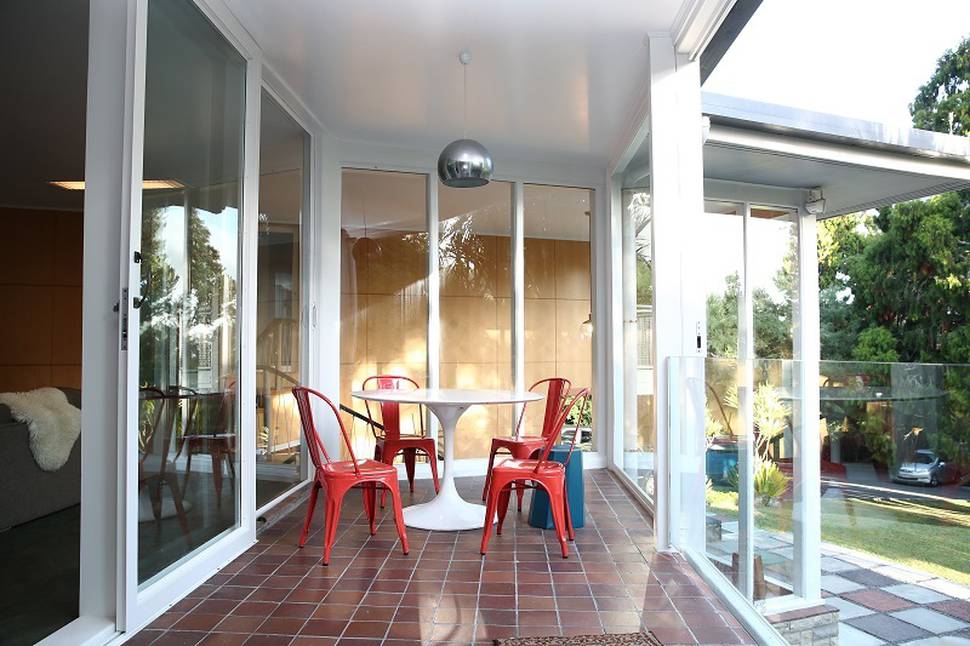 Most importantly, this boomerang-shaped home has retained the strong horizontal lines and asymmetrical form of the American prairie style, which Chick brought back to New Zealand from his time in Chicago during the 1940s.
His clientele here sought him out for a particular look, according to author Douglas Lloyd Jenkins in At Home — A Century of New Zealand Design.
"Chick's work found support among New Zealanders searching for something that was very easy-going and came without much talk of restraint, severity or innovation," he writes.
For his original client, reputedly a jeweller, Chick incorporated features including his trademark curly wrought-iron balustrading. This was among Ward's "frilly bits" which he took out during his renovations.
For Penny and her family, life in this house has been a privilege.
Its biggest appeal has been its spaces, including the upstairs living area with its Hinuera stone fireplace and the adjoining sunroom that was once an open deck.
Off the master bedroom, a large deck opens out beyond deep eaves, with a separate door for guests to dine out on the eye-level view of native bush.
The house is filled with mid-century texture — in the staggered, multi-coloured paved steps into the towering glazed entry, in the American maple and hessian panelled walls and in the white painted plywood, textured with narrow vertical grooves, all beneath narrow dimpled cornices.
Rising up through the centre of the house, Ward's rope baluster stair rail plays up the airy vertical contrast with the solid horizontal form of the house.
Underfoot, soft green carpet replaces the old floral Axminster carpet, rolling out like a plush continuation of the tiered front lawn.
Mid-century built-in furniture includes recessed shelves in the lounge fireside nook and a frosted glass mirror, which brings natural light and the bush views indoors.
Built-in furniture continues in the bedrooms and includes shelving, timber-lined wardrobes, pull-out wardrobe shelves, a drop-down desk and under-bed drawers. Not to be outdone, both bathrooms have built-in tiled baths. The main bathroom in the bedroom wing includes a sauna.
Built-in kitchen features include above-bench pull-down bins and under-bench pull-out chopping boards.
Penny and her husband replaced the original multi-coloured marmoleum tiled floor with ceramic tiles. They did nothing else — they didn't need to.
They also didn't need to buy much furniture. As they look to stay in this area, they're packing up little more than the few mid-century pieces they bought to suit this home that came into their lives "fully furnished" in enduring mid-century style.
296, 298 KONINI RD, TITIRANGI
• 4/5 bedrooms, 2 bathroom, 0* parking spaces.
• Land 2155sq m (two titles), house 333sq m.
• Auction: March 27.
• Inspect: Sat/Sun noon to 12.30pm (or by appointment).
• Schools: Titirangi School, Glen Eden Intermediate, Green Bay High.
• Contact: Lynn Lacy-Hauck, Ray White, 021 1900 611.
*4 OSP