It was a complete fluke that Sarah Shephard found the house that would become home to her and husband Roger.
She had set off from her Onehunga home for a run one day in 2005, but instead of turning right at a nearby junction, like she usually did, she went left.
The change took her past a dilapidated villa with a "for sale" sign. It immediately caught her attention and, by the following day, she and Roger were the new owners. "I thought this place really needs to be loved," says Sarah.
The house, built around 1913, was rundown. "It was pretty bad," says Roger. "The only windows in the house were in the room with bay windows at the front. Everything else was covered with corrugated iron."
Doors and architraves were missing, the front porch was gone and the en suite bathroom was "a black hole" where the only working plumbing was in the toilet.
Roger and Sarah set out to restore the four-bedroom home to its former glory, enhancing features like sash windows, mataī floors and high ceilings.
They put in new architraves, installed a porch complete with ornate fretwork and restored and hung doors they found dumped under the house.
They had intended staying about three years but along the way sons Joel and Nate were born. Sarah appreciated the convenience of being able to walk with pram or pushchair to the nearby supermarket and a little further on to the Onehunga shops.
"We've never had to go through the hassle of trying to find a parking space," says Roger.
In 2015, with the boys getting older, they decided they needed more living space.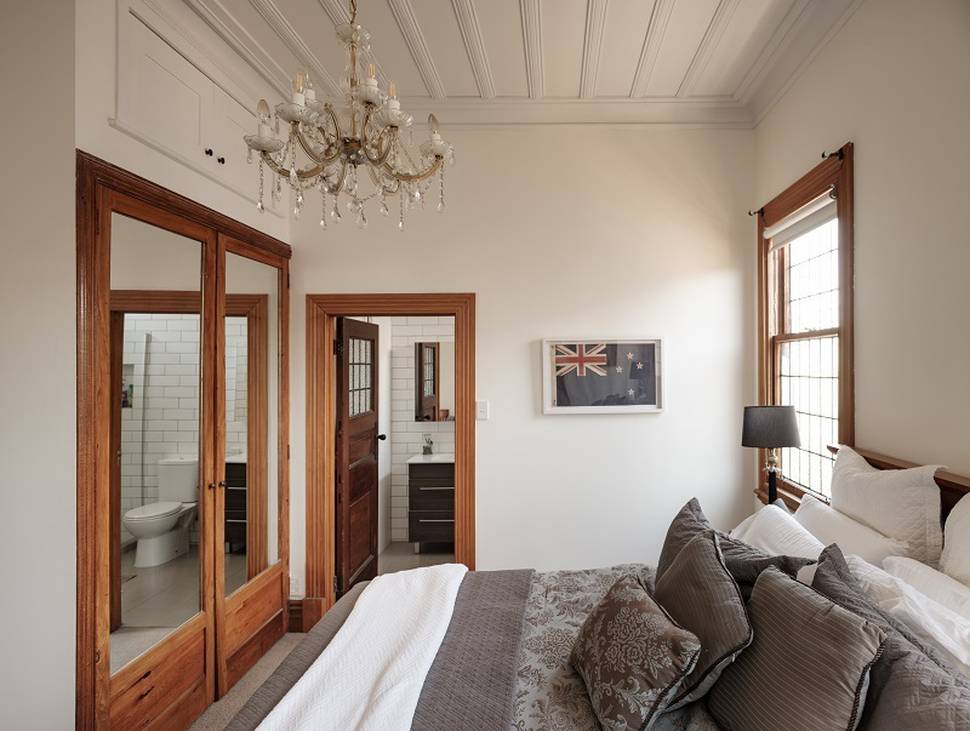 The kitchen at the rear of the house was turned into a media room, and Roger and Sarah added on to the back for a new kitchen alongside a living and dining area.
They made sure the extension was in keeping with the rest of the house by using rimu floorboards from a demolished factory in Pukekohe and a ceiling rose from a treasure trove of abandoned items under the house.
The kitchen has country-style-meets-contemporary cabinetry. The splashback is made up of black embossed tiles reminiscent of the pressed-tin detailing commonly used in houses of this era. A butler's pantry provides extra storage.
There's a wood-burning fire, a heat pump in the living area, and a heat exchange system that pushes warm air through the ceiling.
Sliding doors open the back of the house to the deck and lawn. The single garage is being used for storage as there's room for four cars on the driveway.
The family bathroom is an example of Roger and Sarah's creativity. They turned a dresser into a vanity unit, getting it plumbed with a basin. The room is topped off with subway tiling, an elegant bath and a chandelier.
Roger and Sarah are delighted that they've been able to give the villa the TLC it needed.
They're selling because they are ready to take on another challenge, and would like to move closer to their jobs.
"It really has been a passion project for all of us," says Sarah. "We will miss this house."
60 CHURCH ST, ONEHUNGA
• 4 bedrooms, 2 bathroom, 1 parking spaces.
• Land 531sq m, house 159sq m.
• Auction: Wed March 13.
• Inspect: Sat/Sun 2.15-3pm.
• Schools: Onehunga Primary, Royal Oak Intermediate, Onehunga High School.
• Contact: Jill Jackson, Barfoot & Thompson, 021 745 424, and Emma John, 021 862 242.