For 25 years, Scott Rodgers lived up the road from what was once the general store in French Bay. An elderly woman, Mrs Webber, lived in the house adjoining the store, on a big section across the road from the beach. Scott would often walk past and say to himself, "I wish I owned that."
As it turned out, Scott did indeed own the property. He and his wife Kate bought it in 2012 after Mrs Webber — a reported character who walked the beach in gumboots — passed away.
"My understanding is it was built around the 1920s as a holiday home," says Scott. "It has been used for all sorts of things, including ballroom dances after the war.
"It used to have its own tennis courts and be the dairy and ice-cream shop until a while back, maybe the 1970s.

"It was really all about the amazing location for us. This is one of the only properties in Titirangi that is right on the beach, plus it's sunny and pretty level, which can be rare in Titirangi."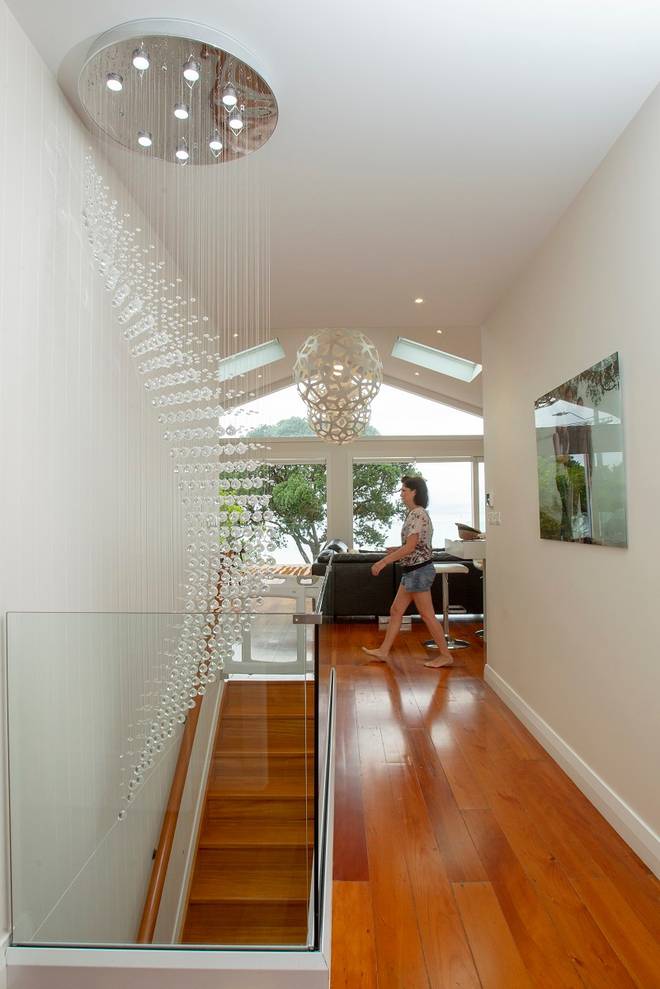 Kate, a marketer, and Scott, house-dad to their children Odin (17), Ted (3) and Eva (1), planned to spend around $500,000 on the old weatherboard building.
But dismantling parts of it revealed worse deterioration than they imagined, so they practically rebuilt it from scratch, spending $1.4 million.
Scott says: "One of the only original elements are the upstairs heart kauri floorboards, but we mimicked the shape and form of the old house."
Officially renovating the building meant they were entitled to retain its generous size. It includes a downstairs flat, popular on Airbnb.
The project took about three years. Says Kate: "We did that sort of Grand Designs thing for part of the time, living in a campervan on site and obsessing about every little choice for the house."
The open-plan living-dining-kitchen upstairs has a glass frontage opening to the deck.
English-born Kate adores hanging out with friends and their children in the fenced and gated grounds. These include off-street parking plus a double garage and a 16-seater al fresco dining table under a picturesque grape arbour.
Kate's parents live in Switzerland and stay a few months in Titirangi each year in the downstairs flat.
Swamp kauri floorboards are a hallmark of downstairs, including in the flat's kitchen-dining-living set-up with premium pull-down bed. It opens to its own decks and has a bathroom.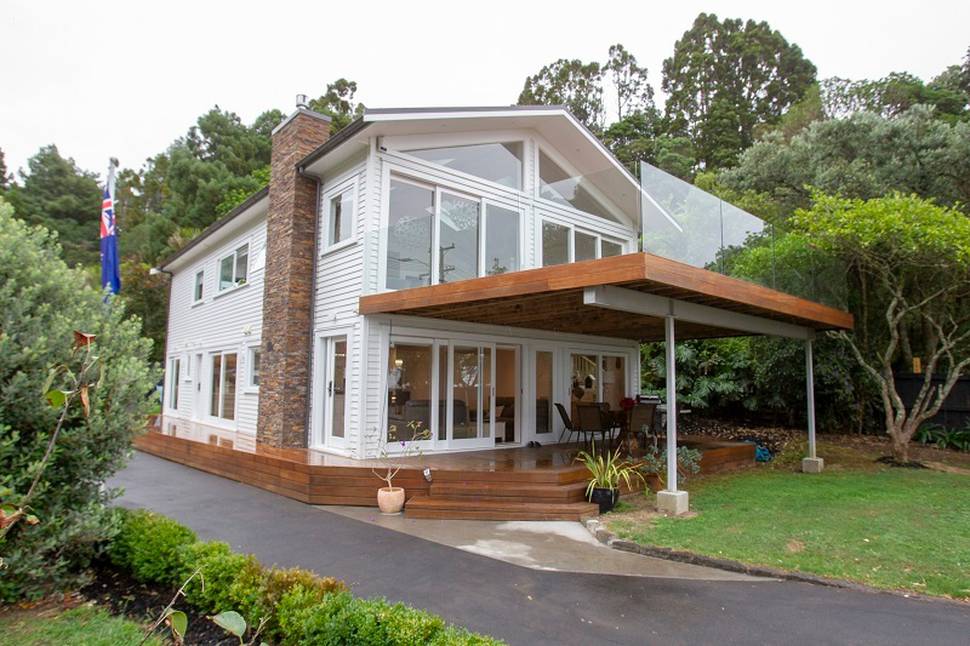 Also on this level are a rear lounge-office, opening to the backyard, another bedroom and a toilet.

The living room upstairs has soaring ceilings, big skylights, Trubridge lights, an industrial heat pump and gas fireplace.
Scott trained as a patisserie chef, so the kitchen has two ovens, dish-drawers, stone benchtops and a bench that serves as bar seating.
Upstairs are three bedrooms and two bathrooms, including the master suite with its walk-in wardrobe and en suite sheathed in striking metallic-tinged tiles.
Kate says: "It's great having the pohutukawa-lined beach just there and being able to take the littlies to explore the rock pools. And this little community is so friendly."
91 OTITORI BAY RD, TITIRANGI
• 5 bedrooms, 3 bathroom, 2 parking spaces.
• Land 1161sq m, house 230sq m.
• Auction: Sat, March 9 (unless sold prior).
• Inspect: By appointment.
• Schools: Titirangi School, Glen Eden Intermediate, Green Bay High School.
• Contact: The Smiths, Ray White, Craig 021 960 565 or Brendan 027 211 0002.