Emma Stockwell and Scott Page were living in Pt Chevalier when Emma became pregnant with son Max, who is now four.
It was around that time that they decided they wanted somewhere more private to live, preferably with a view of the ocean.
They ended up on the North Shore in a converted barn, with bush views, glow worms — and without the ocean in sight.
Emma says Scott persuaded her to give the North Shore a go. "I always said I would never move over the bridge.
"But he convinced me it was a good place, saying it had good beaches, all the infrastructure you need, great schools, and those things we were starting to think about."
But when they started looking around Browns Bay, Mairangi Bay and Long Bay they found that anything with an ocean view also had a view of the neighbours eating breakfast, so they decided it wasn't for them after all.
Then they came across a converted barn on a lifestyle block in Dairy Flat, something they hadn't thought about.
"We literally stumbled across this one," says Emma. "We realised that because it's in native bush it's actually quite easy care.
"The bush is on a covenant so we were able to feel confident we weren't going to be built out.
"I spoke to my uncle about it and he said, 'The only thing that you can't purchase these days is space and time'.
"We realised we were going to be able to bring Max up in a really private setting, and we were going to be able to have our private time remain private.
"Originally we thought we were looking for a view, but what we were actually looking for was a sense of comfort and a sense of not living in the middle of Auckland City any more."
While their place is rural fringe, it is close to motorways and only 10 minutes from Albany, where Emma says you can get anything you need.
The couple decided to buy the house while standing on the substantial deck, looking out over the trees.
Says Emma: "We had looked for bungalows and villas but we saw that we really appreciate modernist design.
"Even though it's not a modernist house, the clean lines and the high pitched ceilings were sympathetic to that, and it was actually the fact we couldn't hear anything but the birds."
The house is up an incline at the top of a driveway and far from traffic.
The couple began renovating the dated decor, replacing the "watered down tea" colours with warmer whites and staining the cedar weatherboard black to fit with the environment.
The three bathrooms were revamped and they replaced the pine deck with kwila.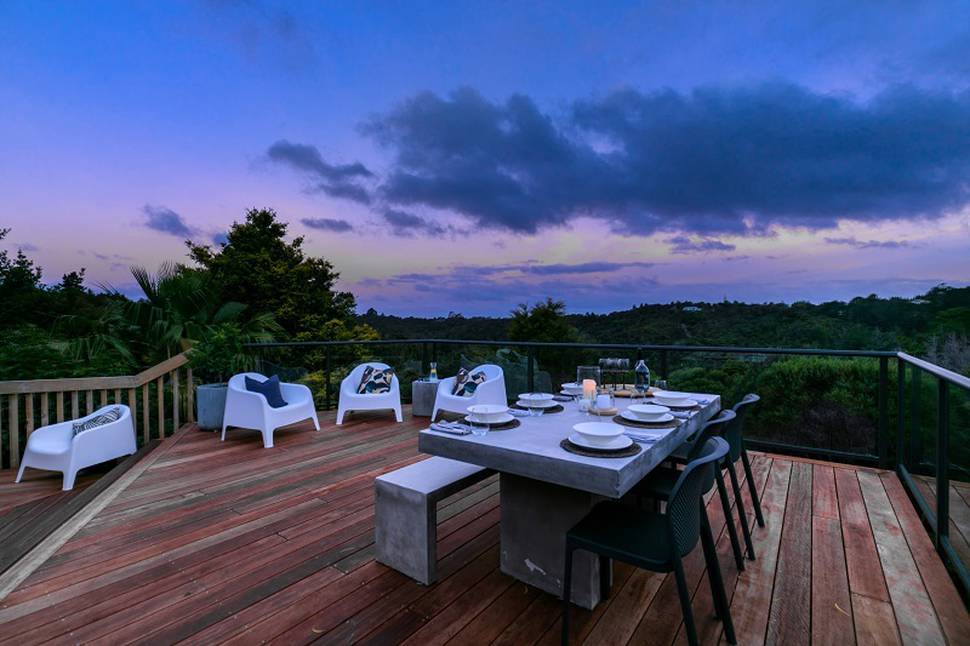 One of Emma's favourite spots is the side of the home that features a second lounge, spare bedroom and a bathroom.
"My sister-in-law, whenever she stays, brings a face mask and all of that because she sort of feels like it's a little Air B&B retreat.
"It can be completely shut off from the rest of the house. So if you've got parents who live with you, or you want to rent the room out, or you want a work/office from home situation, it's perfect for that."
The centre of the house has the open plan living, kitchen and dining areas all opening to the deck, "so you can sort of live, cook, eat, play all in that area".
Upstairs has a study and three more bedrooms where you can lie in bed and look at the stars.
Max is old enough this year to build huts in the bush and look for glow worms.
Emma says the environment is perfect for a family with exploring-age children because they can wander without the worry of traffic.
She, Scott and Max, however, are moving to Puhoi where they have family and another project to do up.
356 WRIGHT RD, DAIRY FLAT, RODNEY
• 4 bedrooms, 3 bathroom, 2* parking spaces.
• House 192sq m, land 2.4ha.
• Expressions of interest: Close Feb 21, 4pm (unless sold prior).
• Inspect: Today, noon to 12.45pm.
• Schools: Dairy Flat Primary, Albany Junior and Senior High.
• Contact: Paul Arundel, Bayleys, 0275 001 901.
*Plus 4 OSP