Ken Lanning reckons you can forget the famous Western Australian sunsets — he's seen them and says they're over in a flash compared to the hour-long spectacles from his Mangawhai house.
Ken bought the property for the views and built the house in 2011 on an elevated, 676sq m section. It was designed to accommodate him, his wife, their two sons and their families.
"We wanted a property where we could all be together as a family group," he says. "
Between us we've done plenty of renovations on different homes so we knew what we wanted."
Providing for everyone's needs meant a two-level build. One son scored the upstairs apartment with two bedrooms and a family bathroom with shower over the bath, while Ken and his wife took the downstairs master with its spacious en suite. There's also a second bedroom and guest bathroom here.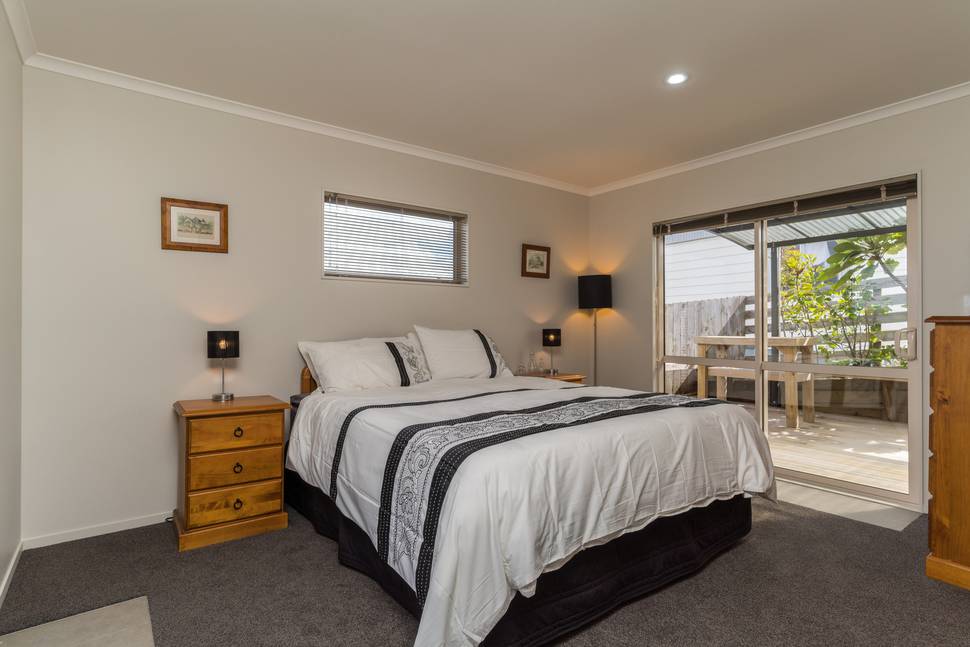 The other son took the sleepout, the interior of which he designed himself. It has two bedrooms, a living area, a good-sized kitchenette and a spacious bathroom. Laminate floors in a mid-grey tone make for easy care.
The living area of the main house is open-plan, with a functional kitchen with modern stainless appliances and tiled floors opening through ranchsliders to a large, covered deck. Adjoining the kitchen are a casual dining area and a lounge, also opening to another deck.
There's an adjacent TV room/study, which has proved ideal for kids' movies.
There are three outdoor entertaining areas so each branch of the family can entertain individually when they choose. Most of the areas are covered — the bonus of having a company that makes awnings, shades and canopies.
Ken says the family has lived outside as much as possible, taking advantage of the weather and the views, and the ability to duck wind or showers by choosing which deck to occupy.
The eastern deck is a favourite for morning coffee, reading the paper and discussing plans for the day, but Ken's favourite is on the western side for afternoon drinks and watching the spectacular sunsets.
"First there are the big, blue, open skies, and then the sunset, so you can sit watching for hours. We feel like we're up above everything."
The house was designed to open up through ranchsliders, and then be closed off for cosiness in the winter. It's double-glazed, and Ken says they've hardly ever needed a heater.
The section has been fully fenced for the safety of kids and pets, and the land is easy-care, with lawn and space for parking and a boat.
This is the fifth property the family has owned at Mangawhai and the area has seen more than a few changes in that time.
"When we first came here the golf club was just a tin shack with an honesty box," Ken says.
These days it's a little more upmarket. There's an annual art trail, walking weekend and food and wine festival, a good choice of cafes and restaurants and local markets featuring artisan produce.
Ken and his family still love the area, and are ready to start another building project there.
7A ANCHORAGE RD, MANGAWHAI HEADS
• 4 bedrooms, 3 bathroom, 1 parking spaces.
• Land 675sq m, floor area 139sq m, plus outdoor decks and patio.
• Auction: Feb 21.
• Inspect: Today 1-1.45pm.
• Schools: Mangawhai Beach School, Otamatea High School, Rodney College.
• Contact: Robbie Robertson, Bayleys, 021 959 798.