Whichever way Alison Wilson and her partner Greg Nesbit look at it, family life in their California bungalow overlooking the lush pastures of Tomarata, north Auckland, has been a match made in heaven.
They found this bush-clad land in 2004 when Greg, an Auckland builder, felt the lure of these parts from his days as a marine biologist based at Leigh.
Alice's connection was as a government environmental policy specialist in Wellington, before her move north as the Auckland head of the Ministry for the Environment.
FOR MORE PROPERTY NEWS AND LISTINGS GO TO ONEROOF.CO.NZ
Talk soon turned to Tomarata and for Alice, nothing less than a well-built California bungalow was going to complete their development dream for the site. A year later they found their house, 91km away in One Tree Hill, Auckland.
Alice had given house removal specialist Craig Walker the task of finding a premium bungalow. He wasn't optimistic, given the lengthy list of clients ahead of her.
"Things happen," she told him, promising she'd buy as soon as he found something special.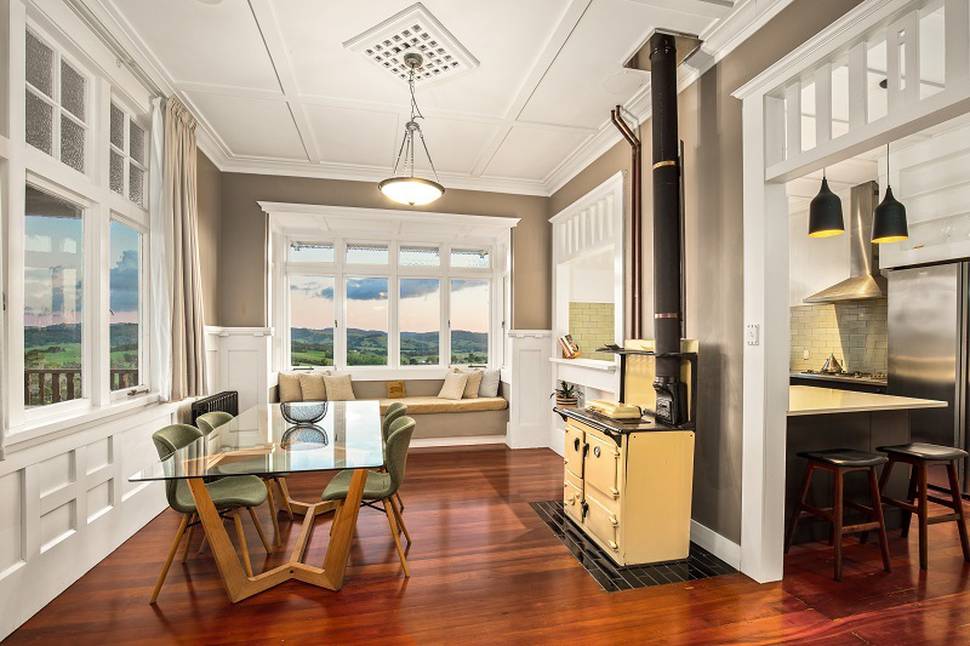 Two weeks later, Craig phoned with news that this 1910 house, at No 36 Campbells Road, required immediate removal. He said it was "fantastic" and Alice confirmed the deal.
He was still curious about the provenance of the house — it was unlike neighbouring houses and clearly built on a larger site for someone of means.
The then-owners told him it had been built for the young Crown Princess Salote of Tonga, who was at primary school in Auckland about that time.
In fact, the property's historic title shows it was owned by "the father of Auckland", Sir John Logan Campbell, from 1880 until well after the house was built.
For Alice, these stories are part of the fabric of the home which they acquired in near original condition.
For the shift to Tomarata, the solid kauri house with its matai floors and rimu interior panelling had to be sawn in half.
Greg followed the house on its removal truck as it inched its way north and up the neighbour's driveway to the summit.
"It was heart stopping," says Alice. "He was so relieved. He kept saying 'All my life's investment was on that truck'."
With a backup tent, Greg moved into the house as soon as he had one room fit for purpose.
Room by room, Alice and Greg transformed the house, which they positioned to catch the morning sun in the kitchen and living areas and afternoon sun in the bedrooms.
Outside they built decks for sheltered living and, more recently, Alice's bespoke Italian pizza oven.
Alice also replanted the original herb planters around the corner bay window and together, she and Greg developed the extensive orchard and the paddocks for their heritage sheep and cattle breeds. "We were hell-bent on creating a wonderful lifestyle block," she says.
Inside, they stripped old wallpaper, in favour of painted rooms with colours from Alice's favourite palette of nature's soft greens, greys and a warm, buttery white.
Their "slightly separate, still open" refurbished kitchen has been superb for privacy, she says.
The adjacent dining area features a cast iron range cooker with wetback. More recently, they sourced and restored the black painted vintage radiators that now heat the entire house.
Now a full-time mum to daughter Siam (6) and son Johnny (4), Alice says she'll miss everything about life here. They've decided to move to the lower North Shore to be closer to their martial arts studio business in Birkenhead.
10 TAYLOR RD, TOMARATA, WELLSFORD
• 3 bedrooms, 2 bathroom, 0* parking spaces.
• Land 5.9253ha, house 165sq m.
• Auction: Dec 19 (unless sold prior).
• Inspect: Sun, noon to 1pm.
• Schools: Tomarata Primary School, Wellsford Primary School, Rodney College.
• Contact: John Barnett, Bayleys, 021 790 393.
*4 OSP