Owning "a nice piece of countryside" had always been Philip Puttick's dream. Originally from England, he'd lived with his partner and their family in Takapuna for many years. But in 2013, as the suburb grew, they felt it was becoming too busy.
When they found this 1.9245ha lifestyle pocket, surrounded by a working farm, they immediately fell in love with its charms.
It was not just the appeal of the pretty, turn-of-the-century villa at "Oakwood", on undulating park-like grounds, but the fact they were so close to Warkworth and its amenities, only 3km away.
"If I want something from the supermarket, I'm not cursing," says Philip.

The house was built around 1912 and moved here from St Heliers in 1935. Over the years it has been restored, extended and upgraded, with modern bathrooms and efficient heating.
"It has an amazing feel about it," says Philip. "It has a big heart and a warm ambience.
"It's solid and it's been done up in keeping with the period. You can't see the difference between the old and new.
The kitchen is part of the original with recycled kauri trims and an open plate rack. The old Stanley oven in the original brick fireplace has a wetback that heats two radiators, one in the dining room and the other in the hallway.

Living areas flow into one another and open out to sunny, wraparound covered decks that enjoy exquisite garden views.
A log burner heats the lounge while a heat pump provides warmth and an HRV system keeps rooms fresh.
Four oversized bedrooms include a huge master wing on the ground floor that was once several rooms. Philip has used the two upstairs bedrooms with their high pitched ceilings to host Airbnb guests.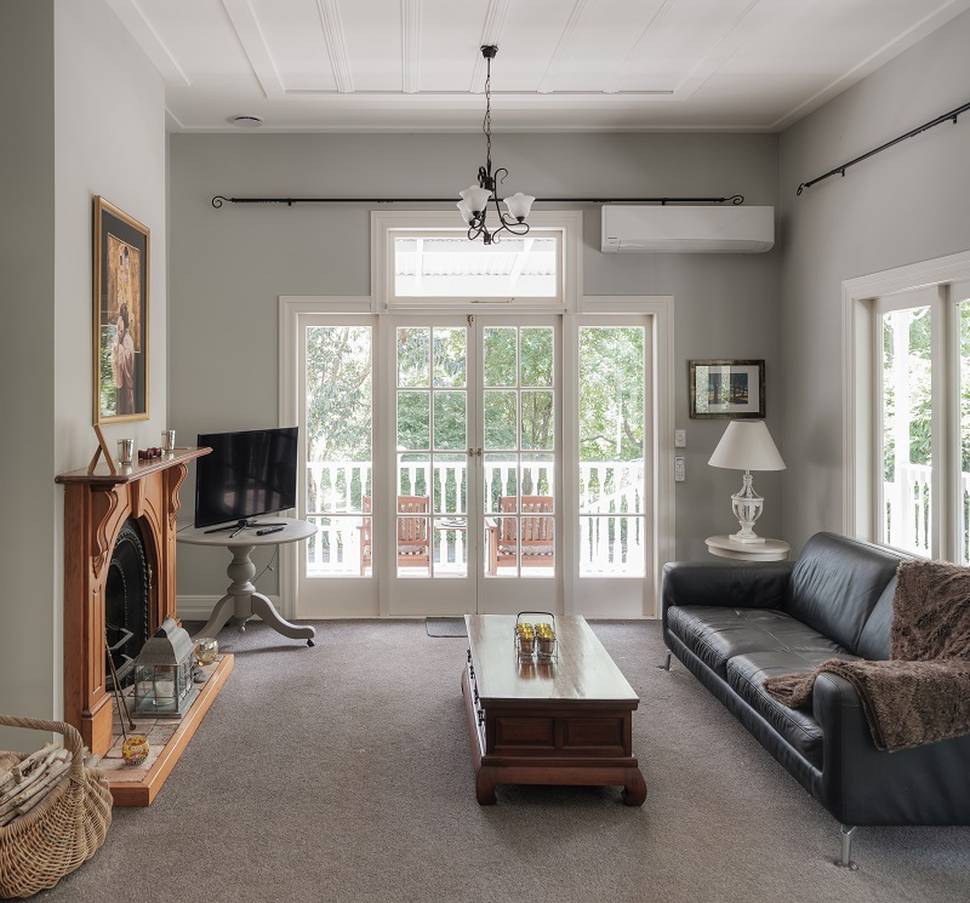 Every window has a beautiful view, which is why Philip has never hung curtains. Guests can sit out on the Juliette balcony and listen to native birds as they look over the gardens and an orchard where there are many productive trees.

"Being able to pick oranges and make fresh juice is really nice," says Philip.
Next to the garage, two fully lined cabins are useful for storage but could easily be turned into accommodation chalets.
Although it is a lifestyle property, it has been easy to maintain. Philip has employed Woofers to manage the yard and build up his wood supply.
Among the mob of sheep that keep the grass down in his three paddocks are beehives.
Philip leases the land to a beekeeper and in exchange receives 12kg of honey a year. He also has hens who keep him supplied with fresh eggs.
There are stockyards, and a red barn was once the home of the Warkworth dog trials club.
Now the family has left, Philip is moving on but says this home offers a new custodian many opportunities to pay its way as a business.
"The big red shed would be ideal for a doggy daycare facility, and I've often thought it would make the ideal wedding venue," he says.
325 STATE HIGHWAY 1, WARKWORTH
• 4 bedrooms, 4 bathroom, 2* parking spaces.
• Land 1.9245ha, house 237sq m.
• Tender: Closes Dec 18.
• Inspect: Sat 1-2pm.
• Schools: Warkworth Primary School, Mahurangi College.
• Contact: Debbie Aldred, Remax, 021 406 967, debbie.aldred@remax.co.nz
*10 OSP