Warwick Wrigley reckons that when it comes to his own home, it's probably just as well that walls can't talk.
For nearly 30 years the arts and crafts house has been a family home.
But before that it was lived in by a punk band who performed concerts in the living room and stashed drugs on the property.
FOR MORE PROPERTY NEWS AND LISTINGS GO TO ONEROOF.CO.NZ
When Warwick and his wife Nanette Miles bought the house 27 years ago, they discovered drop boxes for drugs — empty, of course — under floorboards in their bedroom and a loose brick in the garden.
"This house has had a very colourful past," says Warwick. But if the walls could indeed talk, the story they would tell of the past three decades would be one of a home full of happy times.
"It's really hard to let it go," says Nanette. "It's been a wonderful place to live."
Built in the 1930s and nicknamed the "Milly Molly Mandy house", after the English story books, the house's character charmed Warwick and Nanette from the moment they first saw it in 1991.
"Something about it resonated with both of us immediately," says Warwick. "By the time I had walked from the front to the back, in my mind I was already living in it."
At the time, interest rates were high and the couple had to scrimp and save. But it was the perfect place to bring up their daughters Annabelle and Madeline, especially after they added an extra bathroom, laundry, office, and dining room out the back, and a farmhouse-style kitchen at the front.
Living areas near the kitchen have hosted many gatherings over the years, although none of them possibly quite as lively as the punk rock concerts.
Warwick and Nanette were careful to preserve the house's period features, including beamed ceilings, original windows and built-in wooden furniture.
Upstairs, a balcony was pushed out and enclosed to create a bedroom with French doors to a small balcony.
Two other bedrooms on this level are generous in size. Space in the master bedroom could be converted to an en suite. The family bathroom was modernised five years ago.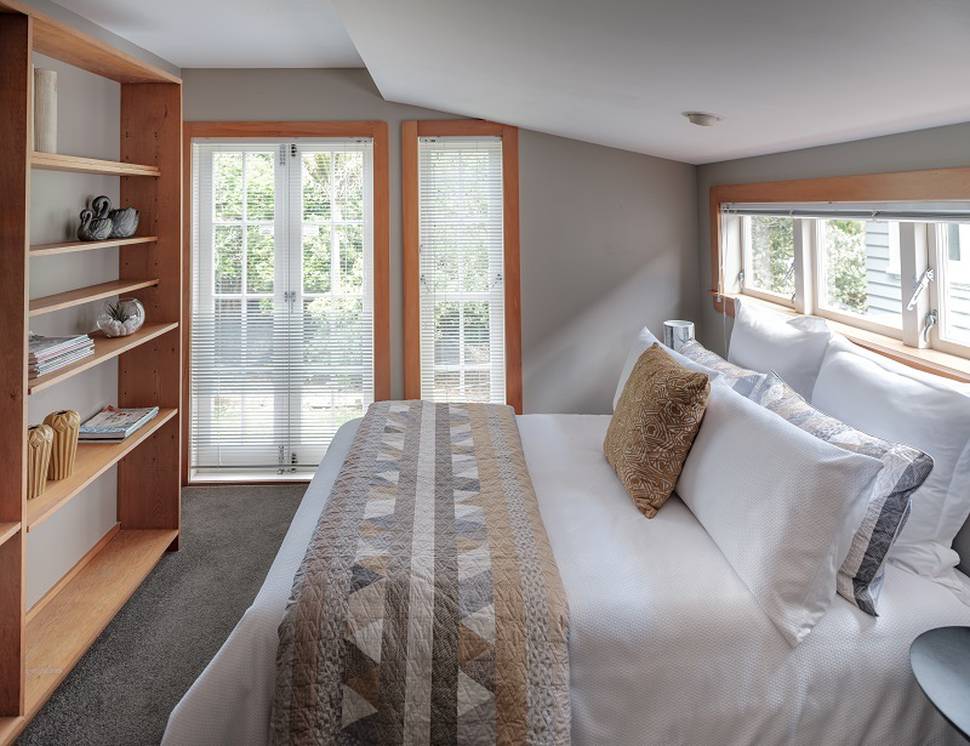 The back garden is huge and there is bush at the rear of the property. The front garden is a north-facing sun trap, with a grape vine over the pergola in summer providing welcome shade.
Warwick and Nanette created a private, Mediterranean-style courtyard in which they've spent many hours entertaining.

They have also enjoyed living in a friendly street so close to the West Lynn shops and cafes.

But with Annabelle and Madeline now adults and living in Wellington, the house is too big, and Warwick and Nanette have bought a smaller place.
14 SEFTON AVE, GREY LYNN
• 4 bedrooms, 2 bathroom, 0* parking spaces.
• House 185sq m, land 752sq m.
• Inspect: Sat/Sun, noon to 12.30pm.
• Auction: Wed Nov 14, at 6.30pm.
• Schools: Grey Lynn Primary, Western Springs College, Auckland Girls' Grammar.
• Contact: Paul Grace, 022 404 1472; and Hugh Seabrook, 021 909 012, rwponsonby.co.nz/auckland/grey-lynn/14-sefton-avenue-pon26208/
*2 secure OSP