The developers of high-end project Milford 110 say they know their location inside and out — because it'll house their own home.
Rod Francis and his wife Shanly intend to occupy the penthouse in the five-storey block. Like most of the apartments, it will enjoy beautiful views.
Rod says: "We've lived on the Shore for 40 years and we love this location. We intend to create an attractive, high-quality building that we'll live in ourselves."
FOR MORE PROPERTY NEWS AND LISTINGS GO TO ONEROOF.CO.NZ
The couple, who have three adult children, have for the past four years lived in a house at this address, which will make way for the apartments.
Rod was already involved in property in which he and an investor concentrated on commercial and industrial premises.
"So when developers started knocking on the front door of our house a couple of years ago, we thought we'd explore what was possible with the site ourselves."
With a planner and architect, they decided to create Milford 110, which will offer 19 residences.
One will be their own upper level residence adjacent to an apartment for Shanly's parents. There'll also be a street level cafe or other businesses.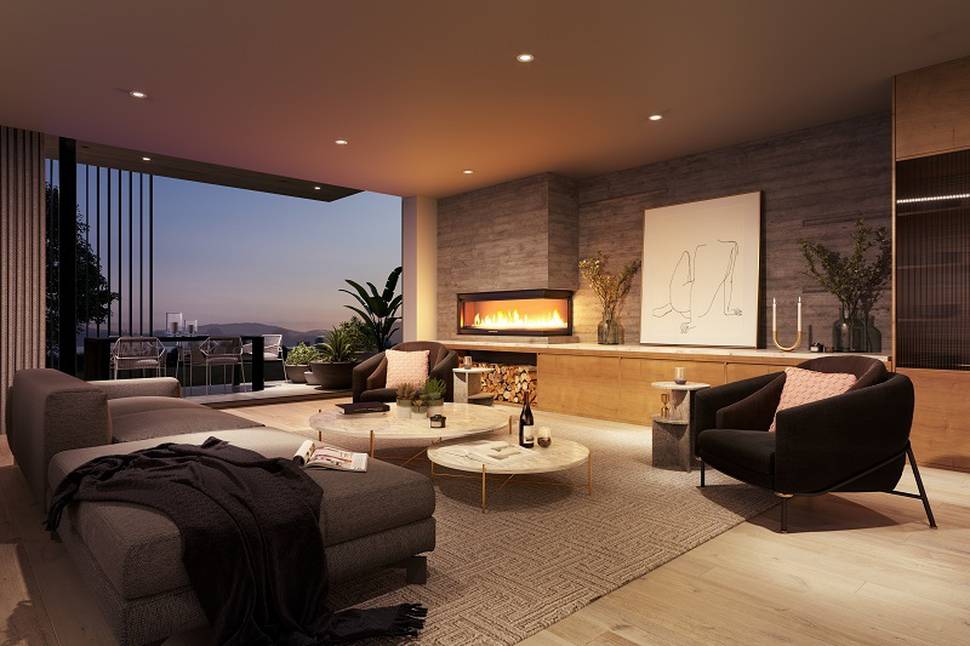 Shanly says: "Milford 110 is particularly aimed at people like ourselves who are looking to move out of their family home and enjoy a lock-up-and-leave lifestyle in a great location."
Many of the apartments will be be two-bedroom, two-bathroom layouts with open-plan living area.
But because of their generous sizing, there's an option to reconfigure space for a second living area.

Pricing starts at $1.85m, including one car park. More expensive apartments come with two car parks. All told, there will be 30 car parks under the building and three covered spaces outside it.
The development has been designed by Daniel Bulog of Brave Architects, who has worked with Rod before.

"Daniel recommended it would be preferable from an aesthetic point of view if we could create a larger footprint, so we ended up purchasing the two plaster houses behind our property," says Rod.
The development is on the corner of Kitchener Road and Pierce Road and means residents will be able to enter and exit car parks from the quieter side road.
Rod says: "The location is so handy, on the flat right next to Milford Village, that residents will often choose to leave the car at home and walk — Shanly's car hardly moved for three months after we bought our house here."
The location is 200m from Lake Pupuke, 250m from the nearest supermarket, 350m from Milford Mall, 400m from Milford Beach and 1.4km from North Shore Hospital.
Brave Architects' design centres around the elegant simplicity of a modern pavilion.
It will team shuttered concrete panels with floor-to-ceiling windows to maximise the views.
Residences will have covered decks and adjustable exterior metal shutters. A scaffolding tower onsite highlights harbour and urban views from Level One upwards.
Interiors have a 2.7m stud and come in a choice of two colours. Kitchen and bathroom benches are stone-like. Life-like electric fires for ambiance compliment central heating.
The aim is to have the project completed by the end of 2020.
110 Kitchener Road, Milford
• The developers of Milford 110, 110 Kitchener Rd, Milford expect to have resource consent by year end with the development completed by the end of 2020. It will feature:
A: 2-bd, 2-bth one living space apartment 108-134sq m (plus 11-56sq m deck), from $1.85M. Includes 1-2 car parking spaces.
B: 2-bd, 2-bth dual living space apartment, 128-134sq m (plus 23-56sq m deck), from $1.85M. Includes 1-2 car parking spaces.
• Body corp: Estimated to start at $5000 a year.
• Display suite: 110 Kitchener Rd; 10am-2pm daily or by appointment.
• Auction: Oct 6, noon, on site (unless sold prior).
• Schools: Milford School, Takapuna Normal Intermediate, Westlake Girls' High School and Westlake Boys' High School.
• Contact: Kris Cunningham, 029 767 6801 or Wayne Marmont, 0274 772 342, Harcourts, harcourts.co.nz/Property/858522