For Penelope Barr-Sellers and husband Toby Sellers, there was no question as to whether they would bring son Leo, now 13, back from London in time to start school in Auckland.
"We'd both loved our time over there and the fantastic jobs we'd had, but we wanted Leo to have a real New Zealand childhood," says Penelope, a well-known television personality here in the early 1990s.
Her broadcasting career took off in 1987 when she began appearing in our living rooms every night as a weather presenter on One News — working alongside the legendary team of Richard Long and Judy Bailey.
FOR MORE PROPERTY NEWS AND LISTINGS GO TO ONEROOF.CO.NZ
Penelope became a household name and went on to work on a number of other shows, including Breakfast News, Made in New Zealand and the Corbans Fashion Collection before quitting television for a successful career in business relations, management and marketing, here and overseas.
Toby works in advertising and communications.
It was while living in a Parnell rental that they happened to pass through Millais St one afternoon and noticed the open home.
"It was sunny, the house was far bigger than it appeared from the road, we liked the homely yet expansive feel, and Leo instantly fell in love with the cubby house in the back garden.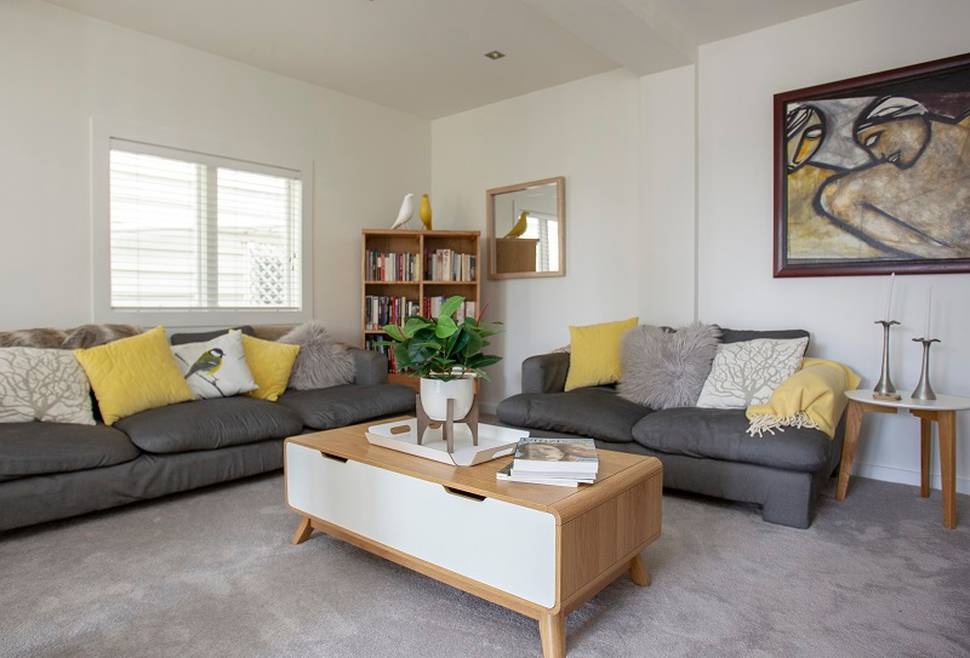 "So it was an easy decision — especially as he had young cousins living nearby and attending Richmond Road School."
Penelope says previous owners had undertaken various remodelling projects over the years and believes this is an organic process in the life of a house.
"What I really love is the fact that the original 1900s home is essentially still here and its walls are hidden and preserved inside today's structure," she says.
Upstairs, the spacious, elevated villa has a typically wide and bright hallway.
Leo's bedroom has its own little courtyard while Penelope and Toby's master suite has an extremely generous ensuite and lots of lovely wardrobe space.
The lounge, or media room, lies just before the main living area and is decorated in one of Penelope's favourite schemes: striking black and white.
The kitchen, family and dining room is large and expansive — and entertainer-friendly.
"We spend a lot of time in here — as a family, and with our friends," says Penelope.
"It does what a good kitchen should do and sees everyone congregating around the central island."
She says this space with its high ceilings and skylight is a lovely place for working at home.
"I set myself up at the dining table and it gives me a wonderful view to the back garden.
"I like being elevated, and we put glass balustrades on the upper deck out here so the outlook isn't impeded at all."
While there's ample living space on the top level, with its polished floorboards, downstairs is a fresh revelation with another living room, two large bedrooms — plus a third bathroom.
"We seriously considered putting a pool in outside and this set-up would be ideal for that," says Penelope.
She says that the layout, which opens on to a huge lower deck, is ideally suited for guests too, with its own entry.
"When we have friends or relatives staying it just works perfectly."
She is particularly proud of her laundry.
"It's unusually large and I just love it."
With Leo now a teenager, attending school across town, Penelope says she and Toby miss the sound of children playing in the garden or in nearby Grey Lynn Park.
"We used to have what felt like half the street in here on a Saturday afternoon, but now they're all too grown-up for the cubby house and it feels time for a change."
She says that they've made firm friends on the street and will be keeping in touch.
"When your kids are all the same or a similar age you tend to form strong relationships.
We've all looked out for each other's families."
Though they are keeping open minds, Penelope doubts that she, Toby, and Leo will be moving far away.
"We can walk to the local shops, and the city and Ponsonby are really close. This is a perfect spot."
27 MILLAIS ST, GREY LYNN
• 4 bedrooms, 3 bathroom, 0 parking spaces.
• Land, 481sq m, house 253sq m.
• Price: CV $2,050,000.
• Inspect: Sat/Sun 12.30-1pm.
• Auction: Weds 3 Oct, 2pm, 30 Gaunt St.
• Schools: Richmond Rd School, Ponsonby Intermediate, Western Springs College.
• Contact: Joe Telford, Bayleys, 021 191 7769, oneroof.co.nz/1191297