Vicki Reid was looking for a sanctuary when she decided she wanted a new home at Snells Beach, and it was no coincidence that she chose Sanctuary Homes to make it happen.
It's a local company and the builder just happens to be her brother, Neville. And although that might have posed problems for some siblings, it worked out exactly as Vicki had hoped.
"We're a very easy-going family and I trusted Neville, so he found me the section and did the floorplan and all the design work on the house," she says.
FOR MORE PROPERTY NEWS AND LISTINGS GO TO ONEROOF.CO.NZ
"My brief was for somewhere well off the road, safe for me and my dog, a house that was easy to live in and with beautiful views."
Vicki got all of that and more. Built just on a year ago, the four-bedroom home is down a long right-of-way with views across the valley and the northern end of Snells Beach.
The open-plan living and dining area has big windows and views from almost every angle.
The well-equipped kitchen has induction hobs and plenty of storage, and Vicki finds it very easy to work in.
"I really love this kitchen," she says. "My previous house had a butler's pantry but the kitchen wasn't easy to work in — I was always having to decide whether to assemble stuff in the pantry or in the kitchen and everything was too spread out. It just didn't work."
In addition to plenty of underbench storage, this kitchen has three floor-to-ceiling cupboards with pull-out drawers, and an oversized island bench that doubles as a casual dining area.
"The big bench is great and we sit there to eat more often than at the table."
There's an adjoining dining space and a big living area which opens via sliding doors to a spacious deck.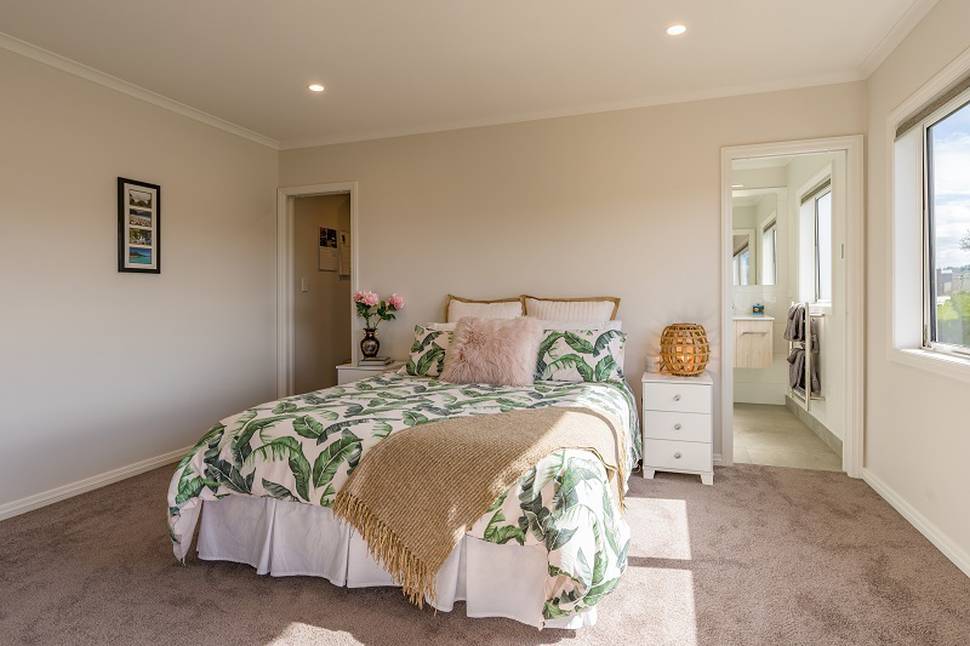 Also on this level are three double bedrooms, including the master which has a walk-in wardrobe and an en suite with glass shower. There's adjoining study that has a pleasant rural outlook.
Vicki wanted her home to be on one level because she has a damaged knee, but Neville could see the potential under the house for a self-contained guest area with a big bed-sitting room and a bathroom.
With a separate entrance, it has potential as a kid's rumpus room, teenage hangout or guest accommodation, and Neville has incorporated lots of extra storage space.
"He used to design boats so he's very good at maximising space and has added strategic storage in every room," Vicki says.
Outside, a big retaining wall along the back of the house has enabled Vicki to have a large, flat parking area near the double garage, and level access to the house.
Down a few steps is her garden, where she has created a largely edible garden with vegetables, blackberries, raspberries, and blueberries, as well as plenty of citrus and feijoas.
There'll be more opportunities for sustainable living when Vicki and her partner make their next move, which is to a lifestyle block in Katikati.
"I have lots of family down there, which will be great, but I will miss the lifestyle here," she says.
159A MAHURANGI EAST RD, SNELLS BEACH
• 4 bedrooms, 3 bathroom, 2 parking spaces.
• Land 620sq m, house 218sq m.
• Price: $1,095,000.
• Inspect: Today, noon to 12.30pm.
• Schools: Snells Beach Primary School, Mahurangi College.
• Contact: Steffan Meyer, Bayleys, 021 0554346, oneroof.co.nz/1191001