The developer behind Papatoetoe's The Grange Park has racked up multiple central suburbs developments and says the numbers speak for themselves in proving his new project will offer cost- competitive, quality living.
Director of New Sun Developments Paul Hu says the four-bedroom freehold terrace houses being sold off the plans in stage one of The Grange Park offer 184.9sq m of home starting at $799,000.
He says: "We believe that is offering extraordinary value and you can see from our display suite we are not skimping on quality to achieve it."
FOR MORE PROPERTY NEWS AND LISTINGS GO TO ONEROOF.CO.NZ
New Sun was established in 2006, its development track record including high-end offerings such as the Scarborough complex and Balfour apartments in Parnell, Westwood Terrace complex in St Marys Bay and Ponsonby's Vinegar Lane.
New Sun bought 9.7ha of the Grange golf course. The project's lead designer and project manager, Jason Li, set up his practice, Portal Studio, when he came to New Zealand after practicing in Singapore, Australia and China.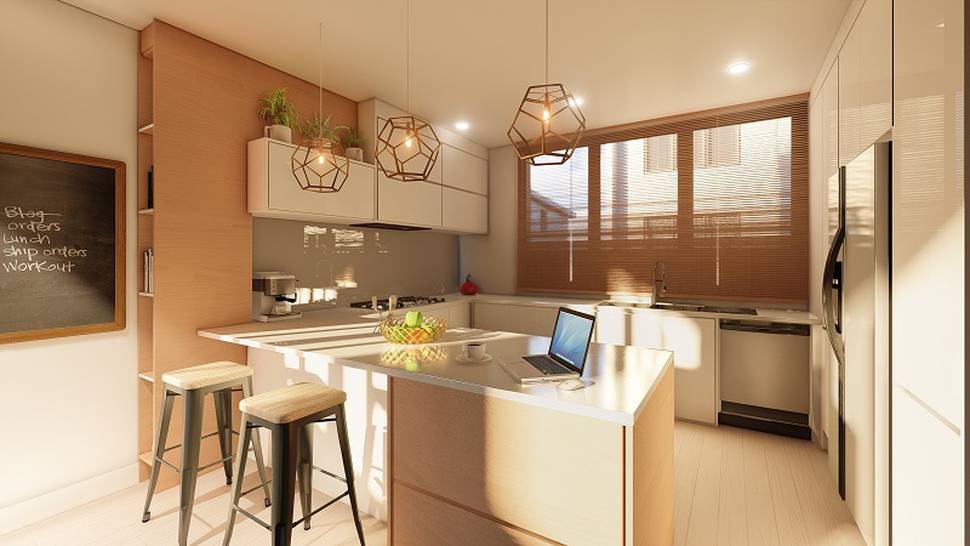 Stage one, recently released to buy off the plans, will deliver 64 freehold terrace houses in a community eventually offering around 400 homes.
The terrace houses will all be 184.9sq m with internal-access garages. Buyers can opt for a four-bedroom layout or utilise the same amount of space for three bedrooms plus a walk-in dressing room.
Pricing starts at $799,000 but varies depending on position and the amount of land.
Each house has its own fenced front courtyard with lawn and deck.
Paul says: "These terrace houses started selling as soon as we launched a couple of weeks ago, but we are not dependent on achieving a sales threshold to proceed with them."
Jason says: "This is a medium density development and to suit the market we wanted to produce homes at the more affordable end of the spectrum but still focus on quality."
He's designed the terrace houses on long sites with a rear lane accessing their garages and making street fronts safer.
Aluminium cladding will form the visually prominent "tilted frames" of the homes' front facades, teamed with vertical cedar, lightweight Designer Series' stone cladding, and standard bevel-back weatherboards.
A distinctive element in Jason's designs is the central light well with atrium below it.
This element is nicely showcased in models on site in the display suite in the former golf clubhouse.
Jason says: "It will turn an otherwise dark area into a well-illuminated central feature and ensure even southern units have plenty of sun."
The central atrium also 'liberates' floor levels from each other, says Jason, by adjusting the landing of the staircase — floors on either side of it can be shifted up or down creating ceiling heights suitable to specific spaces.
Ceiling heights will be 3m in lounges, 2.4m in kitchens and 2.2m in garages.
The design's split levels create some separation within the interiors, appreciated by large families and multi-tenancy situations such as flatmates.
Specifications include kitchens with stone benchtops, double sinks, Bosch appliances, Kohler sink mixers and soft-close Hafele runners and cupboard hinges.
Bathrooms and en suites will have underfloor heating, full-height wall tiling, and glass-enclosed tiled showers.
The location is handy to Hunters Corner, Middlemore Hospital and the airport. Famous golfer Jack Nicklaus is developing a golf course next door.
New Sun Developments already has resource consent for the terrace houses, building consent for the first two blocks, and is about to lodge building consent for the balance.
Earthworks are well under way and the stage one terrace houses are scheduled for completion in July 2019.
The Grange Park
• The Grange Park, 2 Grange Rd, Papatoetoe, will offer homes starting from $799,000. Completion will be in July 2019.
A: 3-bd, 2-bth terrace house with walk-in wardrobe, 184.9sq m, from $799,000. Includes tandem internal access garage.
B:>/b> 4-bd, 2-bth terrace house, 184.9sq m, from $799,000. Includes tandem internal access garage.
• Residents' Association: Estimated to start at $430 a year.
• Inspect: Display suite open daily noon to 2pm at 2 Grange Road, Papatoetoe.
• Schools: Papatoetoe Central School, Papatoetoe Intermediate, De La Salle College.
• Contact: Ben Nalder 021 524 965, Julia Zhu 027 274 7999 or Cameron Archer 021 0837 5992, Barfoot & Thompson, thegrangepark.co.nz/