The year was 1963, the price £2000, a huge sum of money in those days. But Roy Turner says it was worth every penny for the section he and his brother Bert shelled out to buy on the beach at Manly, Whangaparaoa,
The brothers had joined their dad Sidney in the family's mattress-making firm, Sleepyhead, and wanted a place where they could go to relax with their families.

The moment they drove on to the waterfront site, they felt they were somewhere special. "I don't think we could've found a better spot," says Roy.
FOR MORE PROPERTY NEWS AND LISTINGS GO TO ONEROOF.CO.NZ
At first, the families camped on the north-facing section in a tent that dated back to World War One. Then they built a garage and stayed in that. Later, Roy and Bert put two ReidBuilt homes on the property, separating them with a brick wall.
Roy and his late wife Pat had five children, while Bert and Edna had three. With six bedrooms in total, plus a rumpus and a games room in Roy's half, there was plenty of room for the cousins and their friends.
But often the kids would opt to sleep in tents on the expansive front lawn, where they played games like tenniquoits.
It's just a few steps to the sandy beach, and over the years the Turners made the most of being so close to the sea. Keen waterskiers, they would often be up early to get out on the water.
"I was always pretty active, and used to ski with my oldest girl Dianne on my shoulders," recalls Roy, now 93. "Sometimes I would ski the kids non-stop all the way over to Waiwera."
Fishing was another popular pastime, with trips out to Kawau Island and Flat Rock, and Roy also got into yachting, racing his Laser boat in the bay.
"Sometimes you could hardly see the front lawn for the various boats and boogie boards all over it."
The kids would spend hours on the beach swimming and playing games, and would also be in and out of the neighbours' houses — it was a close-knit community with no fences.
Roy recalls how they loved digging for pipis, which Pat would steam and serve with vinegar. She'd make sure there was plenty of baking, including scones and banana cake, on hand for visitors.
"The New Year's Eve parties on our deck were legendary," Roy says. "We had a lot of fun and it really was a marvellous way for the children to grow up."
Roy eventually bought Bert out of his share of the house and it has since been enjoyed not just by his children, but his 13 grandkids.
Over the years it has been reinforced and redecorated, but still has many original features, like the wooden floors and tongue-and-groove paneling in a couple of the rooms.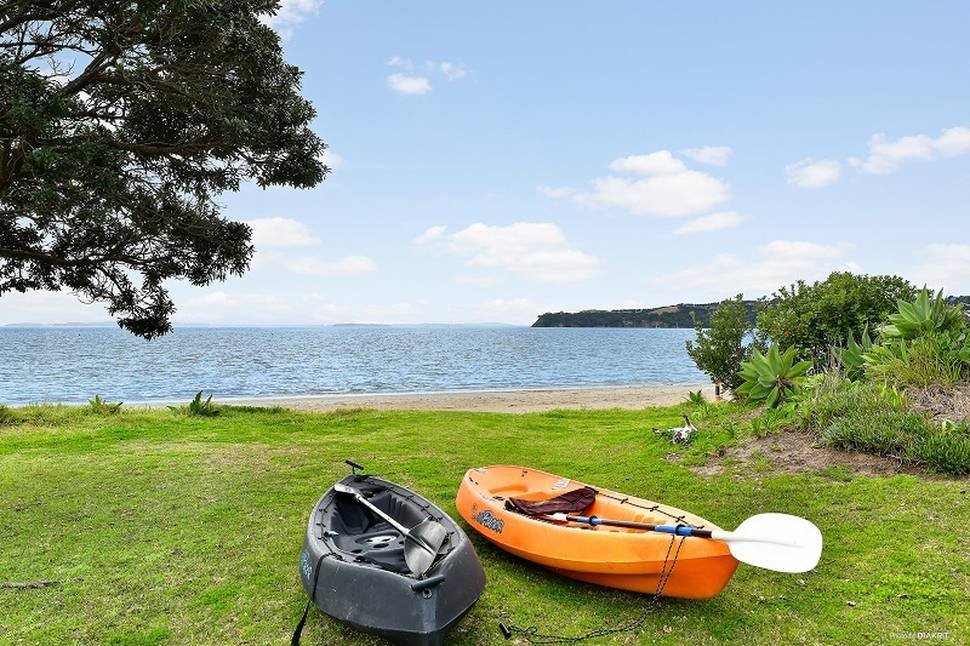 One of the lounges has a striking beamed ceiling and huge picture windows that make the most of the view out to the water.
The property is handy to the local sailing club, bowling club and shops and eateries in Manly. It's a quick and easy run into the city, thanks to the motorway, or there are ferries from nearby Gulf Harbour.
Roy admits he is reluctant to sell, but the house doesn't get used much these days and it is a shame for it to be empty.
The property is on two separate titles, creating options for re-development. Roy knows there's a chance that whoever buys his family's holiday home may well seize the
opportunity to put up a grand home on the prized site.
"I just hope the person who buys it enjoys being there as much as we have," he says. "The children and grandchildren all say how wonderful it has been to have it, and we have a lot of good memories."
73 AND 1/73 LAURENCE STREET, MANLY
• 6 bedrooms, 2 bathroom, 4 parking spaces.
• Land 1153sqm, house 87sq m for 73 and 250sq m for 1/73 (337sq m combined).
• Price: CV $4.65m for both titles ($2.2m for 73 and $2.45m for 1/73).
• Auction: 27 Sept (unless sold prior).
• Inspect: Sat/Sun 3-4pm.
• Schools: Whangaparaoa School, Whangaparaoa College.
• Contact: Megan Cox, 021 964 620; Livvie Cox, 021 293 5912, Barfoot & Thompson, barfoot.co.nz/761894