Whoever buys this Waimate North property will be the recipient of some of the best soil in Northland.
For it was the land first and the home second that bought Rob Downing and Pamela Baker to this 2.11 ha property in 2001.
Back then it was simply 68 Whakataha Rd, but years of hard work have earned it the title of "Mahinga Oranga".
FOR MORE PROPERTY NEWS AND LISTINGS GO TO ONEROOF.CO.NZ
But first, fate had to play its part in Rob and Pamela meeting. Rob had lived in the Kerikeri area in the 70s, and later lived in Auckland.
Pamela had spent 23 years in Australia, mostly in Sydney, but had returned to New Zealand with two small children in 1994 looking to reconnect with family but also looking for a smaller city.
She met Rob and they lived for a while in Epsom. But both had a yearning to move to somewhere more rural.
"Rob's main driver was that he could grow organics and mine was about getting out of the big city again," says Pamela. "And we wanted a stronger sense of community."
"We chose Waimate North because of its history, and a historic feature being the first inland settlement in the north," says Rob.
"This property was a huge contributor to the supply of food. The local Māori fed the early settlers and without their generosity there was a chance settlers would have starved.
"The land appeal was the aspect of the property facing north-east on flat and gentle slopping land. The volcanic soil type could easily be converted to organics.
"And the location, being out of town, reduces any chance of spray drifts from neighbouring orchards, as is the case in intense horticulture activities such as Kerikeri."
Says Pamela: "I knew I could live in this house straightaway. I liked that it was one level and has big spacious rooms.
"It faces northeast, so it is sunny. You have sun somewhere on one of the verandas at some time of the day.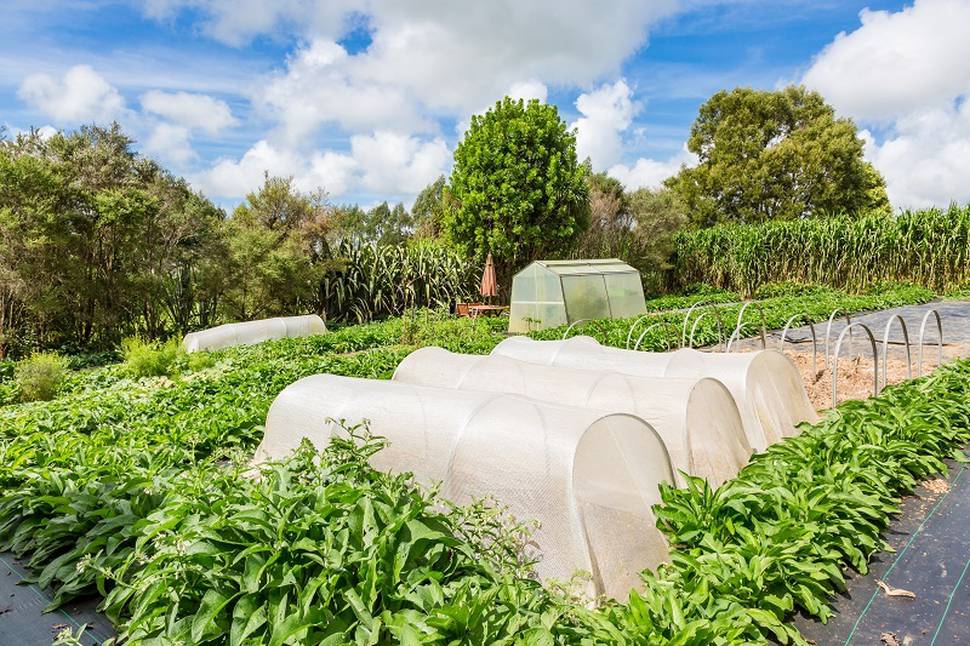 Rob says: "We liked its fresh clean lines and potential for a large family dwelling or social gatherings. It was well constructed.
"The indoor-outdoor living also was a great feature and each veranda gives great views of open farm lands."
Pamela's son, then 16, was living with them and the layout worked well. So too when family were visiting.
The home has two living areas and separate dining. A family room opens to the farmhouse kitchen. French doors lead to the verandas, including from four of the five bedrooms.
The large master bedroom with en suite enjoys privacy at one end of the home. At the other are three double bedrooms — one of which Pamela uses as her office — and a bathroom. In winter, they have an open fire and an HRV system.
The property includes a large packing shed with room for three vehicles.
"We are quite close to Kerikeri," says Pamela, "about 15 minutes. Ten minutes the other way is Kaikohe and we are between two coasts — 25 minutes to Paihia and 45 minutes from Opononi."
Rob's restoration of this land, now entering its 18th year of organic certification, was recognised by the community with the gifting of the name Mahinga Oranga by the local kaumātua.
Rob's main crop is garlic, but he also grows other seasonal produce and teaches people practical gardening skills.
"Mahinga is Ngāpuhi for garden and oranga is well-being in te reo," says Pamela.
"And the mahi in mahinga means to work. I'm a psychotherapist, so I work towards well-being."
She feels they live in a spiritual triangle with the Tauwhara and Parawhenua marae and Waimate North's church and Te Waimate Mission House. "It is a lovely community; we look out for each other."
But now their special property is on the market. "We are transitioning to another stage of life," says Pamela. "We are a blended family of five children, and we have four living in Australia.
"My children want me to spend more time there with my grandchildren and we are looking at how we might do that. Robert is 66 now and is looking forward to retiring.
"We are keeping our options open, we might go nomad around Australia for a while."
68 WHAKATAHA RD, WAIMATE NORTH
• 5 bedrooms, 2 bathroom, 2 parking spaces.
• Land 2.11ha, house 330sq m.
• Price: Above $800,000.
• Auction: 18 Oct, 2pm.
• Inspect: Call agent.
• Schools: Springbank School, Okaihau Primary and Okaihau Secondary.
• Contact: Megan Davies, NZ Sotheby's, 027 482 1757, oneroof.co.nz/1173927