Despite the sweeping grand driveway, the swimming pool out the back, and the spaciousness and homeliness of the large villa, Paul Ross admits he wasn't overly engaged when his excited wife Leysa asked him to come and take a look.
That's because he was on a conference call at the time, says the marketing company owner.
"We'd been looking for a while," he says. "Leysa rang and said, 'I've found a house, I've found a house to buy'.
"I was on a conference call to Australia the whole time."
FOR MORE PROPERTY NEWS AND LISTINGS GO TO ONEROOF.CO.NZ
Paul didn't notice Leysa's excitement about the property. He knew she wanted a villa but they had already looked at a ton of villas — maybe 100 of them.
"We'd be looking at three or four a day on a Saturday and a Sunday.
"We spent several months looking. She just went 'this is it, I've found the house'."
He was somewhat bemused when she rang later to tell him she had bought the property.
"I said 'what do you mean you bought it?' And she says 'I'm just filling out the paperwork'.
"Leysa loved it from the get-go. She was in total wow. She loved everything about it."
The next time he came through he thought "wow, this is pretty cool".
That was 10 years ago. While Paul doesn't know much about the history of the house, he says it dates from the 1910s and that it was one of the first houses on the street.
He has a photo of it from the 1930s and there are only a few houses in the whole area.
Today, the location has become sought after and the shops, cafes and restaurants of Mt Eden Village are only a short walk away.
"That would be my favourite thing," says Paul. "You can just get up in the morning and walk up to the village — five minutes.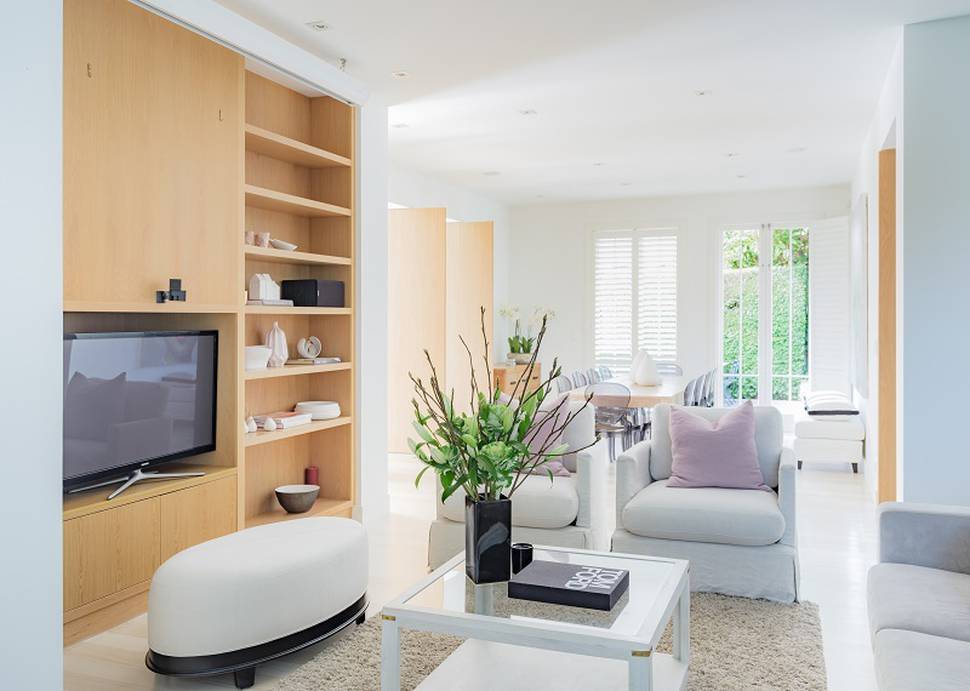 "It's a food mecca up there and if you're foodies, which we are, it's awesome."
The area is a "super safe" place to live and there are great amenities nearby — teacher's training college is right across the road and the Mt Eden tennis and bowling clubs are short walks away.
There's a volcanic rock stone wall out the front and plentiful original features, from the fretwork and stained glass windows to the original stables out the back, which Paul and Leysa converted into B&B accommodation with a lounge, bathroom and bedroom.
They sanded floors in the main house, "tidied up" the kitchen, retiled around the pool and added a pizza oven, plus there's a spa pool.
"It's so quiet and so peaceful. It's quite amazing to think you're in Epsom and only five minutes from downtown, but you can hear nothing.
"It's our own little paradise out here."
The house follows a traditional villa layout with some additions.
A master bedroom has been added at the front and features a walk-in wardrobe, a large en suite with a bath, bifold shutters, plus bifold doors leading to a private patio area.
"It's quite cool coming home from work, jumping in the pool and spending a couple of hours in the pool every night, and just barbecue, barbecue, barbecue."
65 EPSOM AVE, EPSOM
• 4* bedrooms, 3 bathroom, 2 parking spaces.
• House 293sq m, land 1740sq m.
• Price: Upwards of $5.5 million.
• Auction: Aug 29, 1pm, on-site.
• Inspect: Sat/Sun, noon to 1pm, Weds 6pm.
• Schools: Kohia Tce, Auckland Normal Intermediate, Auckland Boys' Grammar, Epsom Girls' Grammar.
• Contact: Lisa Pringle, 0274 904 900, UP Real Estate, uprealestate.co.nz/UPM11672