When David and Kaye Price were looking to build a new home down the road from where they lived, the process turned out to be easy.
David says: "Basically, we walked into a show home down in New Plymouth on a weekend and Kaye said 'I want this' so we virtually built the same house as the show home."
Their old house was great, David says, but the couple wanted to do something new.
"We'd spent 15 years renovating the other house. Though it was nice, it was still a renovated older home. We just wanted to have a new home."
FOR MORE PROPERTY NEWS AND LISTINGS GO TO ONEROOF.CO.NZ
The new house they built about five years ago is by A1 Homes.

It has everything they wanted and suited being positioned on flat farmland to maximise rural views and sunshine.
They put the spacious one-level Linea weatherboard house on piles to give it a feeling of elevation, and added decks.
The entertaining space is great and they have had many a good gathering, David says, because the house is rural and you can turn the music up without bothering anyone.
They also have six paddocks in an area ideal for "horsey" people. Having the National Equestrian Centre about 20 minutes away has been convenient.
"Kaye's been horsey and the youngest daughter has always been horsey so we've always had horses on the property," says David.
He says Broadlands used to be forest land but was converted into dairy.
Most of their house is north-facing and there is open kitchen/dining plus two living areas.
The master bedroom has an en suite and a walk-in wardrobe, and the main bathroom features a corner spa bath.
The layout has worked well because when David is away for work, Kaye can close up part of the house meaning she doesn't have so much cleaning.
"It's an easy care house," she says.
The fireplace in the central lounge is wet-backed which provides plenty of hot water, plus there are heat transfers from that room into the bedrooms and second lounge, and throughout the home windows are double-glazed.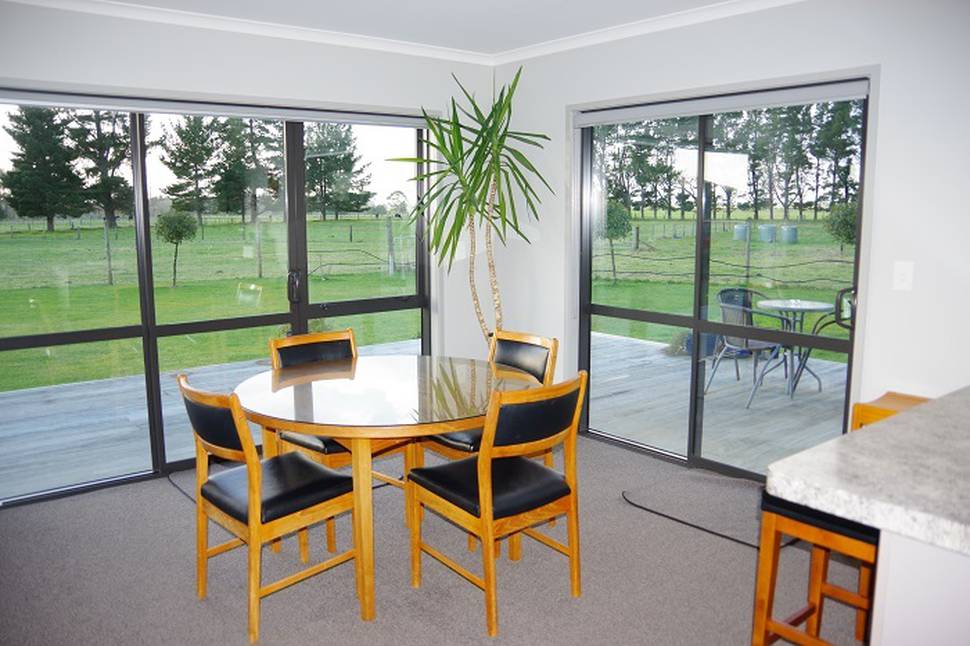 The property features a three-bay shed (two bays are closed in), an internal access garage plus a standalone double garage which David uses as his man shed. The positioning of the house and a shelter belt of trees provide privacy from neighbours.
David, who is in civil project management, and Kaye, who is a dispatch manager, have lived in the area for nearly 40 years and reckon the lifestyle is excellent.
"It's not a huge community but it's got a lot of activities that we enjoy doing," says David.
"It's a sporting community and we've both played sport all our lives."
Taupō has cycling, mountains and boating and not only is Lake Taupō beautiful and diverse but the Waikato River is only about 400m from their property.
David says because they are high enough in the head of the river, the water is great for swimming.
"There's boat access and the river is pretty much crystal clear. It's been a great swimming hole just down the road for the kids."
The property is central to Auckland, Wellington or Napier. Rotorua is only half an hour away.
Taupō has lots of cafes and eating places and the city hosts the annual Iron Man event.
Though David and Kaye love the area, David's work is mainly in Matamata these days so they are moving there to a smaller piece of land — but still in the middle of the countryside.
That way they get to enjoy the space and openness they have loved so much in Taupō, but they will miss the big, warm, welcoming home they built here.
346 RIVER RD, BROADLANDS FOREST, TAUPŌ
• 4 bedrooms, 2 bathroom, 2+2 parking spaces.
• Land 4.395ha, house 198sq m, plus 98sq m decking, 3-bay barn.
• Price: $780,000-plus.
• Inspect: Sun 12.30-1.30pm, or by appointment.
• Auction: July 29, unless sold prior.
• Schools: Broadlands, Taupō Nui-a-Tia College.
• Contact: Gary and Jil Richardson, PGG Wrightson Real Estate, 0274 783 193 (Gary), 0274 756 636 (Jill), pggwre.co.nz/property/TAU28463