The loss of their beloved 12-year-old border collie Marnie spells the end of an era for Annette and Paul Muir. Marnie was well-known in Takapuna and used to love walking along the beach at the bottom of the street.
"In this super-friendly neighbourhood, everyone knew her," says Annette, "and they're all devastated that she's gone."
But now the couple feel they're free to sell their large renovated 1924 bungalow. Their two children moved on ages ago, so they're rattling around in its large spaces and big private garden, which are no longer needed. They'll take the lovely big painting of Marnie that hangs in pride of place on a wall in the lounge, move to a lock-up-and-leave and travel.
"It's been a great home for everyone," says Annette, "We've loved it here. When you drive into the street, you look down and see the water. One of the best things is the totally separate area for teens downstairs with its own entry."
For a few years, it housed a spacious doctor's surgery with waiting rooms that the Muirs turned into two bedrooms next to a bathroom and a laundry/kitchenette expanding out to its own little garden.
FOR MORE PROPERTY NEWS AND LISTINGS GO TO ONEROOF.CO.NZ
Being able to walk to the beach along the road has meant the downstairs has proved popular recently for holiday accommodation and, unsurprisingly, it is always busy in summer.
"We moved here from Devonport 15 years ago when the kids were growing up so they could be closer to their schools. One went to Rosmini College and the other to Kristin.
Because it's quite central, it's very handy, close to Takapuna Village, the cafes, restaurants, Lake Pupuke and the Sunday markets. Kids could walk home so all their friends would come over and we'd be happy knowing they were safe having fun here."
It's also just five minutes to Milford, where Annette recently established her store selling men's and women's golf clothing and Paul's business was along in the village, too.
Over the years, they've renovated several times and stopped only two years ago when they repiled, realigned spaces and added a new roof.
"It was basically an old beach-house in its day," says Paul. "But a lot of changes were made in the 1980s."
When they arrived, they gutted the downstairs and converted it as a generously sized area for the kids. They also switched the front entry to the middle of the house closer to the tandem garage and parking.
Later, they extended the kitchen and family living areas out to a sparkling new tropical pool and spa area. That gave the house a much better indoor-outdoor connection for entertaining.
French doors open from the formal lounge and family areas to a wraparound deck on the sunny corner of the house which meets a paved terrace. Many an evening has been spent socialising with friends and family out here, warmed by the outdoor fire.
Three modern bathrooms and a separate toilet were added along with a beautiful, sunny master suite adjoining a walk-in dressing and bathroom. Slightly apart from the rest of the house, it sits up a small set of stairs on the main level.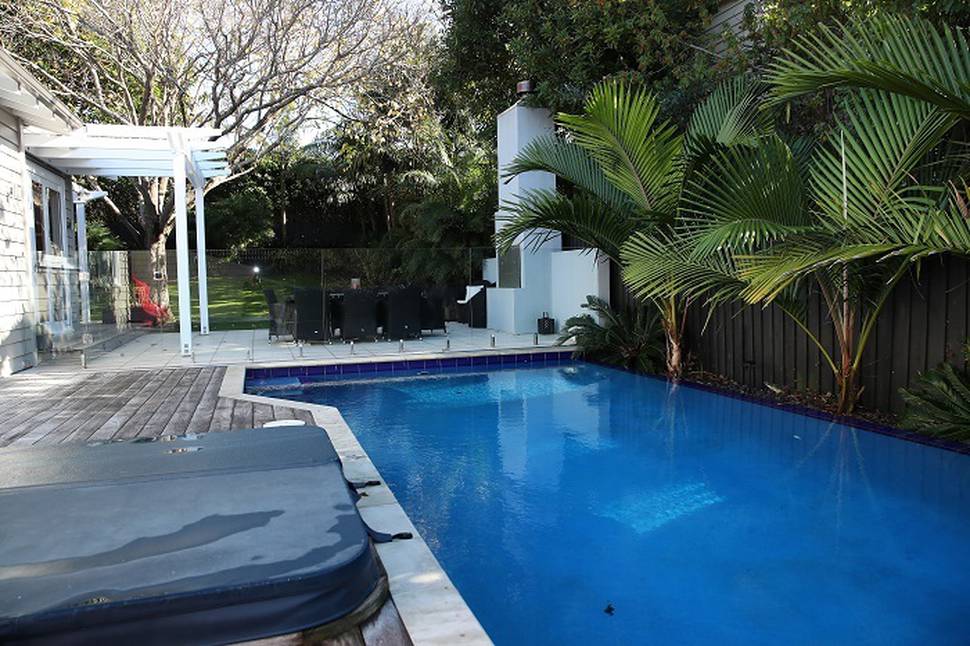 To keep a sense of history, they replicated the beamed bungalow ceilings that add character and sourced native timber planks to match the originals on the floors. In one of the bedrooms, colourful original leadlights remain as a feature in the dressing room.
The Muir children enjoyed the best years of their childhood in Brett Ave. Now a new lot of younger children are moving in and the cycle is starting all over again.
2A BRETT AVE, TAKAPUNA
• 5 bedrooms, 3 bathrooms, 2* parking spaces.
• Land 1012sq m, house 250sq m.
• Sale price: CV $3,100,000.
• Inspect: Today 1-1.45pm, or by appointment.
• Deadline Treaty: July 12, 4pm (unless sold prior).
• Schools: Takapuna Normal Intermediate, Takapuna Grammar, Westlake Boys' and Girls'.
• Contact: Damien Henaghan, Harcourts, 021 728 003, harcourts.co.nz/MJ38578
*Plus 2-3 OSP