Being one of five siblings meant generous living was a requirement when Brydon Prout and wife Tanya built this home new in 2013.
Brydon says: "I'm an identical twin from a family which has two sets of twins and another brother, plus my parents both come from large families."
Paeroa College teacher Tanya says: "So we knew we wanted to create a home where we could have everybody over together for meals and celebrations."
The couple had lived in Hamilton but moved as they wanted their son Jack (now 8 and nowadays accompanied by 5-year-old brother Max) to grow up attending a small country school in a rural area.
When they found this level section around seven years ago, it appealed, being just down the road from Netherton Primary School which Fonterra automotive engineer Brydon attended as a youngster.
Brydon says: "This property has a really nice outlook right up the Coromandel Ranges.
"It's good being in the middle of Tauranga, Auckland and Hamilton because you're not that far from any of them yet you get to live out of the rat race in rural peace and quiet."
Their friend architectural designer Craig Flowerday interpreted their layout concept into plans.
Choosing builders Stephen and Haley Trebilco from Jennian Homes Coromandel, who recently won Jennian's Supreme Franchisee Award, was easy.
Tanya says: "I grew up down the road from Haley and Brydon played rugby with Steve, so we knew and trusted them."
Just before Christmas 2013, they moved into their new home built of Linea weatherboard and Graphex (a BRANZ-appraised, weathertight insulated plaster with cavity solution), with a corrugated iron roof.
The front door in Tanya's favourite emerald green welcomes visitors into a foyer near the internal-access double garage with laundry.
FOR MORE PROPERTY NEWS AND LISTINGS GO TO ONEROOF.CO.NZ
Living is orientated for the sun with multiple sets of stacker doors opening to the large grounds.
Brydon says: "We've got high raked ceilings in the kitchen-dining area to enhance the spaciousness."
There's a big scullery and a study accessing pull-down-ladder attic storage off the open-plan high-end kitchen-dining room adjoining a lounge with wetback running off its wood-burning fireplace.
Tanya says: "We'd previously lived in houses with poor storage so we went to town here."
Sliding doors unite or separate this lounge from a second living room currently used as a toy room but designated as a cinema room in future.
There are reverse-cycle temperature control units in the lounge and master bedroom of the double-glazed, insulated home — and in summer solar roof panels draw power to help keep the temperature cool.
Brydon says: "With me being an IT guy we're well-wired for entertainment and technology as well."
The layout encompasses a family bathroom and four double bedrooms, one being the master with en suite and sliding doors out to the northern side of the home.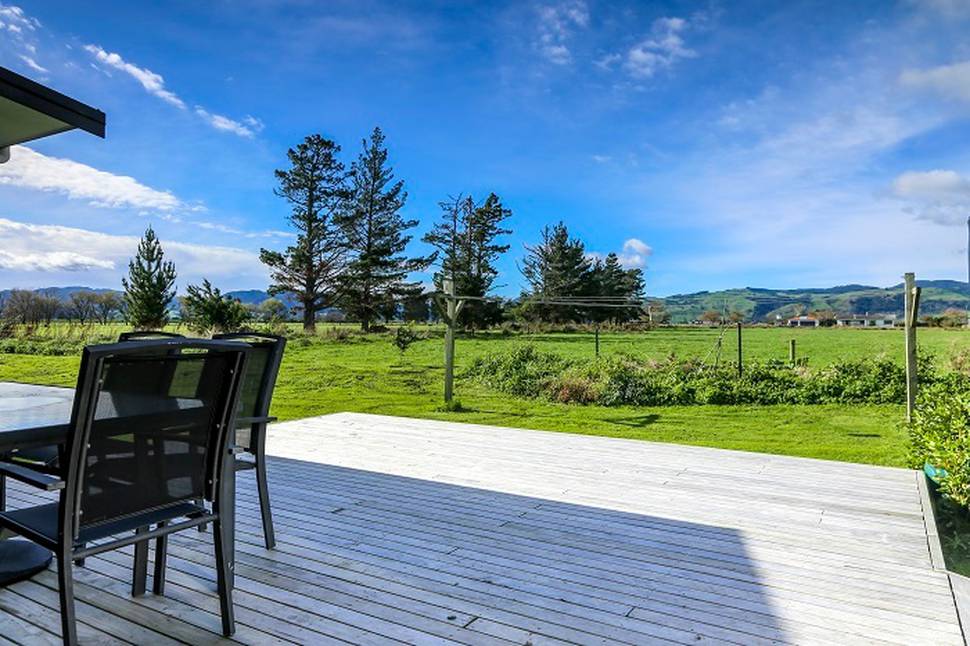 They often entertain friends with children and their joint 40th incorporated clay-pigeon shooting in the 5000sq m grounds. These come with a 20-foot storage container for storage or projects and two 25-000 litre water tanks.
They're handy to the Hauraki Rail Trail, 7km from Paeroa, 17 from Ngatea, 20km from Thames and 96 from Manukau.
There's already a sheltered side deck and Brydon envisages natural next steps for new owners might be building north-facing decks off living areas and possibly more planting and landscaping.
He says: "We hadn't been thinking of moving any time soon but then the opportunity came up for me to transfer with Fonterra to Darfield down by Christchurch. And we thought 'Heck, why not, it'll be a whole new adventure'."
• Watch the Jenian Homes video on OneRoof
256 OLD NETHERTON RD, NETHERTON
• 4 bedrooms, 2 bathrooms, 2 parking spaces.
• Land 5000sq m, house 263 sq m.
• Sale price: CV $660,000.
• Inspect: By appointment.
• Deadline sale: Closing 4pm Thursday 5 July (unless sold prior).
• Schools: Netherton School, Paeroa College.
• Contact: Karl Davis, Bayleys, 0508 838 383; Lee Carter 027 696 5781, bayleys.co.nz/814422