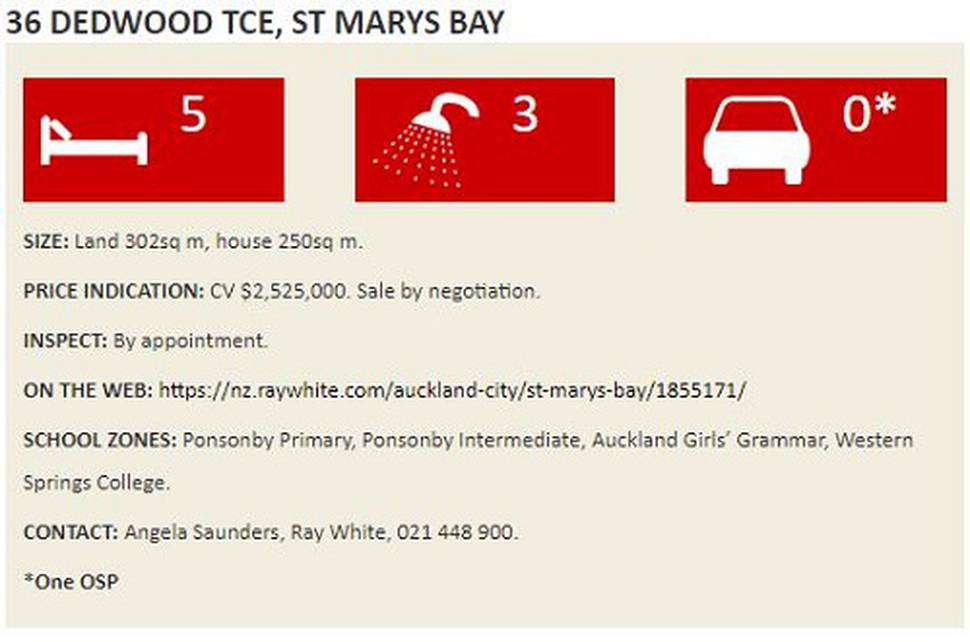 Veteran TV broadcaster Peter Williams and his wife Sara Lunam have seen photos of their elegant St Marys Bay home, taken in the 1980s, when it had fallen into a state of disrepair.
"It's hard to believe that it could ever have looked so shabby and overgrown, and the fence was very dodgy," says Peter.
Nowadays this grand old lady, built around 1915, is gracious once again and the extensive renovation is testament to the couple's strong sense of guardianship.
Previous owners had begun the project but there was still plenty for Peter and Sara to do during their decade in residence. Peter says that they've tried to retain the heritage of the house as much as possible.
"We were lucky enough to have excellent builders, who did a very good job."
The home is set over three levels, with an original leadlight front door leading to a wide hallway with the dining room to one side and a guest bedroom on the other.
"We used to dine in the kitchen area but we rarely used the formal lounge so we decided to make it formal dining instead," says Peter.
Further on is the casual living space, which is cosy in winter thanks to a heat pump and gas fireplace.
The kitchen, with its skylight, is especially spectacular.
"We put it in, in 2016, but to be honest, when you have all the restaurants of Ponsonby Rd on your doorstep it's often tempting to go out to eat, so it hasn't had much use," he says.
Everything, including the fridge, is fully integrated, and there's lots of space for entertainers and their guests. The cupboard doors are all push-to-open, and a small scullery means mess can be kept to a minimum.
Outside there is extensive, partially covered, decking on two levels, and an outdoor fireplace. The rear enjoys the bonus of next-door's palm trees, which makes it feel like a tropical oasis getaway in summer.
Upstairs, is the sunny master suite with bathroom and wardrobe plus an informal living space, used by Peter as his office, with great views to the Auckland Harbour Bridge.
There's also a little balcony here for sitting to watch the sunset.
Peter and Sara's most major changes have been in the development of the basement.
Completely self-contained with its own entrance, this large space is now home to three bedrooms (or potentially two, plus a media room), a bathroom, kitchenette and informal living — and a private sheltered and tiled patio.
There's also what Peter calls, "the world's largest laundry", with generous storage cupboards.
In fact, he reckons that if the amount of storage in the house isn't enough for you, then you've got too much stuff.
"This is a true family home, basically," says Peter. "And particularly good if you have teenagers."
He and Sara are now based more-or-less full-time at Mount Maunganui as Peter's TV commitments are slowly reducing.
"After the end of the year, I'll have no real need to come to Auckland. And while we did think about buying an apartment here, it's just as easy to stay at hotels."
Needless to say, he will be sorry to leave Auckland's largest dining strip and the home's easy proximity to the CBD, but it's time to take things a little easier.
Having said that, he's noticed that Tauranga is getting just as busy as Auckland.
"The traffic's terrible everywhere these days!"