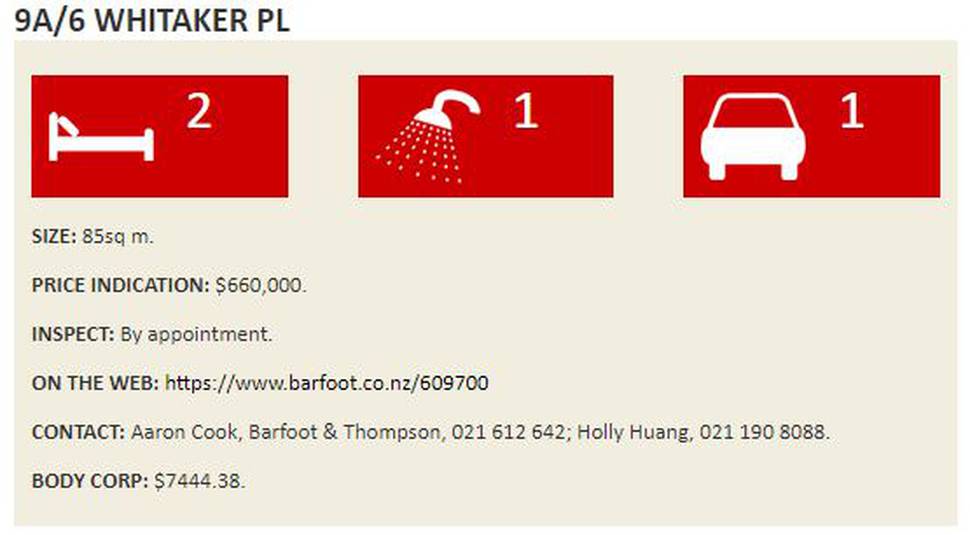 Positioned close to the central Auckland university campuses, and handy when family members started working in the CBD, this Longview apartment could also be used by owners Trevor and Christine Stevens when they were visiting from Thailand, where they were based for work.
"We often stayed and really enjoyed the location and views," says Trevor.
FOR MORE PROPERTY NEWS AND LISTINGS GO TO ONEROOF
The views from their ninth-level unit look north and north-easterly over the city, the port and harbour, Rangitoto, as well as the Domain.
"The northeasterly view is great at night when the museum is lit up," says Trevor.
The couple bought the apartment in 2003. Their son and daughter, at different times studied and worked in the city, so it made sense to have the apartment as a city base for their use.
Longview in Whitaker Place appealed, not just for the location and the views, but also it was freehold, had a nice facade, good security and was well maintained. Adding to its value, is it being in zone for Auckland Grammar, Auckland Girls', Newton Central School and Ponsonby Intermediate.
And, being north-facing, it gets sunlight from the morning through to the late afternoon.
The layout has the entrance leading into the kitchen. Moving past the open kitchen on the right-hand side with Fisher & Paykel appliances — fridge, stove and microwave — and breakfast bar, is the dining area and then the lounge that opens through a ranch slider to the balcony.
The bathroom, which doubles as a semi en suite through the front bedroom's walk-through wardrobe, allows a separation between the two bedrooms, on the left-hand side. The front bedroom also opens to the balcony through a ranch slider.
"The balcony is a lovely spot to be on a nice day," says Trevor.
There is ample storage in the apartment, as well a large carpark and a lock-up storage shed.
The concrete building, with 12 floors of approximately 48 apartments, has a full-time manager and an active maintenance programme.
As well as being close to the universities and CBD, it is a short walk from here to Auckland Hospital, K Rd, Queen St, the Stanley St tennis courts, the Domain, and even the waterfront on foot or on bike.
Trevor and Christine say a wide range of folk live in Longview — from students, professionals and families through to retirees.
But now their children have their own homes, and Trevor and Christine are based in Australia, they no longer need the apartment.
The couple plan to shift to the Hawkes Bay once they have done "the big loop" of Australia in a caravan.
So, the apartment, newly repainted, with new carpet, is on the market.