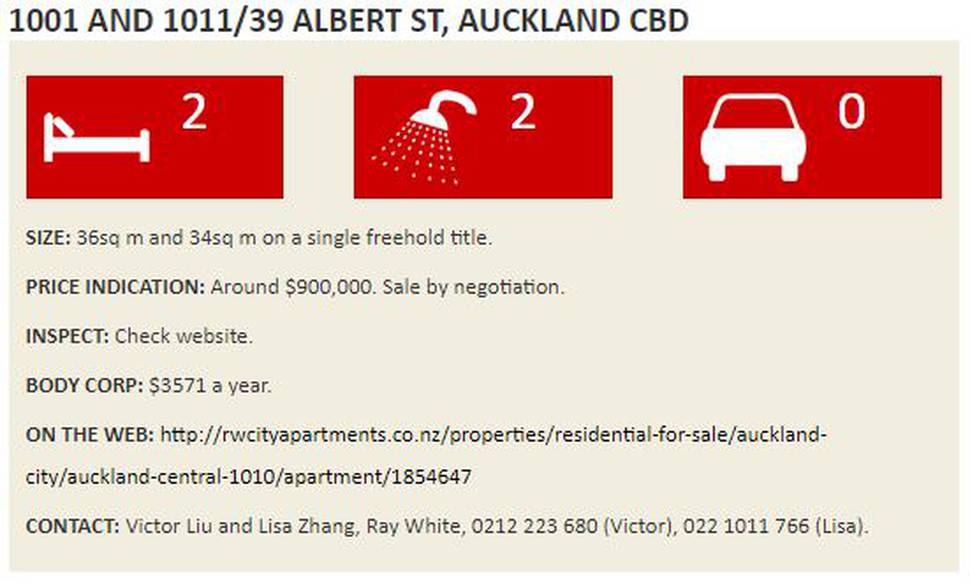 Dual apartments appealed to Allen Wang and Daisy Zhang when they were looking to buy a place to live in the newly finished Park Residences, on the corner of Albert and Swanson Sts.
The two separate freehold apartments share one title and are side by side, but have their entrances on either side of the bank of three lifts in the building. The layouts differ because one incorporates a pillar.
"We thought we would have used this as a bar area," says Allen. But being side by side the apartments get similar views over the city.
"And having the Cathedral of St Patrick and St Joseph and St Patrick's Square means this part won't be built out," he says.
One apartment measures 36sq m, the other 34sq m, and each has a bedroom, a flexi room (big enough for a single bed or study), living area with kitchen, and a bathroom with shower, basin, toilet and laundry cupboard.
Allen says the apartments are perfect for young professionals like himself with CBD businesses and banks all within walking distance. "I bought these apartments because I work in the city and this was new and had a good reputation."
He also says that the design and construction applied environmentally responsible principles, so less energy is used, and less waste is produced.
"It's a sustainable building. For instance, the lighting is LED. I think as young people we need to make efforts in that area."
It's an easy walk from the building to restaurants, bars, nightclubs, too, and popular spots are Britomart or the Viaduct.
"Me and my girlfriend like the night life, we go to bars, lots of Chinese restaurants and new style restaurants. For us the location is convenient, and we can go down to the seaside at Britomart."
The couple took ownership two months ago. As well as their apartments, the building allows residents to use the heated pool, sauna and gym, there is locker storage on the mezzanine floor and a food court plus retail units are expected to open soon at street level.
Their views, too, from the 10th floor take in the Sky Tower and stretch across 180 degrees as far as Albert Park and Ponsonby's ridgeline.
Allen and Daisy bought the apartment to live in but with a baby due in July, they are selling to buy something larger.
Allen says people can live in one and rent out the other. "I have seen them advertised for $500 a week," he says. "It's brand new, the location is perfect, and the view is good."
The apartments have double-glazed floor-to-ceiling windows in the living area plus the bedroom. "This gives it a covered balcony effect," says Allen.
It means that as well as the direct sunlight streaming into the apartment in the afternoon, they get a good supply of natural light. And with the glass sliding door between living and bedroom, Allen says this adds a nice transparency.
Another thing he likes about the building is the low body corp costs, at $3571 a year for both apartments.
The Park Residences was developed by the Conrad Group, with 225 homes on 30 levels.