James Sax paid attention to even the tiniest of details when he was planning the house his family's company built in an exclusive rural development just north of Auckland.
"One of the things I thought about was where would be the best place to sit with your pinot noir watching the sun go down," says James, the project manager for Te Arai Estate.
"So where the deck is, the sun goes down behind the outdoor fireplace. I have thought it all out!"
That's just one of the many considerations that went into designing the house, on one of 25 lots at Te Arai Estate, near Mangawhai. It's such a spectacular spot that anything built on the site had to do it justice, and James is very happy with the way the house has turned out.
"We wanted a timeless, elegant, modern country feel and I think we've achieved it. I'd love to be living in it myself."
James is passionate about Te Arai Estate, a gated lifestyle subdivision being developed by Southpark Corporation, a private company set up by James' father John more than 30 years ago.
"It's such a magic location, about an hour and 20 minutes to the city, but so peaceful and beautiful. You are well out of the rat race here," says James. "Te Arai beach was named one of the NZ Herald's top 10 New Zealand beaches earlier this year, and it's just 8km away. It is truly amazing.
"Plus you've got Mangawhai nearby — with lots of restaurants and cafes popping up all the time — and Tara Iti, one of the top three golf courses in the country. What a fantastic place to be."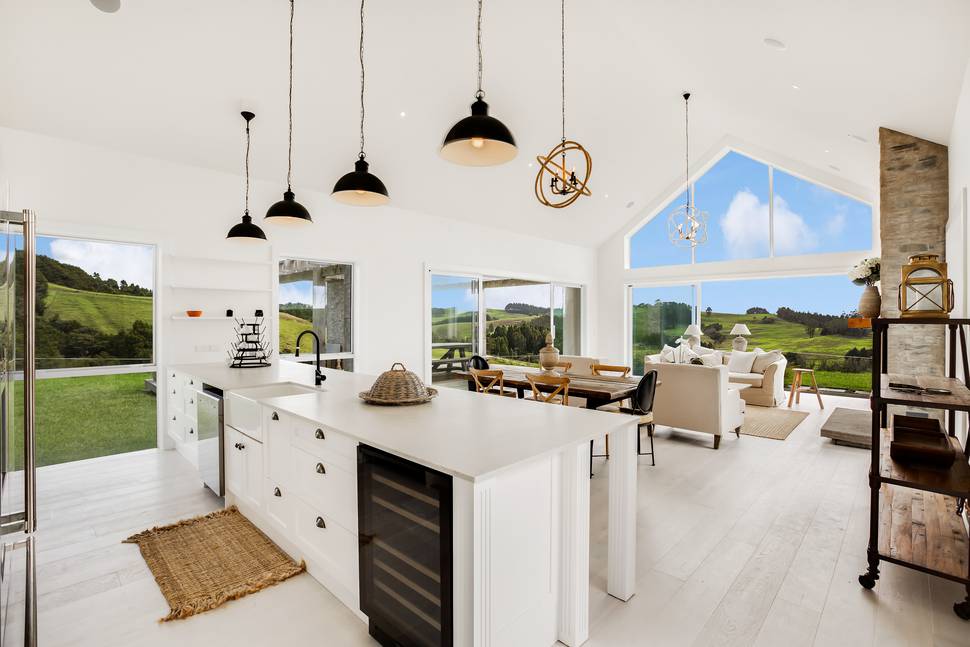 Te Arai used to be a working farm and these days includes New Zealand's largest truffle farm, or truffiere, around which the 25 lots are set. Lot 13, otherwise known as 46 Aroha Rd, is 6.5ha, with half in grass and the rest in native bush.
"What a fantastic place it will be to bring up kids, with all that space to run around in," says James. "Or it's great for retirees who can have the grandkids to visit."
The house sits on an elevated spot with great views of the rolling countryside, the bush and the truffiere, as well as across the water to the Hen and Chicken Islands. The design was a collaboration between a team which included James and in-house architect Nick White, and is made of bagged stone and cedar-stained weatherboards.
"We wanted it to sit well in the landscape, and to be made of natural products that don't date," says James.
It's divided into three pods which provide nearly 400m of living space but are laid out to give maximum privacy. The main living/dining/kitchen space has a high-pitched ceiling, striking stone fireplace and windows on three sides to make the most of the views.
There's a second living room that would also make a media room or library, and a loft space above the three-car garage that could be an office or a kids' playroom.
All four bedrooms have en suite bathrooms, and many of the rooms in the house have French doors out to decks or paved areas.
The house has been decorated throughout in crisp, contemporary white combined with natural, earthy colours.
The interiors were designed by James' wife Melanie, an interior designer, and give the new owners the option of either adding their own splashes of colour or keeping it neutral.
And just as James envisaged, the generous north-west facing deck, which has a pergola and Jetmaster fire, is the perfect place to enjoy the stunning sunsets and a glass or two of wine.