There can't be too many houses in Auckland with a list of features like that of Peter and Olga Moule's St Heliers home.
First there is the huge north-facing site (it's actually two titles) in a quiet street, and the house, which is more than 400sq m.
Next there are the wonderful views across St Heliers to the water and Rangitoto that can never be built out. Add to that the resort-style swimming pool that looks as though it has come straight out of a luxury Pacific Island hotel, and the beautifully landscaped grounds that have been part of the Heroic Gardens tour.
Then there's the gourmet kitchen, media room, games room with kitchenette, sauna, indoor spa pool, outdoor fireplace, wine cellar, huge storage space and study.
Finally, there's its pedigree as a home from the renowned Group Architects.
"We think it has a lot going for it," says Peter. But he's quick to add that while it might be on a grand scale, it's not actually a grand house.
"It's a very liveable, comfortable, family home," he says. "It's been a wonderful place to live."
Built in 1955, the house was tired and dated when Olga and Peter bought it in 1987. They commissioned architect Ron Sang to give it a new lease of life, and his plans involved basically rebuilding it. But then the stockmarket crash hit, and the couple couldn't afford
to go ahead with a costly renovation.
As it turned out, that was a bonus, says Peter. "It meant we got a feel for the house and time to appreciate the features that worked well."
When they did eventually commission local architect Graham Gribble to provide alternative plans, he came up with designs that didn't change the footprint, but enhanced what was there.
It was still a major makeover that included recladding, installing a new kitchen and bathrooms, putting in the games and media rooms and another bedroom on the lower level, extending decks and adding a double garage, which is connected to the house via a covered walkway.
One of the biggest undertakings was putting in the swimming pool.
"I've always said you spend 90 per cent of your time looking at a swimming pool and only 10 per cent swimming in it, so it has to be good to look at, not just a hole in the ground," says Peter.
The natural pool has a waterfall and two gently sloping "beaches" leading into the water instead of steps.
Nearby are decks and covered seating and it is surrounded by tropical landscaping that provides the perfect backdrop to sculptures Peter has made over the years.
The lower level of the house, which opens out to the pool and lawn, was son Rob's domain when he was living at home.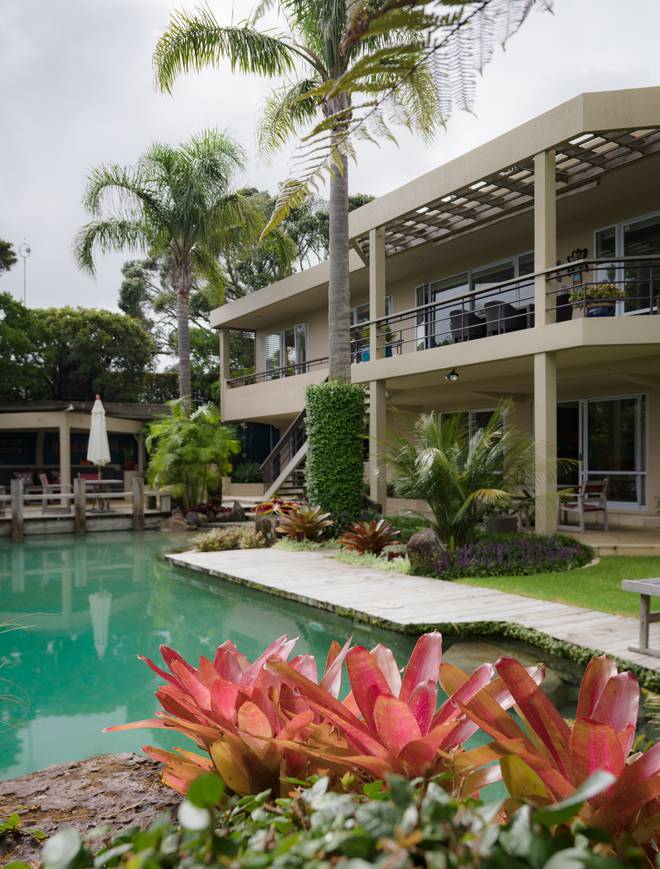 "He moved downstairs when he was 15 and it was very much a party house," says Olga. "There was plenty of room for all of his friends."
Upstairs, the living room has also been the venue for many social events.
"We've had parties here for a hundred and more people — the lounge alone can hold 70 to 80 people if you push the furniture back," says Peter.
As well as being spacious, it also has clerestory windows, a TV snug, a fireplace, and doors out to the deck.
The generous kitchen includes a "bar corner" with a wine fridge and there's plenty of cupboard space. It adjoins a family room/dining area that leads out to a patio and lawn.
The laundry is one of the rooms Olga will miss most — it has lots of storage, enough room to keep the ironing board up and a window put in so she can look out at the garden while she's pressing clothes.
All three bedrooms on this level open out to a north-facing deck. The master bedroom was converted from two small rooms into one large space, and has a walk-through wardrobe and en suite.
The bathrooms haven't been renovated since the 1990s, and the Moules expect the new owners will want to update them.
The house is now too big for Olga and Peter, so after 30 happy years, the time has come for them to move to a much smaller apartment.