It would be fair to say Adrian and Karina Faulkner haven't exactly embraced the tiny house movement. But with six children and a background in converting old agricultural buildings in the UK, that's hardly surprising.
When they bought their 3050sq m property overlooking the Weiti River, they weren't even slightly tempted to build a "lock-up-and-leave" beach house typically found in such locations.
Instead, using skills and creative talents developed during various renovations in the UK, they designed and constructed a house specifically for their large family.
Adrian was a registered builder in Britain for many years, and specialised in barn conversations.
"It's quite difficult to build a new big house in the UK, which is why so many people convert old buildings," he says. "That way they only have to apply for a change of use and not a new building consent."
He became expert at designing and building spaces with great character and wanted the same look for the Arkles Bay house.
"It had to be grand in scale, with grand features like the big fireplaces."
Adrian designed the house himself but worked closely with a structural engineer and used a local architect for some of the detail work. The process took three years.
This is a landscape-protected area and there were limitations on what could be built which in some ways worked in Adrian's favour.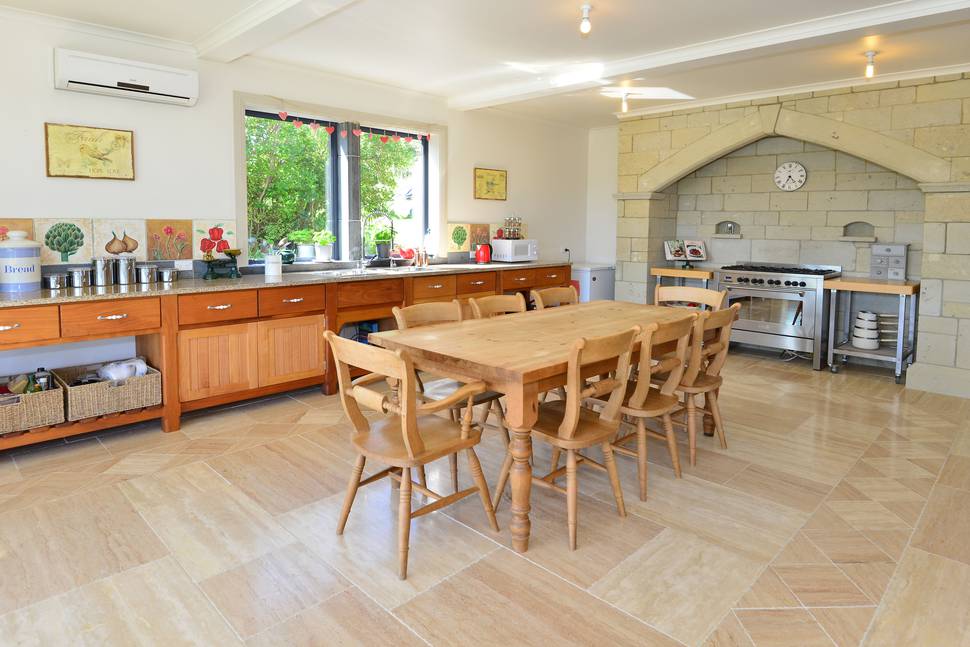 The requirement to use darker colours supported his desire to build in stone, and he chose schist for the exterior, and granite for the sills and lintels. Inside, the feature fireplaces are Hinuera stone, and much of the flooring is Travertine.
At the outset he wasn't particularly familiar with what materials were available here and spent lots of time looking at different kinds of stone before the build started.
"The design was dependent on what we could get hold of," he says.
The 450sq m house has five bedrooms, a study, two living rooms, a formal dining room and a large, farm-style kitchen that includes a casual dining area with seating for eight.
The focal point here is a Hinuera stone fireplace which houses the oven, and a bench backed by quirky tiles bought locally.
It's a great entertaining space and Adrian says people seem to enjoy the atmosphere created by the character of the design.
Even the bathrooms are steeped in character, one featuring a deep, claw-footed bath and ornate antique-style vanity, and the other a vintage-style pedestal basin.
A large foyer area accommodates the wooden staircase, and both this and the upstairs hallway provide gallery space for an impressive selection of oil paintings.
Adrian is quick to admit these were not collected in the UK but bought locally where, he says with amusement, they were cheaper than wallpaper.
The building turned out as expected and Adrian says he is happy with what they did. The house is unusually light inside because of the over-height windows and the open design through the centre.
He loves the spaciousness and the character provided by the grand scale and the materials, and these elements will be top of mind when the family moves back to the UK and starts a new home — probably another barn conversion.