You know a house is something special when one of the owners is prepared to spend 10 years carefully stripping back the woodwork to its former glory.
Bit by bit, over time, Mary Shanahan restored the kauri skirting and window frames in her 1880s villa, sometimes having to prise the top coats of paint and shellac off with a spade before using paint-stripping products.
"It was painstaking and I think I made Cooper's [paint stripper manufacturers] rich," says Mary. "But it was worth it."
Today Mary and husband Paul's villa is a beautifully restored and maintained character home full of meticulously preserved period features along with modern additions — such as the almost-new kitchen — that have been thoughtfully chosen to be in keeping with the rest of the heritage home.
But when they bought it back in 1987, it was a derelict dump, and the couple knew they had a big job on their hands.
The Shanahans and their two young sons had moved up to Auckland from Wellington because of Paul's job, and fell in love with the seaside suburb.
With a beach at the end of the road, a school and Devonport village both a five-minute walk and the ferry seven minutes away by foot, the location of their new home was perfect.
But the house had seen far better days and transforming it was a huge undertaking. Over the years Mary and Paul, who had done two previous renovations, got professionals in to do the big jobs such as plumbing, wiring and plastering, but tackled much of the other work themselves.
"We're both practical, hands-on people," says Paul, adding that their careers — Mary is a draughtswoman, while Paul's background is in design in the advertising industry — helped a lot.
"We know how to make things look good and work properly."
They put a lot of time and effort into making their renovations as authentic as possible, like researching window awnings that were appropriate for a Victorian era home. When they made over the kitchen, dining and living area at the rear of the house and got rid of the green slate floor, they bought up "every last piece of kauri in Auckland" to match the rest of the flooring.
After living for 28 years with a budget kitchen that was installed when they first moved in, they decided it was time for a new one two years ago and even went to the extent of getting the heritage-style cabinetry made to their design by carpenter Neil Young, who was also responsible for the bespoke vanity unit in their bathroom.
The kitchen includes a double butler's sink, an Aga-style Falcon cooker and a coffee station with its own sink. "That's my folly," says Mary.
Paul, meanwhile, has a separate dresser for "all things alcohol-related".
The incredible attention to detail the couple have insisted on is also seen in the bathroom, where roses carved into the vanity unit match the imported wall tiles.
The house has been thoughtfully decorated throughout using a palette of heritage colours, and striking feature wallpapers in some of the bedrooms.
There are four bedrooms altogether, with one currently used as an office and another as Mary's sewing room.
Thanks to the house's elevated site, Paul and Mary's room at the front enjoys a view of the water. "You can lie in bed and see every boat that goes up the harbour," says Paul.
A guest bedroom also has a water view, along with french doors opening to the wraparound veranda.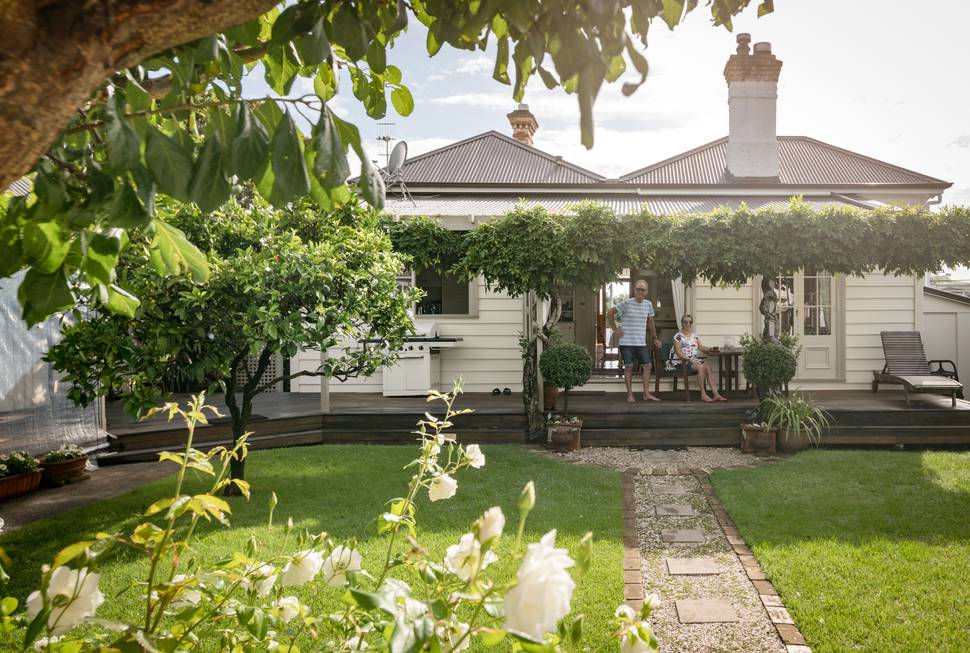 The main living space is a room Mary and Paul have dubbed the winter living room, as its fireplace makes it cosy in the colder months.
A Danish stove also throws out the heat in the rear living area, but in summer, bifold doors out to the wisteria-laden covered deck stay open for most of the time.
The garden is private and includes an outdoor fire, patio and barbecue area, vegetable beds and an open-air shower that gets used all the time, not just for after swims at the beach.
"We even have showers in the moonlight," says Mary. A former wash-house was used by the couple as a temporary kitchen while renovations were carried out and is now the ideal spot for gym equipment and gardening gear.
A double garage is accessed from the driveway at the side of the house, and has plenty of storage.
The house is a testament to Mary and Paul's determination to honour times gone-by while creating a comfortable and functional home, and they will miss it.
But now they are retired and keen to travel more, so are locking for a lock-up-and-leave property.
"This is not the kind of house that you can lock up or even rent out," says Paul.
"It needs someone who will love it."