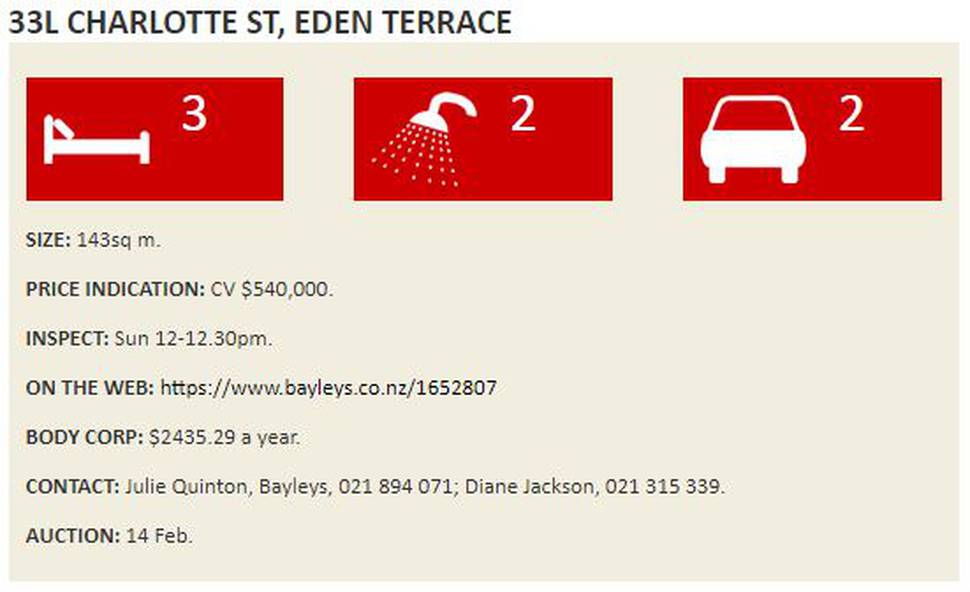 Jamie Crosbie needed somewhere to live while he was studying law in Auckland. His parents, Bryan and Paula, had been thinking about dipping their toes into the Auckland property market.
Solution: to buy an apartment within walking and bus distance of Auckland University's law school.
That was about six years ago. And the family — mum and dad, Jamie and his brother and sister Danni and Brad — bought this three-level apartment in Eden Terrace.
"It all fell into place nicely," says Jamie.
Pluses were that it is back from the street. It has views over the city, and on the top level — where the master bedroom and en suite are — the view include the greenery of Basque Park.
"That view won't change drastically, either," says Jamie, because of the elevation and the park in front.
"I do like having the deck and having those big open views. You can see the city and the park but you feel a little bit separated from the city vibe which is what I like about this apartment."
"The building is off the street, and it's modern," he says.
"It's easy to get to Mt Eden or Kingsland, to Eden Park if the Blues are playing and I could walk to uni. "The buses leave from New North Road up the top of Charlotte St. Public transport is getting better and better in Auckland."
The apartment faces northeast and gets the sun from morning through the afternoon. Its tandem garage also has space for the laundry. That's handy, says Jamie, because you can pop the washing on, shut the garage door and you don't hear the machine going in the rest of the apartment.
On the first level of the apartment are two double-sized bedrooms, a small bathroom with shower and loo, and a storage cupboard under the stairs.
Next level up has the dining and kitchen with its stainless steel benches, new dishwasher and oven, plus the lounge opening to the deck.
Jamie had a gas barbecue, a table and chairs out here. It was a great place for a meal or a few drinks, especially on the occasions when they would settle on the deck to watch the fireworks being set off from the SkyTower.
And the top level has the en suited master bedroom with its sloping ceiling and floor-to-ceiling window framing the park and city views.
Other residents in the building tend to be families or couples, mainly aged 30s and up.
The building is managed by Centurion Management and a manager lives in one of the nearby units.
The time has come to sell, says Jamie, as he has finished uni and is well settled into working life.
He did manage the apartment for a while but feels it has now finished its purpose for his family and it's time for someone to have a turn living here.