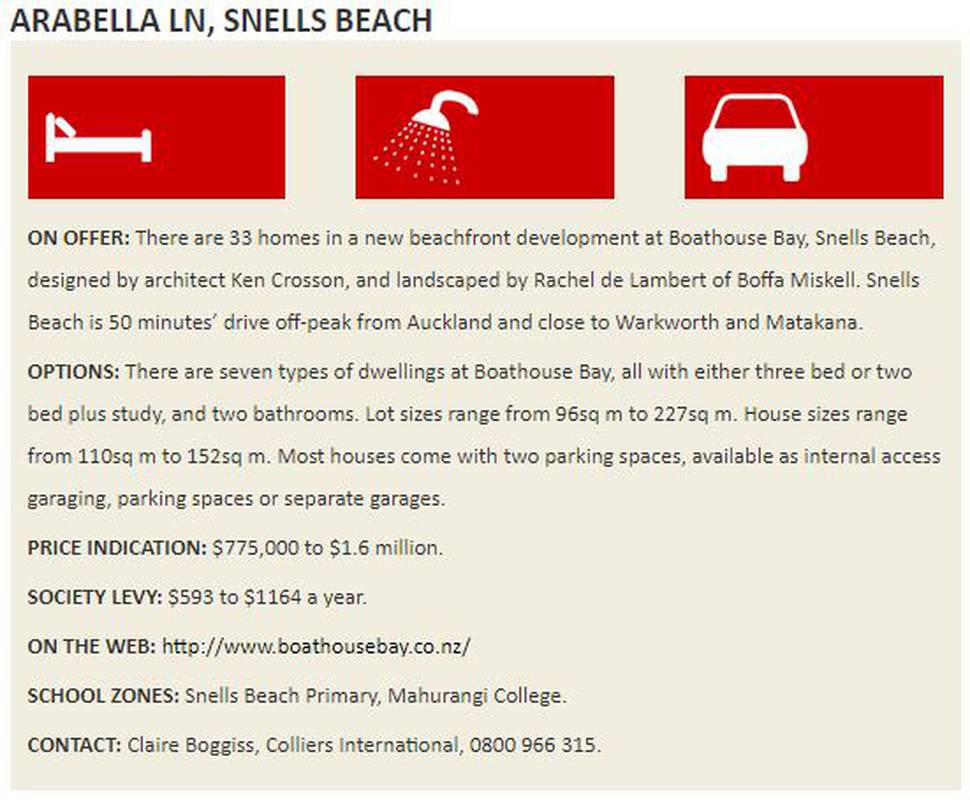 These days, many people have become resigned to the fact that if you want a beachfront property, you're unlikely to get much change — if any — out of several million dollars.
But when development company Special Projects Team (SPT) bought land at the northern end of Snells Beach, it decided not to build a handful of luxury mansions for buyers with deep pockets. Instead, it is creating a community of smaller, more affordable homes.
"We wanted to introduce a new form of seaside living that doesn't involve having to pay millions," says SPT's design and development manager Mat Peters. "These are homes that are accessible to the average Kiwi, who might not have the chance to live somewhere like this otherwise. It's a project we're passionate about."
The 33 homes at Boathouse Bay start at $775,000. Not only will they give residents the chance to live in a stunning spot alongside the popular white sand beach, but the opportunity to own a home designed by internationally acclaimed architect Ken Crosson.
Ken says it's exciting to be involved in an innovative new development, and hopes the buyers feel the same way.
"The client I want is the one whose heart skips a beat every time they see their home."
It was vital that anything built on the site respected the natural environment and fitted into the landscape. The houses, which include a mix of single- and double-level dwellings, will look like boathouses with their skillion roofs, and feel like sophisticated baches.
"There will also be two three-level homes that mimic surf life-saving towers," says Ken, "and several work sheds that can be used for storing boats or cars. While there is unity in the design, each home is individual."
Outside, the aluminium cladding that gives the houses their contemporary look will be able to cope with even the harshest seaside weather.
Inside, the homes will feature clean, simple lines with large picture windows to let the light in. There will be timber floors, soaring ceilings and a touch of luxury, thanks to stylish Matisse kitchens.
The master bedrooms will have en suites, with bathrooms featuring new-generation laminate flooring specially designed for wet areas.
"We wanted to make sure we kept that bach-y feel but used high quality materials," says Mat.
In keeping with the relaxed atmosphere they wanted to create, the homes will be laid out in informal groups rather than regimented rows. So instead of feeling as if suburbia has been plonked down next to the beach, Boathouse Bay will be reminiscent of campgrounds where caravans were casually grouped together, says Ken.
"We want people to feel like they are permanently on holiday," he says.
The landscaping, by landscape architect Rachel de Lambert from environmental planning and design consultancy Boffa Miskell, will further add to this feeling. An abundance of native plants will include pohutukawa, and Mat envisages that one day many of them will have swings hanging from them for children.
The houses will have large decks for outdoor living rather than manicured gardens, so there will be no lawns to mow.
"The idea is for there to be minimal maintenance," says Ken.
More natives will be planted behind the development, where there is already some bush and a hill backing onto the Brick Bay Sculpture Trail.
Two areas within the enclave have been earmarked as open gathering spaces, and there is also a lawn at the front which will be an ideal spot for children to play.
All the homes will have views of the water, with the front ones feeling as if they are sitting in the dunes, says Ken.
While some prospective purchasers will no doubt want to use their Boathouse Bay house for weekends and holidays, SPT expects many of the dwellings will be permanent bases for people attracted by the location and the price.
"It's only 50 minutes from Auckland and there's so much in the local area with Matakana, the wineries ... it's going to be a great place to live all the time," says Mat.
"And we think that once these are sold, it will be a long time before any of them are available. They are the kind of properties where you stay long term and pass them down to your family."
Homes are expected to start completing from early 2019 and all homes expected to be completed in the first quarter of 2020.